The Jeep Wrangler is one of the best vehicles to go off-roading. Given its versatility and the all-rounder functionality it offers, the Wrangler does a great job of performing daily driver duties too.
Tires play an important role in the way a car drives and feels, we're helping Wrangler enthusiasts by listing down the best Tires for the Jeep Wrangler.
Jeep Wrangler Tire Sizes
The Wrangler's tire sizes depend on its variants and hence, the vehicle is offered with more than one tire size. The different variants and tire sizes are listed below:
| | | |
| --- | --- | --- |
| Jeep Wrangler variant | AVAILABLE TYRE SIZE | WHEEL TYPE |
| Jeep Wrangler Overland Wagon | 255/70 R18 | Alloy |
| Unlimited Overland | 255/70 R18 | Alloy |
| Unlimited Rubicon | 255/75 R17 | Alloy |
All Season Jeep Wrangler Tires
Listed below the best all-season tires for the Jeep Wrangler 
1. Bridgestone Dueler A/T REVO 2 

These are amazing all-rounder tires that could be used for multiple purposes. Be it snow, rain, road, or any other rough surface, the Dueler A/T tires from Bridgestone have your back in almost every situation, thanks to their sophisticated tread design.
The tires are also known to be quieter when compared to factory tires, especially for users who frequent the highway. 
The Dueler A/T lasts longer than many tires in the same segment and the credit goes to its dual-layer tread design.
The tires provide great handling and comfort. Also, compensate for changes in driving dynamics in the presence of the lift kit. 
Pros:
 – Dual-layer tread provides a longer life
 – Excellent wet weather traction
 – Compatible with lift kits
 Cons:
 – The tires are pricier compared to similar models in the segment
2. Goodyear Wrangler Radial Tire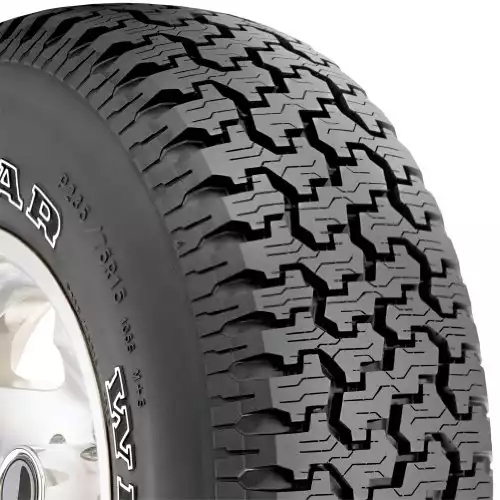 As the name suggests, Goodyear developed the Wrangler Radial tires specifically for the Jeep Wrangler. The specifications, tread design, and functionality of the tires are best suited for the Jeep Wrangler. 
The tires feature a Kevlar-reinforced layer that increases their strength and absorbs maximum vibration and noise.
They also perform excellently in rain and snow and are differentiated from other models with a snowflake and mountain emblem on them. 
In case one thought of skipping office on the way and wanted to just drive into a trail, the Wrangler tires would help in those situations. Just ensure the trail isn't full of wet mud.
Pros:
 – Kevlar reinforced layer enhances the overall strength of the tire 
 – Eveready for off-road duties
 – Made specifically for the Jeep Wrangler 
Cons:
 – The tires struggle for traction in mud and wet off-road conditions
3. Cooper Discoverer STT Pro All-Season 

The Discoverer STT Pro tires from Cooper Tires are great all-purpose tires that could take one's vehicle to almost any location.
They do the job of two tires as they not only provide comfort and a fairly quiet ride at even 80 MPH but also do a great job off the road. 
One could use the Cooper Discoverer all-season tires on snow, wet roads, muddy roads, and mildly rocky trails. The tires perform excellently in these situations.
Tread durability is at par with other superior tires in the segment, thanks to Armor Tek3 construction. 
PROS:
 – Excellent wet weather performance 
 – Highly versatile- performs the job of two tires
 – Armor Tek3 construction for improved durability 
 CONS:
 – Some customers complain of the tires being loud for daily use on the Jeep Wrangler.
All Terrain Tires for the Jeep Wrangler
Listed below are some of the best All Terrain tires for the Wrangler
4. Falken Wildpeak AT3W all terrain tires

Though Falken is not a brand that would be the first one to come to your mind when you speak of the best tire brands for Jeep Wrangler, Falken offers tires for a variety of trucks, jeeps, and large vehicles and tires that cater to a wide variety of purposes. 
The Falken Wildpeak offers a package that makes it easy to drive the Jeep Wrangler over almost any terrain. The tires offer heat- diffusing sidewalls to dissipate heat transferred from road surfaces at high speeds.
The tires are also equipped with a rigid tread pattern for added stability and protection from sharp objects. 
The Falken tires are all-weather and have plenty to offer for a reasonable price. 
PROS:
 – Being a lesser know brand could hint at better buyer discounts 
 – Heat diffusing technology makes them safer 
 – Enhanced handling
CONS: 
 – Absence of many user reviews doesn't offer a long term review of the tires
5. BFGoodrich All-Terrain T/A KO2

The all-terrain T/A KO2 does an excellent job of being a daily driver. The Tire is tough enough to resist tears, chips, abrasions with its heavily protected sidewall– all thanks to its CoreGard design that ensures toughness and protects from unpaved, harsh terrain.
BFGoodrich has provided serrated shoulders and upper sidewall traction bars on the tires for more traction on snowy and wet roads– a feature that is seldom seen on other tires.
Speaking of stability, the tire's interlocking tread design helps in providing better stability and better handling– even on loose surfaces like gravel. 
PROS: 
 – Tough tires cater to almost any duty
 – Unique CoreGard design to protect the sidewall
 – Impressive traction and handling 
CONS:
 – Performance over wet mud isn't up to the mark 
6. Toyo Open Country A/T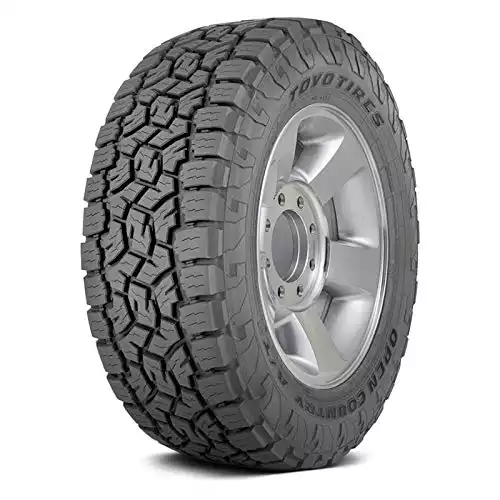 If the value for money and high performance is what one prefers, then look no further than the Toyo Open Country AT tires that can handle a variety of road conditions– thanks to its effective open tread design.
The tire features a wear-resistant tread compound which ensures a longer life so one won't have to begin hunting for a new set in just a year. 
Despite the lower cost price, the tires also function well in terms of traction and handling on all types of terrains. However, there is one aspect where this tire doesn't deliver well and that is road noise.
Road noise is comparatively more and hence that compromises comfort. But if that is a point one can do without, these are great tires to have for the Wrangler.
PROS:
 – Lower cost compared to other tires 
 – Provide maximum value for money
 – Long-lasting tread 
CONS:
 – Wet weather traction is not at par with other tires
 – Road noise reduction is absent
7. Mickey Thompson Baja ATZP3

Coming to the last set of impressive all-terrain tires- the Mickey Thompson 'Baja ATZP3' is all set for serious duty.
If one's requirement of AT tires is a tough tread, excellent off-road capability even on wet mud, and if road noise could be compromised, then these are ideal tires. 
The Baja is more inclined towards off-road performance than on-road performance and hence, these tires don't do a great job at dampening road noise.
While they may sound alright in the city, highways are where these tend to get very noisy. 
PROS:
 – Tough tread design
 – Excellent off-road performance
 – Ideal for off-road and adventure enthusiasts 
 CONS:
 – The tires are more off-road-oriented 
 – Road noise is a concern at high speeds 
Mud Terrain Tires for the Jeep Wrangler
Listed below are some of the best Mud Terrain tires for the Wrangler
8. Federal Couragia M/T

The Couragia Mud Terrain tires from Federal are a value for money proposition considering the amount of off-roading one can do with them.
Deep tread with large blocks can help wade through deep mud without much effort. This can be used on sand too where the tires need to dig a way through.
However, the Couragia don't do a great job when it comes to performing duties on tarmac. They are noisy and fail to provide the required traction.
While the tires are good on wet mud, they are opposite when the road surface is wet. The Couragia is ideal to have for dune-bashing or deep trail driving but we wouldn't recommend it as a daily driver.
PROS: 
 – Excellent off-roading capability 
 – Priced much lesser compared to other tires in the segment
 – Can be used on sand 
 CONS:
 – Don't provide enough traction on wet tarmac
 – Not a good daily driver since they are noisy 
 – These are strictly suitable for off-roading only
9. Hankook DynaPro ATM RF10 Off-Road 

 DynaPro Mud Tires from Hankook are mud tires that can perform a host of other tasks. The aggressive tread pattern with a V shape offers better traction and control in sand, mud, and snow.
The sidewalls are reinforced with extra rubber for enhanced protection.
Not only do these tires perform well off-road but they also offer a decent amount of comfort on the road considering these are mud tires.
So this can be used as a daily driver but do keep in mind that the tire tends to wear out sooner when used on the street.
Traction is poor in icy conditions so that is another point to keep in mind when making a purchase decision. 
PROS:
 – Perform excellently on mud, sand, and snow
 – They offer decent comfort on the street 
 – Ideal for technical off-roading and challenging trails
 – Offer good value for the retail price tag
 CONS:
 – Tire wear is higher when used on the street
 – Poor traction on icy conditions
10. Nitto Trail Grappler M/T All-Terrain

The Nitto Trail Grappler is an ideal tire for daily use if one is looking for mud-terrain and all-terrain functionality in one tire. These tires offer the best of both worlds.
The tires boast a 3-ply construction which provides superior puncture resistance while its tread pattern is designed to deflect water and prevent hydroplaning. 
The Trail Grappler is also much silent when compared to other mud terrain tires so they're great to be used on street and as a daily driver. The tires are built to pass through thick mud and sand while their toughness also provides them with the ability to haul a heavy load. 
PROS:
 – Mud tires that offer the best of both worlds
 – Tough build and high load-hauling capacity 
 – Silent mud tires compared to its competitors
 – Can be used as a daily driver 
 CONS: 
 – Quality comes at a price. Many could find its price tag to be high
What to consider for jeep wrangler Tire?
There are many points that act as a determinant to choosing a set of tires for the Jeep Wrangler. The first point would be to know the tire size that fits the Wrangler.
As we know, the jeep comes with multiple variants that have different tire sizes.  
Hence, it is important to double-check the tire size by checking the Wrangler's user manual and matching it with the respective variant.
If larger tires are what one is looking for, then the user will also have to account for lift kits.
We suggest the user do proper research to avoid ending up with tires of incorrect sizes. 
The next step is to consider the type of utility one is looking for from the tires, the purpose they would be used for. Are the tires going to be used more on the road and less off-road? All-terrain tires would be more suited in this case. 
Or, is the user looking for serious off-roading tires for use in mud and snow? Mud-terrain tires would be ideal in such scenarios where the main purpose of the vehicle is off-roading.
The purpose would also help determine the kind of toughness required and the whether comfort is an important criterion to be taken into consideration.
How big of a tire can I put on my jeep wrangler?
The largest tire one can fit on a Jeep Wrangler with stock suspension is a tire with a diameter of 33 inches. The 33-inch tires can be of the following sizes:
1. 285/75/16
2. 85/70/17
3. 275/70/18
Just because the Wrangler can accommodate 33-inch tires, it does not mean they can be used for all purposes.
For instance, one could practice mild off-roading with the 33-inch tires, drive on the streets, or tour on the highways. 
But, scenarios like advanced off-roading that involves maximum articulation could lead to the body of the Wrangler scrubbing against the ground if fitted with 33-inch tires. 
How often do you change tires on a Jeep?
This is dependent on how long the tires last. One needs to check the tire treads often to see if they're worn out. Some tires last very long so there would be no reason to change tires unless they need to be swapped with tires made for a different purpose. 
What tires should I get for my Jeep Wrangler? 
To answer this, we would ask the user to reconsider the purpose for which the tires are going to be used.
If the need is serious off-roading then we suggest mud-terrain tires that would do take care of all the mud and difficult trails being thrown at it. 
But if one is into mild off-roading and includes the Wrangler to be driven on the streets, we suggest choosing all-terrain tires.
They would cater to all needs and prove to be excellent all-around tires.
In case one is unsure of the purpose the vehicle is about to be used for, it would still be wise to opt for all-terrain tires since they take up almost any challenge that is thrown at them.