If you're into vehicles that boast tough construction and robust engines, you'll be familiar with the Ford F250 – Ford's Super Duty pickup truck.
Not only can it tow the largest of trailers you can imagine, but it also offers a comfortable and smooth driving experience.
Apart from its heavy design, the thing that helps the F250 Super Duty fulfill its true potential is high-quality tires.
So today, we'll explore everything you need to know about tires for your Ford F250 Super Duty. What makes the Michelin Defender LTX M/S and the BFGoodrich All-Terrain T/A KO2 the best and all-rounder choices. 
F250 Super Duty Tires: Quick Overview
Known for handling heavy loads and even tougher jobs the Ford F-250 is a beast when comes to power and performance.
Capable of a maximum towing capacity of 12,300 to 15,000 lbs, as newer models can reach up to 20,000 Ibs.
Most F-250 models can come in 3 body styles Extended Cab, Regular Cab, and Crew Cab. Most tire buyers can expect to pay anywhere between $150 – $280 for a solid pair of tires. So selecting a good pair really matters.
Selecting the best set of tires for your F250 can be pretty confusing. Areas like tire size, terrain, tread life, and how well your tires can handle the towing or hauling heavy loads are important.
You want to meet all of these areas without sacrificing its performance. The first place we start off is tire size.
F250 Super Duty Tires Sizes
The tire size and specifications for your F250 Super Duty are determined by the year of manufacture. Remember to let the shopkeeper know this information so that they can guide you correctly. 
VEHICLE TYPE
AVAILABLE TIRE SIZE
WHEEL TYPE
FORD 250 Super Duty
235/85 R16 , 245/75 R16 , 255/70 R16 , 265/75 R16 ,
285/70 R17 , 275/65 R18 , 275/65 R20
ALLOY
How Big of a Tire Can You Put On Your F250?
If you want to make your Super Duty look gigantic, the biggest tire that can fit your F250 without scrubbing or cutting the wheel arch plastic is the 34" on a 16" inch rim. Most standard 34" combinations generally work.
And if you're willing to remove the mud flaps, a slightly wider 295 tire on an 18" profile can also work well. Below we listed the top 10 tires for F250 in All-season, All-Terrain, and Mud.
ALL-SEASON F-250 Tires
1. Cooper Discoverer H/T Plus

The Discoverer HTP is a great choice for those on a budget. The tires provide an extremely smooth drive on the freeway, even if the pickup is towing a large trailer. The grip, traction, and stopping power are robust on dry and wet surfaces. The comfort is also reasonable.
Pros
Budget-oriented
Quiet and comfortable
Stable on wet surfaces
Remarkable traction and braking on wet and dry surfaces
Cons
Not good traction on light-snow surfaces
2. General Tire Grabber HTS60

General Tire is known for high-quality manufacturing tires at affordable prices, and the Grabber HTS60 is their highway competitor for premium alternatives.
It is manufactured using a cut- and chip-resistant compound that ensures the safety and provides a reliable driving experience. The traction is good in both dry and wet conditions.
Pros
LT-sized versions are the best choice for hauling and towing
Easy and soundless
Affordable
Stable on wet surfaces
First-class high-speed stability
Cons
Heavy-duty versions are worse in rain
lacks critical wet traction
3. Dunlop Rover H/T Ultra High Performance

This tire provides outstanding handling and traction on almost all types of road and in all weather conditions, even light snow. It offers a comfortable and quiet ride, unlike most tires in the category that is noisy at high speeds. 
Pros
Exceptional traction on dry, wet, and snow-covered surfaces
Above-average steering response
Smooth and quiet ride
Cons
Not the best fit for loose dirt and mud
4. Michelin Defender LTX M/S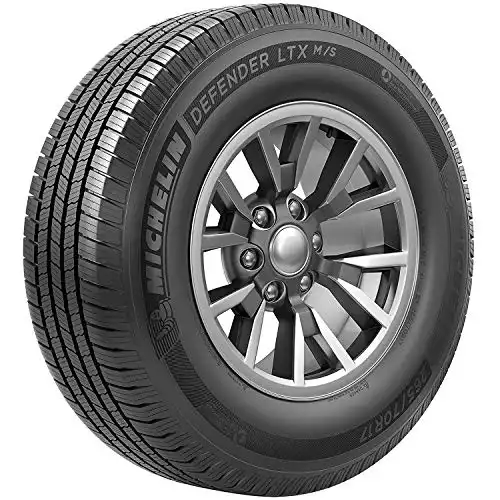 The Defender LTX is currently regarded as the best highway tire on the market and the best choice for your F250 Super Duty.
It provides exceptional comfort and stability on the road and at high speeds even while towing a large trailer. Traction and braking are also outstanding on dry and wet surfaces.
Pros
Considered the best tires for hauling and towing
Exceptional dry handling in hot and cold climates
Comfortable and quiet
Best high-speed stability
Remarkable wet traction
Cons
For harsh winter/snow conditions, it's not the best option
5. Sumitomo Encounter HT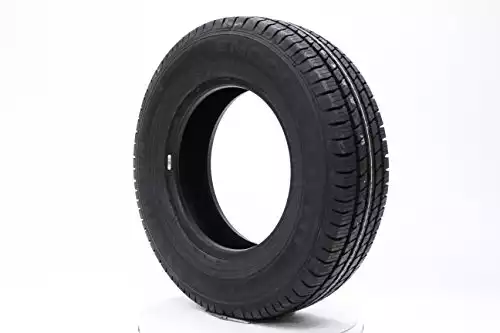 The Sumitomo Encounter HT is a budget-friendly tire that works best for an F250 Super Duty with larger wheels. It showcases excellent high-speed stability even when towing a trailer. Braking, grip, and traction are also reasonable on dry and wet surfaces.
Pros
Budget-friendly
Exceptional traction and grip on wet and dry surfaces
Comfortable and quiet
Excellent high-speed stability
Cons
Below-average snow traction
ALL-TERRAIN F250 Tires
6. BFGoodrich All-Terrain T/A KO2

The BFGoodrich All-Terrain T/A KO2 has been a long-time favorite for truckers everywhere in the world. It offers perhaps the best off-road traction among all all-terrain tires and works extremely well on the road.
With high-speed permanence being one of the best, these tires don't feel bulky or awkward in the corners.
Rainy traction plus reducing speed is also very good, and these tires demonstrate one of the finest light hail traction performances in this category.
Pros
Outstanding off-road performance
Exceptionally durable
Reasonably good on-road traction
Excellent high-speed stability
7. Kumho Road Venture AT51

The Kumho Road Venture AT51 offers a modern all-terrain design for maximum off-road traction and minimum wear. It is well-suited for lighter trucks, with exceptional braking and handling.
Pros
Aggressive design (70% on-road and 30% off-road use)
Optimized for dry, off-road traction
Minimum wear performance
Reasonably good on-road traction
8. Firestone Destination X/T All-Terrain

The Destination X/T is an all-road all-terrain tire made for pickup trucks and heavy vehicles looking for all-time dependability and confirmed traction under all conditions.
The design ensures a confident control plus grip in light snow and is outstanding in severe snow conditions.
The Destination X/T is manufactured using a special rubber compound that gives its aggressive and symmetric pattern guaranteeing stability, longevity, and consistent traction.
Pros
Enhanced stability under various conditions
In snow, good traction and grip
Durable
MUD-TERRAIN F250 Tires
9. Cooper Discoverer ST Maxx Mud

The Discoverer S/T Maxx a tough tire developed to provide enhanced traction on the loose terrain of gravel roads, job sites, and off-road use in wet, dry and wintry, and snowy conditions.
The Discoverer S/T Maxx is manufactured using a cut- and chip-resistance compound for even treadwear. It is meant to navigate soft, uneven soil, rocks, and gravel. In addition, these tires are molded to enhance traction on packed snow and icy surfaces.
Pros
Superior traction on various surfaces
Enhanced grip and stability on wet, dry, and snowy surfaces
Low treadwear
Cons
Noisy on highway
Expensive
10. Yokohama Geolandar M/T G003

The Geolandar M/T G003 is developed for extreme off-road driving on the wildest of terrains. Its wide flat profile guarantees that stress is distributed evenly while driving on wet and snowy surfaces, as well as rocks and gravel.
Pros
8% longer tread life
Exceptionally low treadwear
Good off-road traction
Comfortable and quiet
11. BFGoodrich Mud-Terrain T/A KM3

The BFGoodrich Mud-Terrain T/A KM3 is among the best off-road tires in the market right now because it works exceptionally well on various surfaces. It is particularly designed for mud-terrain driving but also works well on rocks and dirt.
The Mud-Terrain KM3 also offers excellent high-speed stability.
Pros
Excellent mud-terrain performance
Good on rocks and dirt
High-speed stability
How to Choose the Best Tire for F250 Super Duty
Now you might be wondering: how do I choose one that's best for me? This section will help you make that important decision.
Highway Tires: Best for Average Owner
If you're mostly driving your Ford F250 on the streets and gravel roads, highway tires like the Michelin Defender LTX M/S will be the best choice. The latter is designed to provide balance and extremely high payload capacities for long-lasting performance.
| | |
| --- | --- |
| Advantages | Disadvantages |
| Best-quality tires at cheaper rates | Almost no off-road traction |
| Safest and most consistent driving experience |   |
| Quieter than their alternatives at high speeds |   |
| Designed for maximum durability |   |
| Outstanding highway stability, even with large trailers attached. |   |
| Good grip and quick braking |   |
| Come with a 50,000-miles to 70,000-mile treadwear warranty. |   |
| Initial investment and cheaper in the long run |   |
| Cut-and-chip design ensures they don't puncture easily. |   |
All-Terrain Tires: Perfect Off-Road and On-Road Advantages
If your routine driving consists of everything other than paved or gravel roads, then a set of high-quality all-terrain tires such as the BFGoodrich All-Terrain T/A KO2 is what you need.
Obvious of their name, these tires are designed to work reliably off-road and on the highway as well.
| | |
| --- | --- |
| Advantages | Disadvantages |
| Aggressive design with deep-cut treads | Expensive as compared to highway tires |
| Truly comfortable and safe driving experience | Particularly noisy, especially at highway speeds  |
| Manufactured using tougher casings and showcase puncture-resistant sidewalls and tread for minimal damage | Shorter tread life as compared to highway tires |
| Good grip, traction, and smooth braking |   |
| Excellent stability at high speeds |   |
Mud-Terrain Tires: Best for Off-Roading
Real enthusiasts of the F250 Super Duty usually prefer mud-terrain or maximum traction off-road tires.
| | |
| --- | --- |
| Advantages | Disadvantages |
| Outstanding traction on slippery surfaces | Quite expensive |
| Essentially meant for dealing with muddy surfaces, but are also quite good on dirt, rocks, and sand. | Worst ride quality; poor high-speed stability, longer braking time, and worse traction |
| Toughest, even in extremely demanding conditions | Extremely noisy on the highway |
|   | Slightly shorter tread life |
|   | Don't come with a treadwear warranty. |
All-Season Tires: Considerations about Climate
The tread compound used in all the tires we've been discussing so far is designed to work in a specific temperature range.
If the weather is too cold, the compound becomes brittle and loses its grip on the road, resulting in severe traction and braking.
Similarly, if the temperature is too hot, the tread compound becomes extremely soft, resulting in decreased response and worsened high-speed stability. Hence, the tread will wear exceedingly fast, and the tires will also lose their shape.
To counter these issues, most F250 Super Duty tires today are all-season tires. Their tread compound is specifically designed to work in various temperatures, from below freezing point to boiling summer days.
All-season tires provide quite good wet traction, grip, and braking, and some even work well in light snow. However, they won't have the best performance in these conditions.
Winter Tires:
are designed especially for harsh winter/cold climates
best grip, traction, and braking in this climate
deeper tread and maximum sipping provide better traction on snow and ice
Summer Tires:
best traction, grip, and braking in summers.
Final Thoughts – What is the best tire for a Ford F250?
Choosing the best set of tires for your Ford F250 tires depends mainly on the climate and how you tend to use them.
If you live in a tropical area and mainly drive on-road, a set of all-season highway tires such as the Michelin Defender LTX M/S is the best choice for you.
They provide a truly comfortable ride with good grip and traction, all at an affordable price.
If you drive on paved roads, gravel, and even light snow, then the all-terrain BFGoodrich All-Terrain T/A KO2 is right for you, with maximum stability, comfort, and good grip and traction.
That being said, remember to always buy tires from reputable manufacturers and avoid cheaper tires on the market; they aren't safe, especially when you're hauling something with your F250.