Dodge Ram 1500 is an unmatched luxurious truck. It comes equipped with a roster of engines, an eco-friendly diesel six-cylinder, and the ability to tow thousands of pounds.
All models of Ram 1500 perfectly balance aesthetics with functionality.
You can increase and improve the trucks' capabilities by finding the best tires for Dodge Ram 1500.
Recommended Tire Sizes
You must understand that the bigger the tire you get, the more chances are that you'll need to modify and make adjustments to the truck for it to fit.
There are several models of Dodge Ram 1500 out there and what works for the latest model might not be suitable for an older version. The recommended tire size for most models, however, is between 17 to 20 inches.
All-Season Tire Recommendations for Dodge Ram 1500
All-season tires are exactly what they sound like. Their tires are functional in summer and winter and provide a smooth ride regardless of being used in summer or winter.
The following are some notable All-Season Tires.
1. Cooper Discoverer HTP

Traveling long hours through highways requires a smooth riding experience and with Cooper Discoverer you can get exactly that.
Cooper Discoverer HTP is an ideal all-season choice. It's built to deliver high performance and can handle all sorts of road and weather conditions.
Be it rain, snow, or dry roads, this tire can handle it all.
Equipped with an aggressive tread and sipe design, the tire is designed to give excellent traction and pavement grip. You don't have to worry about your car skidding across the highway with Cooper HTP.
Its excellent design, capabilities, and high stability make it an ideal choice for you if you intend to carry heavy loads on the road.
Pros
Excellent pavement grip
Good winter handling
Smooth and quiet ride
Amazing suspension
Cons
Less stability in high speed
2. General Grabber HTS60

Grabber HTS60 is another popular choice for Dodge Ram 1500 users. This all-season tire works perfectly regardless of weather conditions and is capable of delivering a smooth and comfortable ride.
Grabber HTS60 is the perfect choice of tires to travel long distances.
It is impeccably designed with pattern optimization which gives almost perfect stability under heavy load and excellent grip whether it rains or snows.
The tire is integrated with multiple technologies that help enhance its performance.
Such as DuraGen technology which equips Grabber with off-road durability and the StabiiliTread technology that integrates the tires with a larger footprint to provide maximum road grip.
While Grabber HTS60 is designed for highways, it can still deliver a good performance on loose dirt or muddy rocky roads.
Pros
Excellent dry weather performance
Has off-the-road capabilities
Noise-free riding experience 
3. Michelin Defender LTX M/S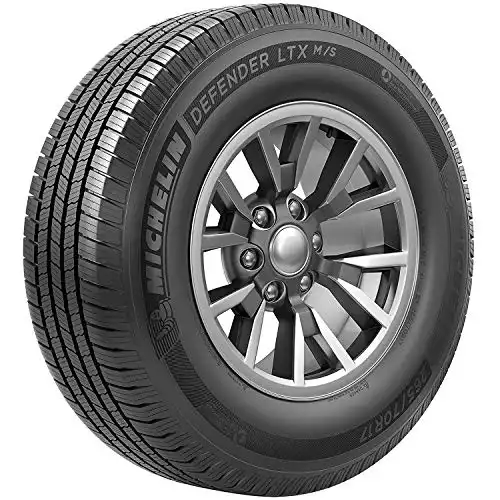 Defender LTX is an incredible all-season tire. It is equipped with everything that you could need to enjoy a smooth and comfortable ride. Built for large pickups and trucks, Defender LTX is an excellent choice for Dodge Ram 1500.
It comes integrated with Michelin's ever tread technology, making it extremely resistant to wear and tear.
Defender LTX can perform impeccably in touch road conditions and offers you high stability even with heavy loads.
The tire has high traction on dry, wet, or snow-covered roads and has an optimized design that evenly distributes concerned forces of acceleration and braking for better performance.
Pros
High value for money
Longer treadwear
Extremely comfortable driving experience
Excellent and consistent performance in all-seasons
All-Terrain Tire Recommendations for Dodge Ram 1500
While All-Season tires are excellent for traveling on highways, most of the popular choices in that category do not come with high off-the-road capabilities.
For more demanding terrain, you'll need to get tires made specifically for all-terrains.
These tires are more stable and deliver more traction compared to all-season.
If you travel off-the-road often, consider the following recommendations for a more safer and comfortable driving experience.
4. Continental TerrainContact A/T

Continental TerrainContact A/T tires are a premium and well-renowned choice for drivers. The tires can work year-round and also double as all-season tires.
Delivering both an excellent performance on harsh terrain as well as an extremely comfortable highway ride, TerrainContact is well worth every dime you pay for it.
The tires feature +Silance enhanced all-season compound that improves not only its tread life but also extends its grip capabilities, especially on a wet road. TerrainContract also has an EcoPlus technology which helps increase and promote fuel efficiency.
The all-terrain tires come with a 60,000-mile warranty and enhanced durability.
Pros
Almost noise-less driving experience
Exceptional performance on dry surfaces and harsh terrains with dirt and gravel
Long tread life
Powerful breaks especially in wet road conditions
Cons
Has limited performance in Mud
5. Firestone Destination A/T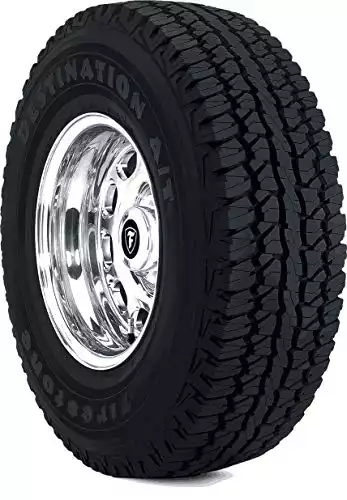 Firestone Destination A/T is built to travel wherever you want to travel. This all-terrain tire comes supported with long-link carbon reinforcement that drastically improves its treadwear.
It also increases its life by making the tire resistant to cracking, chipping, and tearing. Destination A/T delivers one of the quietest driving experiences.
The tires are exceptional and can travel in either wet or extremely dry weather conditions.
As a driver, it boosts your confidence as you travel on harsh off-the-road terrain.  
Firestone Destination A/T also comes integrated with CO-CS (Computer-optimized Component system). This allows Destination A/T to build up tire performance through the perfect combination of tread design and material composition.
Pros
Excellent on and off-the-road capabilities
Exceptionally comfortable ride
6. Michelin Agilis Crossclimate

Michelin Agilis CrossClimiate is the jack of all trades in terms of tire performance on and off-the-road capabilities.
Agilis is both an all-season and an all-terrain tire option. It provides excellent traction and works exceptionally well in harsh weather conditions.
The tire offers you commercial-grade durability. You can easily travel on your Dodge Ram 1500 with heavy loads and face relatively no difficulties.
Coming integrated with a CurbGuard sidewall protector, Agilis Crossclimate can easily resist curb scrubbing and benefits from increased tread life.
Pros
Excellent road grip during rain
Comfortable noise level
Extremely durable
7. BFGoodrich All-Terrain T/A K02

Be it rain, snow, or extremely dry road conditions, you can expect consistent high-level performance from BFGoodrich All-terrain T/A KO2. When it comes to off-the-road capabilities, the tire is the best that the market can offer.
From excellent traction in mud to rock crawling, BFGoodrich can do it all. You'll be hard-pressed to find better tires for your Dodge Ram 1500.
BFGoodrich comes integrated with a premium tread compound, making it tear-resistant and increasing its lifespan.
The most notable feature of the tire is a computer-optimized high-void pattern. This feature can drastically increase the grip strength and traction capabilities.
Pros
Outstanding traction on roads and harsh terrain
Suitable for rock crawling
Excellent stability and durability
8. Cooper Discoverer A/T3

Cooper Discoverer A/T 3 is another popular choice for owners of SUVs and trucks like Dodge Ram 1500. The tire is equipped with the best that Cooper has to offer.
The tire is made of an outstanding silica-based compound that provides resistance and protects against cuts and punctures.
Discoverer A/T 3 features Even Wear Arc that further optimizes tire wear. 
Pros
Performs in shallow mud and over small rocks
Durable construction
Good stability in dry and rainy weather
Cons
Less responsive compared to other similar alternatives
Touring All-Season Tire Recommendations for Dodge Ram 1500
Touring tires mostly feature highly responsive handling and have a higher speed rating in comparison to other types of tires. The following are some of the best touring tires you can get for your Dodge Ram 1500.
9. Pirelli Scorpion Verde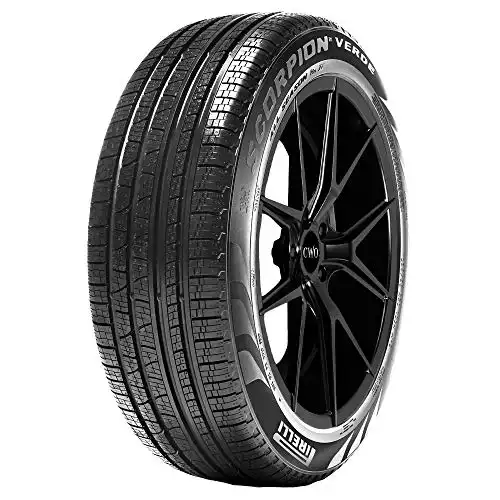 Regardless of weather and road conditions, the Pirelli Scorpion Verde Touring all-season tire performs consistently through it all.
It's an excellent choice for your Ram 1500.  The best and most notable feature of the Pirelli Scorpion Verde is that the tires are an environmentally friendly alternative to other touring tires out in the market.
The tire features a silica-enhanced tread compound, along with an asymmetric tire design pattern, providing additional traction and pavement grip in harsh weather conditions.
These tires are simply one of the best tires out in the market for traveling during the rainy season.
The traction and grip they offer are simply exceptional.
Pirelli Scorpion Verde can easily and safely ride through rain and snow-covered roads.
Featuring an optimized rubber-to-void ratio, the tire has even tread wear and exceptional stability at high speeds.
Verde delivers exceptional and dependable performance without the additional baggage of an excessive carbon footprint. The tire's impeccable designs assure a long tread life and even improves fuel usage efficiency.
The tire can deliver more miles and has wide circumferential grooves that displace water and work to improve traction on a wet surface.
Pros
Highly responsive handling
Excellent traction in diverse road conditions
Smooth and comfortable ride
Eco-friendly
Cons
Needs better protection against wear
10. Bridgestone Dueler H/L Alenza Plus

Bridgestone Dueler Alenza plus is often recommended as one of the best touring all-season tires out there. The tire has well established its reputation by delivering premium performance.
Its' design ensures top performance in all sorts of weather conditions. Be it wet, dry, or light snow-covered roads, Alenza plus is capable of delivering a smooth and comfortable driving experience.
Its unique design helps improve fuel efficiency and manages to be highly responsive to steering. Best of all, Alenza plus delivers an exceptional performance with eco-focused manufacturing methods.  
Dueler H/L Alenza Plus offers outstanding traction. The tires have a symmetric tread pattern which not only reduces noises but also works to improve overall tire stability.
With optimum construction, the tires have a long tread life and are highly durable. Alenza Plus's main focus is on delivering not only a comfortable ride but also a quiet one.
With its variable tread pitch, the tire manages to significantly reduce road noise. 
For top performance on wet and snowy conditions, Bridgestone employs the use of 4 wide circumferential grooves to significantly improve snow traction.
Pros
Has excellent performance in all kinds of weather conditions
Highly responsive and stable
Warranty of 80k miles
Low noise leveln
Cons
Driving on Ice is a bit difficult.
Frequently Asked Questions
Selecting the best tires for Dodge Ram 1500 can be a difficult and confusing process. Below are some common questions you may face.
What Are the Best Tires for A Ram 1500?
As mentioned above, the best tires for Dodge Ram 1500 depend on your specific needs and wants.
If you're looking for 18 – inch tires, then the best and most premium selection for you would be Michelin Agilis Crossclimate.
For 20 –inch wheels, the most recommended tire is the Firestone Destination.