The Ford Escape has been a popular choice of SUV for many buyers looking for a good mix of practicality, utility, fun, and the ability to tread over difficult terrain.
Though the Escape isn't a proper off-roader, the all-wheel-drive version helps the Crossover SUV venture into territory that isn't exactly in its comfort zone.
Thanks to the variety of tires one could install on the car.  
Ford Escape Tire sizes
The Ford Escape is offered with five variants and hence, the tire size varies from 17 inches to 19 inches. Below is the list of variants and tire sizes they come with.
S 225/65/17
SE 225/65/17
SE Sport225/65/17 or 225/55/19
SEL 225/60/18 or 225/55/19
Titanium 225/55/19
All Season Tires for Ford Escape 
1) General Altimax RT43 (T) 

The Altimax RT43 from General Tire is a value for money proposition for anyone looking out for a decent set of tires without breaking the bank. 
The tire has received great praise from existing owners, thanks to its ratings and high mile warranty. The tires last long but provide satisfactory performance in terms of road noise and ride quality.
Pros:
– Light on the pocket
– High mile warranty of 75000 miles
– best bet for daily commutes 
Cons:
– Significant presence of road noise
– Ride quality is not at par with other premium quality tires 
2) Michelin Defender T+H 

Michelin is known to make high-quality, grippy, comfortable, and safe tires. The Defender T+H is no different.
The tires best suit the Ford Escape since they provide excellent safety, even under hot, wet, and cold conditions. 
The tires offer a comfortable ride quality since they are quiet and prove to be great touring tires. The tread warranty of 80,000 miles does inspire confidence in the tires and the brand.
PROS:
 – Grip well under hot, wet, and extreme cold conditions. 
 – Ideal option for comfortable touring tires 
 – Provide a great feel of the road 
CONS:
 – Tires are priced high 
3) Continental TrueContact Tour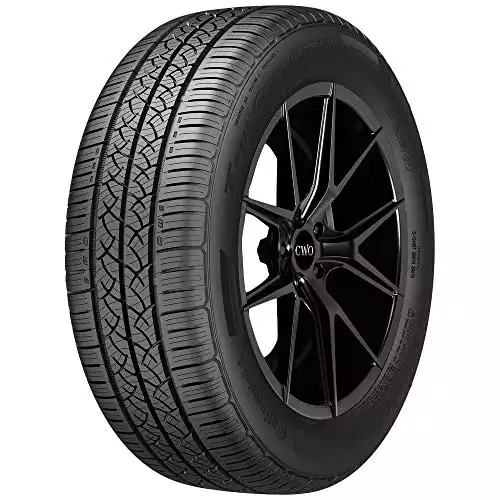 As the name suggests, the TrueContact Tour tires are great for all-weather touring since they perform well in all weather conditions and last long.
Continental offers a tread warranty of up to 70,000 miles and also provides a 60-day trial period.
With its lateral notches and tread block siping, the tires not only grip well in the wet but also provide a quiet and smooth ride. Some reviews also suggest an increase in fuel efficiency while using these tires.
PROS:
 – All-weather tires provide exceptional grip and confidence for touring 
 – Smooth and quiet ride quality 
 – 70,000 miles tread warranty is a big plus
 CONS: 
 – The tires could prove to be slightly expensive
 – Some reviews hint at a much lesser mileage 
4) Falken Sincera SN250 A/S 

The Sincera SN250 A/S replaces its predecessor as it offers more grip, a better dynamic range technology, and 3D Canyon Sipes for improved traction in wet conditions.
The all-season touring tire utilizes Silica in its compound to improve tread life.
The tires compete well with other premium tires in its class in the comfort department as well since the Sincera offers a quiet and comfortable ride quality to its passengers.
With an 80,000 miles tread warranty and an attractive price tag, these are perfect for the Ford Escape! 
PROS:
 – Improved grip in dry, wet, and cold conditions
 – Increased tread life and warranty up to 80,000 miles
 – An ideal option to tour in comfort
 – Cheaper than other premium tires but offer similar features
CONS:
 – The tires don't perform up to the mark in high-speed cornering
5) Nexen Aria AH7 (T) 

The Aria AH7 from Nexen provides an attractive package for the price. They are well-suited to tour all year since they offer a good amount of wet, dry, and cold weather traction. 
The company claims that the tread pattern is suited for long highway drives as it dampens road noise. The tread design is best-suited for high-speed cornering, which is a great plus when used on the Ford Escape. 
PROS:
 – Attractive price tag
 – Offers stability and grip at high speeds
 – All-weather performance is confidence-inspiring
 CONS: 
 – Some consumer reviews suggest premature tread wear
6) Michelin CrossClimate SUV tire 

These tires are well suited for a dynamic SUV like the Ford Escape because they provide the least rolling resistance and offer excellent handling in multiple weather and terrain conditions.
No matter what is thrown at this tire, it will handle it all without letting the occupants know.
The tires also offer superior comfort and handling, thanks to their excellent road manners and noise dampening technology. Tread warranty on offer is an astounding 90,000 miles!
 PROS:
 – Least amount of rolling resistance 
 – Provides excellent grip under any weather condition
 – Highest mileage warranty in class 
 – Extremely comfortable and silent 
CONS: 
 – Tires and priced high
All Terrain Tires for the Ford Escape
7) Toyo Open Country A/T III 

The Open Country all-terrain version 3 tires are made for large trucks, 4×4 SUVs, and CUVs since these vehicles can go almost anywhere.
The tires offer versatility for reasonable adventures into the wild and on the other hand, they are well-suited for urban duties. 
These are the third generation of the Open Country A/T tires which implies a significant improvement in tread design to enhance overall off-road grip, ride comfort, cut and chip resistance, and reduced road noise.
PROS:
 – Well suited for off-roading and daily duties
 – Performs up to the mark in severe snow
 – Can take load up to the F category, suited to haul heavy items
 – 50,000 miles tread warranty 
 CONS: 
 – Not very well- suited if the purpose for city use only
8) Pirelli Scorpion All Terrain Plus

Pirelli upped its game with the Scorpion All Terrain Plus in almost all aspects.
The tires are well-suited for the Ford Escape since their tread pattern enhances clawing action while being smooth and quiet at the same time.
Pirelli also utilized wide lateral notches for water evacuation and to prevent hydroplaning.
The tires also offer better snow traction and braking than regular all-season tires. High-strength steel belts and nylon reinforcements make this a very tough tire to have.
One can drive the Ford Escape into almost any terrain with the Scorpion All Terrain Plus tires and not regret it.
PROS:
 – Excellent off-road performance 
 – Tough tires compared to similar A/T tires
 – Intelligent tread design makes it a highly versatile tire
CONS:
 – The tire isn't the best in class when it comes to dampening road noise
Best Winter Tires for the Ford Escape
9) Michelin Latitude X-Ice XI2 

Being Michelin's best performing winter tires, they feature a Silica tread compound that remains flexible in negative temperature to provide optimum handling and grip over snow.
The directional tread pattern also helps in improving dry surface performance.
The cross-Z Sipes on the tread prevent hydroplaning at high speeds. Two steel belts with nylon reinforcements can be found inside the tire for added durability.
The tread warranty on this tire is up to 40,000 miles which is impressive to have for winter tires.
PROS:
 – This is one of the best tires for winter and snow
 – Offers sufficient dry weather traction
 – Quiet and smooth ride 
 – Highest tread life in class
CONS:
 – Price is expensive 
10) Nexen Winguard Winspike WS62 

If one is looking for an inexpensive winter tire for their Ford Escape, look no further than the Winguard Winspike WS62. The tread design prevents the vehicle from getting stuck in the snow. 
The V-shaped pattern improves traction on snow while 12 multi random stud lines in the construction provide optimum rigidity.
The tires, however, offer average traction and performance on a dry surface.
PROS:
 – Unique tread design for best winter performance 
 – Rigid construction for better tread life
CONS:
 – Strictly for snow use only
What tire brands does Ford use? 
Car manufacturers like Ford often don't stick to one brand of tires for their vehicles. While Ford has primarily tied up with Goodyear Tires to include their line-up for most of its vehicles, it also offers a choice of different brands of tires to its customers that are specific to certain variants.
In this way, customers have the power to choose. Ford, on the other hand, won't be entirely dependent on one tire brand to cater to its vehicles. 
Conclusion
We've listed many tires that are compatible with the Ford Escape. We suggest considering the budget and purpose before choosing the best tire.
One could choose a premium tire from a brand like Michelin or Pirelli to get the most out of the tires if budget isn't a constraint.
Or, one could choose other budget alternatives like tires from General, Nexen, or Falken that provide a lot more value for the money one pays for them. At the end of the day, you choose.