Apart from the SUV specialist Jeep, Toyota probably features the most variety for off-road-ready vehicles.
And today, our topic of discussion is one such vehicle – the Toyota 4Runner.
The 4runner is Toyota's most valuable and most selling off-road model. And what makes it so special? Well, its rugged design and amazing off-road capabilities, of course!
But as with every heavy-duty vehicle, you need a reliable and robust set of tires to enjoy the off-road experience.
As for the 4runner, its tires must deliver exceptional off-road traction and ensure safety and comfort in most weather conditions and on most terrains.
Today's market is flooded with various tire manufacturers and types, and if you're a newbie, knowing which one to buy for your vehicle can be an exhausting and confusing task.
Thankfully, we're here to help you out in making the best choice!
So if you're the owner of a Toyota 4runner or are contemplating buying one, here's a review of some of the best tire options you have for enjoying an outstanding off-road and on-road experience with this vehicle.
What Size Tires Does a Toyota 4Runner Have? 
The 4Runner SR5, TRD Off-Road trims, and TRD Pro function best with 17-inch wheels and 265/70R17 tires. 
The limited trim edition is equipped with 20-inch wheels and P245/60R20 tires.
However, the best and exact tire size for your Toyota 4Runner will depend upon its year of manufacture.
Best Tires for Toyota 4Runner
And now, coming to the topic at hand; the best tires for your Toyota 4Runnner.
Here we'll be listing and detailing aspects of the best tires for a Toyota 4Runner.
And to make things even easier for you, we've divided the list into two categories bases on the weather so that you can find a set of tires that suits your particular needs.
So let's get started!
All-Season 
1. Continental TerrainContact H/T

This tire is Continental's all-season highway tire designed exclusively for pickup trucks, full-size SUVs, and Jeeps.
It is a robust and durable tire that delivers well-balanced on-road performance and reliable all-season capability. 
Moreover, the tires are engineered with noise blockers and Computer-Optimized Pattern Shifting to provide a comfortably quiet ride.
Its assured and enhanced traction and longevity in wet, dry, and winter/light snow conditions is attributed to its cut-and-chip resistant tread compound, which is molded to form an asymmetric pattern and its large and stable shoulder blocks. 
Continental's TerrainContact H/T all-season tires have exceptional traction in wet, snow, and icy conditions, along with stable braking and handling due to its full-depth interlocking sipes and gripping teeth within the tread grooves.
In addition, its lateral notches and circumferential grooves aid the evacuation of water to resist hydroplaning. 
Lastly, these tires are equipped with a two-ply, polyester casing for enhanced durability and comfort, along with two heavy-duty steel belts further improve handling at high speeds.
Pros
Tires feature noise blockers for a quiet ride
Enhanced traction and longevity in wet, dry, and snowy conditions 
Reduced hydroplaning 
Enhanced handling and braking at high speeds
2. General Grabber HTS60

If you're looking for a budget-oriented option, consider the General Grabber HTS60. Its performance will not be on par with more sophisticated and expensive rivals, but it still delivers well considering its price. 
In both dry and wet conditions, the Grabber HTS60 offers superior grip, traction, and braking. It also provides an extremely comfortable and quiet driving experience on the road.
Also, it comes with a 65,000-mile treadwear warranty which is especially great if you compare it to its budget equals. 
Pros
Excellent for towing
Quiet and comfortable
Reasonable price
Very good performance in dry and wet conditions
Comes with 65,000- mile treadwear warranty
Cons
Poor performance in rainy weather
3. Michelin Defender LTX M/S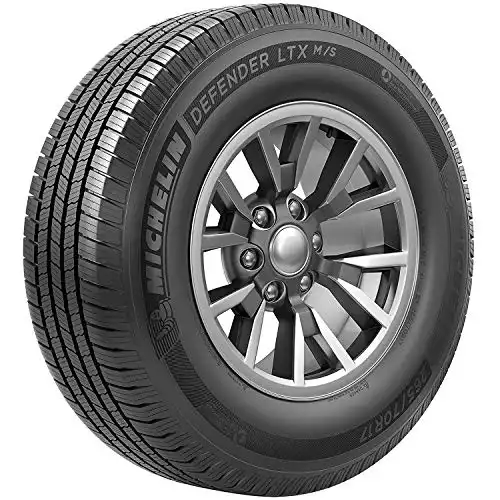 If your purpose behind buying a Toyota 4Runner is towing or hauling heavy cargo, then the Michelin Defender LTX is the tire best suited for you. 
Due to their MaxTouch construction, these tires provide superior stability to your vehicle, even if a large trailer or cargo is attached behind it. Grip, braking, and traction are also exceptional, both in dry and wet conditions.
The Defender LTX is suitable on gravel roads as well, thanks to its chip-resistant EverTread compound.
In terms of comfort, these tires are excellent, with almost no noise and superior ride quality even on the highway.
And lastly, the Defender LTX offers a 70,000-mile treadwear warranty for T- H- & V-Speed Rated models and a 50,000-mile treadwear warranty for W-Speed rated models, which is among the best for tires in the highway class.
Pros
Outstanding dry handling and stability in cold and warm conditions
Quiet and comfortable
Excellent wet traction
Cons
Poor performance in harsh winter weather
4. Michelin LTX A/T2

Michelin's LTX A/T2 is an on and off-road all-terrain light truck tire manufactured especially for recreational and commercial pickups, vans, and SUVs.
The LTX A/T2 provides even wear, a quiet ride, and decent fuel efficiency, even for challenging commercial applications.
In addition, it delivers outstanding traction and durability despite regular use on rugged off-road terrains without compromising on-road comfort and handling.
Its advanced light truck tread rubber compound and independent tread block design with classic Michelin Biting Edges improve traction on mud, dirt, wet grass, gravel, and snow.
In addition, Michelin's Advanced MaxTouch Construction provides long-term, even treadwear, and their Comfort Control Technology and precision manufacturing help reduce unnecessary vibrations and road noise. 
The tire's internal structure features two or three steel belts to improve tread puncture resistance and durability.
Pros
Outstanding off-road traction, handling, and durability 
Quiet and comfortable
Long-lasting even treadwear
Resistant to tread puncture
5. Kumho Crugen HP71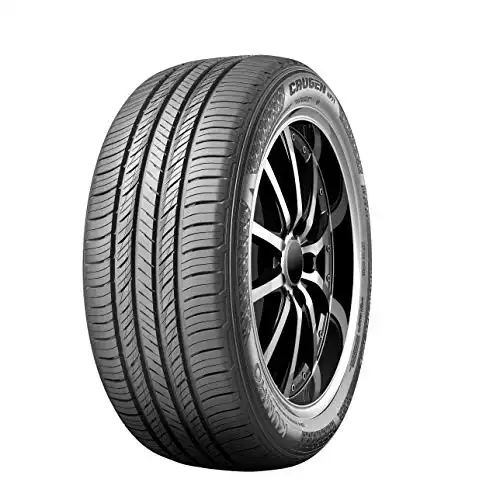 Kumho's Crugen HT51 highway all-season tires are meant for providing a durable, comfortable ride to vans, light-duty pickups, sport utility vehicles, and crossovers.
They offer all-season capability and reasonable light snow traction.
The all-season tread compound used to manufacture Crugen HT51 tires is molded into an asymmetric design with geometric block layouts for enhancing tread life and improving dry traction and straight-line stability.
In addition, their wide, circumferential zigzag grooves increase hydroplaning resistance, and 3-D zigzag sipes are responsible for the biting edges needed for light snow traction.
The tires' internal structure comprises a two-ply polyester cord body and two wide steel belts that enhance ride quality, improve overall tire strength, enhance handling and durability, and improve stability on the highway.
Pros
Increased durability, handling, and stability at highway speeds
Comfortable ride
All-season capability
Light snow traction
Hydroplaning resistance
6. Nokian eNTYRE C/S

Nokian has developed this 3-season crossover (CUV) and SUV, especially for enhanced snow and ice performance. 
The eNTYRE C/S excels and outshines hydroplaning resistance and road noise reduction and is also exceptional in concerning and braking on dry and wet summer roads. 
It's so good that even its lowest ranking is 'very good for cornering on gravel! 
And with a 105,000km (approx. 65,000-mile) tread warranty, the Nokian eNTYRE C/S is sturdy, reliable, and built to last.
Pros
3-season crossover tire
Quiet and comfortable ride
Outstanding braking and cornering on a dry and wet road
Light snow and ice traction
Exceptional hydroplaning resistance
65,000-mile warranty
7. Bridgestone Dueler A/T Revo 3

The Bridgestone Dueler A/T Revo 2 is a road-focused all-terrain tire and one of the best in this category.
Its symmetric tread pattern provides exceptional on-road handling and road holding, and its lightweight design enhances acceleration and braking, which also increases handling responsiveness. 
The advanced tread compound and open shoulder design used in these tires work well for driving in warm, wet, and cold conditions and provides sufficient grip and traction with higher tread stiffness and hydroplaning resistance for aggressive driving. 
Overall, the Bridgestone Dueler A/T Revo 2 is an extremely capable on-road tire with exceptional highway capabilities.
And it also offers a 50,000-mile tread warranty.
Pros
Road-focused all-terrain tire
Exceptional on-road handling
Outstanding braking and handling
Exceptional hydroplaning resistance
50,000-mile tread warranty
Cons
Slightly worse snow traction
8. Firestone WeatherGrip

The Firestone WeatherGrip is specially engineered to provide advanced control and handling to cars, minivans, and CUVs in all weather conditions.
It provides reliable wet performance all year round and is also certified with the 3 Peak Mountain Snowflake, so you can be sure to take it out confidently in snowy wintry weather.
This tire comes with a 65-000 mile warranty and is a good purchase if you're looking for a tire that's durable and safe in every weather – it's the best tire in the all-season/all-weather category.
Pros
Outstanding speeds on snow-covered roads 
Short stopping distance on snowy roads
Safe and durable 
Good dry handling and braking in all weather
65,000-mile tread warranty
Cons
Soft and unresponsive on the street
Noisy
Winter/Snow Truck Tires
9. Michelin Latitude X-Ice XI2 

The Michelin Latitude X-Ice Xi2 fulfills the promises of both all-terrain and mud-terrain tires. 
Compared to most of its competitors, it delivers exceptional traction and braking on slush, snow, and ice and outstanding dry and wet grip and traction, especially in freezing conditions. 
The Latitude X-Ice XI2 is also unique since it comes with a 40,000-mile treadwear warranty, which other winter tires don't offer. 
Pros
Best-in-class traction and grip in winters
Exceptional snow traction
Outstanding dry and wet grip and traction
40,000-mile treadwear warranty
10. Nexen Winguard Winspike WS62

The Winguard Winspike WS62 tire is specifically molded for better traction and additional comfort on both ice and snow. 
Its exclusive sipe pattern, block rigidity, and V-shaped tread pattern enhances handling and braking in even the harshest of weather and helps improve straight directional driving stability.
Also, the 12 multi-random stud lines help minimize stud noise and provide a quiet ride.
Pros
Enhanced snow traction
Quiet and comfortable 
Improved traction and handling on snow and ice
11. Nokian Hakkapeliitta R3 SUV

The Nokian Hakkapeliitta R3 SUV Nordic winter tire is manufactured especially for high-performance sport utility vehicles.
These tires provide an enjoyable driving experience with much-needed safety and stability.
The non-studded Nokian Hakkapeliitta R3 SUV is equipped with Aramid Sidewalls that help shield the tire from punctures and sudden impacts, enhancing durability and reliability in harsh weather and difficult terrains.
And the different sipes offer flexibility in all weather conditions and improve grip on icy surfaces.
Pros
Superior grip and stability handling on ice and snow
Safe, quiet, and comfortable 
Extended durability
Frequently Asked Questions
Final Thoughts
Now that you've gone through our list of the best tires for Toyota 4Runner, you'll have a better understanding of well-known models and manufacturers that have years of experience in making tires. 
Which tire you choose depends on your preference, but we would always recommend purchasing tires for your Toyota 4Runner from a reputable manufacturer, like someone on this list or even better. 
After all, the best tires will guarantee the best driving experience you and your 4Runner truly deserve.