Comparing two giants of the tire industry is not easy, especially when they have existed for more than 75 years.
However, with our knowledge of tires and their prices, we could do a bit of a comparison to help consumers choose the best between the best. 
BFGoodrich
BFGoodrich belonged to the Goodrich Corporation in the USA and was later taken over by Michelin. They started selling tires as early as 1896 and were the first tire manufacturers in America.
The first automobile to travel across America was fitted with BFGoodrich tires. 
Bridgestone 
While Bridgestone isn't as old as BFGoodrich, They have been carrying forward a proud legacy. It was founded in 1931 by Shojiro Ishibashi in Japan.
Since then, it has become the second-largest tire manufacturer in the world. The Bridgestone Group today has 181 production facilities in more than 24 countries! 
Products 
Both brands own a variety of products that are best in their specialties. 
BFGoodrich products 
Products from BFGoodrich are mostly performance-oriented for competitive racing. Below are some of the BFGoodrich products
The best tires for performance racing, offer superior grip on the racetrack in dry conditions and provide better grip in wet than tires from other brands.
The tires provide a better steering response and are infused with Silica in the compound. The tread pattern provides maximum cornering stability and shorter braking distances. 
This is an ideal all-season tire meant for all-around performance since they provide high traction in almost all weather conditions.
They also offer a quiet ride with a modern tread design for increased life and minimized tread wear. This is a must for drivers looking out for all-season high-performance tires. 
The Rival is a semi- competition track focussed tire meant for enthusiasts looking out for fun and power during their track days.
The tire offers quick warm-up in time attack and autocross competitions. Sidewall flex is minimum, thanks to its Performance Racing Core reinforced internal structure. 
The T/A KDW is an ultra-high-performance summer tire meant for coupes, sedans, SUVs, or trucks.
The tire is offered in 80 sizes and comes with a rounded shoulder profile for enhanced cornering. Wet handling too, is above average.
Despite being performance focussed, the tire offers a quiet and comfortable ride quality. 
5. T/A KDWS 
The T/A KDWS is an all-season tire that provides optimum performance and handling in dry, snow, and wet conditions.
An S-shaped variable groove taper cuts easily through water and snow while being as quiet as possible. The tire also offers exceptional control of the vehicle and improves steering response. 
6. R1S
The R1S is a DOT-approved sprint race, time attack, and autocross race tire focussed entirely on dry weather performance for the track.
The tire warms up quickly and provides excellent traction, vehicle control, and steering feedback. However, the tire isn't recommended for highway use and nor is it suitable for wet weather driving. 
Bridgestone Products 
Tires from Bridgestone are more comfortable, purpose-oriented tires and don't compromise on wet weather traction and performance. 
A snow tire with the perfect mix of the winter tread pattern and chemical compounds build to provide maximum traction in winter and snowy conditions.
The Blizzak offers optimum stopping power and aids in boosting driver confidence in difficult conditions.
Vehicle control is easily regained in case the driver goes overboard in icy conditions. 
The Potenza lineup of Bridgestone consists of performance-oriented tires made to offer superior grip, maintain early braking distances, achieve excellent handling of the vehicle at high speeds and also support wet weather traction.
The Potenza is suited best for high-performance sedans, coupes, and sports cars. 
Tires meant for tough duties on challenging terrain belong to the Dueler series. Compatible with trucks, 4WD vehicles, SUVs, the Dueler offers high traction on all-terrain conditions, it is tough to sustain rigid surfaces and haul high payloads.
The tire uses optimized tread blocks to minimize vibrations and road noise for improved comfort. 
The Duravis series serves trucks, commercial vehicles, and vans that ferry load and frequent the highways. The tire offers all-terrain, all-weather performance and is suitable for rough use.
It also offers reliable snow traction while it's strong casing, dual sidewall protection make this a very tough tire to have. 
Made for those that love to travel comfortably and in silence, the Turanza series from Bridgestone offers a car with more balance, comfort, traction, enhanced driving performance, and less noise.
The tires from this series are ideal for luxury cars and touring cars as they possess the qualities of quiet comfortable tires and performance tires. 
The Ecopia series of tires from Bridgestone has treads designed in a way so as to reduce rolling resistance. It is made specifically to save fuel and improve gas mileage. Users have reported a 7%-10% improvement in mileage.
The tire also offers better-wet surface performance, better cornering ability, it is more durable and much cheaper compared to other models.
The DriveGuard series offers a great touring experience for vehicle owners as they offer a perfect blend of high-speed performance, handling, all-weather traction, and a quiet, comfortable ride.
The biggest plus point of the DriveGuard series is that they are engineered to take a puncture literally, and yet, one could continue cruising for up to 50 miles. 
Common qualities between BFGoodrich and Bridgestone Tires
While both brands have tires that are suited to various purposes, there are a few common points that don't set them far apart. 
1) Performance 
Tires from BFGoodrich and Bridgestone offer tires that are for pure driving enthusiasts.
Be it the Sport COMP-2 or the Potenza, both brands offer tires that offer exceptional fun apart from excellent traction, superior handling, high-speed cornering, and an ample amount of 'feel' that is most important for spirited driving. 
2) Comfort 
Both brands offer tires that reduce road noise and eliminate vibrations that get transferred from the tires into the cabin.
Be it trips within the city or frequent highway drives, well-designed tread patterns are present on tires from BFGoodrich and Bridgestone to improve comfort and reduce vibrations. 
3) Wet traction
BFGoodrich and Bridgestone have had a long history in making tires. They make the best tires for wet weather traction.
The tread pattern is designed in such a way that the design dissipates large amounts of water, thereby preventing the vehicle from hydroplaning.
Not only wet weather, tires from both brands offer tires with excellent winter performance. 
Popular Models from Bridgestone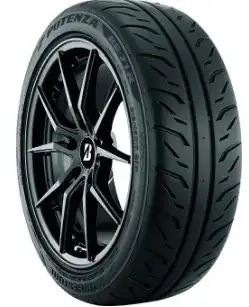 1. Bridgestone Potenza RE-71R 
The Potenza 71R is meant for pure performance. The tire offers maximum grip under hard braking and high-speed cornering in wet or dry conditions.
Be it the road or track, the 71R is always up in arms to tackle any high-speed challenge. 
2. Bridgestone DriveGuard 
As the name suggests, DriveGuard tires offer superior protection to the tire and prevent it from external damage.
They are ideal touring tires as they provide heat-resistant technology, they are lightweight, and the DriveGuard technology enables a driver to continue driving on a flat tire for 50 miles at speeds of up to 50 MPH! How cool is that?  
3. Bridgestone Turanza EL400-02
If one loves to drive in comfort, silence, and luxury, the Turanza EL400-02 is the perfect choice for them. The tire offers a quiet ride- thanks to its tread pattern.
The tires also last longer and provide all-season performance with a good level of wet and dry traction. 
Popular Tire Models from BFGoodrich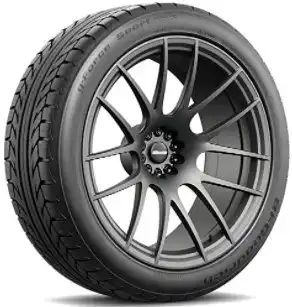 1. BFGoodrich All-Terrain T/A KO2 Radial 
This is BFGoodrich's toughest all-terrain tire that offers the best traction and performance off-road in almost any condition- be it mud, snow, sand, or even water wading through a lake!
The noise reduction technology on this model is amazing for an off-road tire. 
2. BFGoodrich Radial T/A 
The Radial T/A offers excellent traction and improved steering response, thanks to its tread design.
A wide profile offers a muscular look while its unique tread block phasing helps reduce road noise. Performance tread compounding helps with wet and dry weather traction. 
3. BFGoodrich Mud-Terrain T/A KM2 
The KM2 allows one to take their vehicle into the unknown quite confidently. A tough side-wall compound resists cuts from rocks and other obstacles. Linear flex zones on the tire help it grab obstacles and tuck onto them.
The tire is also suitable to haul a load and is commendably silent for a mud tire. 
4. BFGoodrich g-Force Sport COMP-2 
Any racer or performance enthusiast would instantly love this tire for its ultimate dry and wet grip, enhanced handling characteristics, and shorter braking distances. This is an excellent tire for pure high-speed performance. 
Features- face to face
We compare both brands on different grounds to know which one is better. 
Quality
Hands down, we would say that Bridgestone and BFGoodrich are quality-oriented in almost every way possible.
They have been making tires for many decades and quality is something that remains uncompromised. 
Durability 
The durability factor is present in tires in both brands.
However, since BFGoodrich's tire lineup is more performance-oriented for maximum grip, the durability factor is reduced by a small margin when compared to tires from Bridgestone. 
Most Affordable? 
We say that both brands score equally here.
The prices of tires offered from both brands are higher compared to tires from other brands. If one was to keenly observe prices and take an average of all models, we would say that Bridgestone tires are slightly more expensive but the increase is negligible. 
Ride comfort, Road noise 
BFGoodrich outnumbers Bridgestone in this case as it produces slightly better tires for consumer cars, sedans. BFGoodrich produces the best radial tires over Bridgestone that helps it edge over the competition. 
Handling 
BFGoodrich takes the win in terms of handling too. Thanks to its expertise in manufacturing high-performance radial tires, they offer superior traction and high-speed cornering under all conditions. 
Treadlife and Warranty
Though BFGoodrich offers a better tread warranty of 6 years against Bridgestone's warranty of 6 years and 3 years for specific tires, we'd say both tires do excellently in terms of their tread life.
Many user reviews suggest that the tires last more than the specified tread life limit. 
Prominent features
Speaking of BFGoodrich, the brand is known for offering tires with longevity and grip.
They make one of the best radial tires in the market and cater excellently to the performance car market, space well dominated by them.
They are also pioneers of producing some of the best all-terrain tires in the market that could get one out of a sticky situation with relative ease.
Bridgestone on the other hand is excellent in making all-season and winter tires.
They make one of the best touring tires for various vehicles that offer the best traction in wet and dry weather conditions while their winter tires tick all the necessary boxes.
Is Bridgestone better than BFGoodrich?
To conclude, we'd say that Bridgestone is better than BFGoodrich in many ways. But there are other aspects we listed out where BFGoodrich has a huge edge over Bridgestone.
In the end, we can't really declare a clear winner because both brands have been around for a lot longer than we have.
In addition, making a buying decision depends on a lot of factors like purpose, tire size, tire model, and budget.
Consequently, it would be unfair to generalize and choose a false winner.
We would suggest a user or prospective buyer zero in on the requirements and read the above comparison to know which brand best suits them best.