Choosing the right tires for your car is probably the toughest decision you would ever make. 
Bridgestone tires vs continental tires have been a long rivalry and even though high-quality tires are being produced by both tire companies they still have healthy competition. 
This article would help you in choosing the right tire manufacturers for your car.
Bridgestone Tires:
Being one of the most famous tire companies in the world, Bridgestone Tires has been quite effective in producing all-season tires, both for SUVs and light trucks.
Even for smaller automobiles, there have been quite variations in the tire rack for their designs. 
Having a long history of making the best tires in terms of novelty and road conditions, the company has made a name for itself by being a top tire manufacturing brand.
Best Bridgestone Tires in the Market:
A few Bridgestone tires that are available in the market that you can choose from are explained briefly:
Bridgestone Potenza RE980AS

This tire will suit you the most because of the tread pattern that is capable of running on both dry and wet roads. If you're looking for cheap tires then this is probably not the right choice for you because these would be a little costly.
Bridgestone Ecopia EP422

The second on the list is the Ecopia range with low rolling resistance and good steering response. The main selling point for this tire is fuel efficiency because it has been a major claim by the company that it provides effective fuel economy.
Bridgestone Turanza EL440 

This is one of those discount tires that you would want to buy and it is quite cost-effective as well. 
It may not be one of those good snow tires but gives a different ride comfort when it comes to dry traction. Sustaining extreme temperatures, this tire is all you need in terms of more value.
Continental Tires
Based in Germany, continental tires is basically one of the most famous tire brands in the European Region.
With its long line of on and off-road tires, Continental Tires with their novel run flat technology has manufactured effective tires for the general consumer group. In terms of performance, many cars prefer these tires.
Best Continental Tires in the Market:
In terms of quality, Continental Tires have ensured it with their grip on dry roads and lowest prices for consumers in different consumer groups. With less noise and better stability, the company has managed to improve over time.
Some tires with the Continental Truecontact technology available in the market are explained briefly below:
CONTINENTAL ContiCrossContact LX Sport 

The first ones in the line are the on-road tyres with wide grooves that would definitely suit you well in terms of both performances as well as better handling. 
These tyres serve very well on wet roads but I wouldn't prefer them over the Bridgestone dueler range.
Continental ExtremeContact 

So if you own a 7 series BMW and want the better handling you need for stability then you would love this series for your vehicle. 
As much as they are good in terms of traction, they would serve effectively in wet conditions as well. With the durability of these tires, you wouldn't need to put more effort into the gas pedal.
Continental TRUECONTACT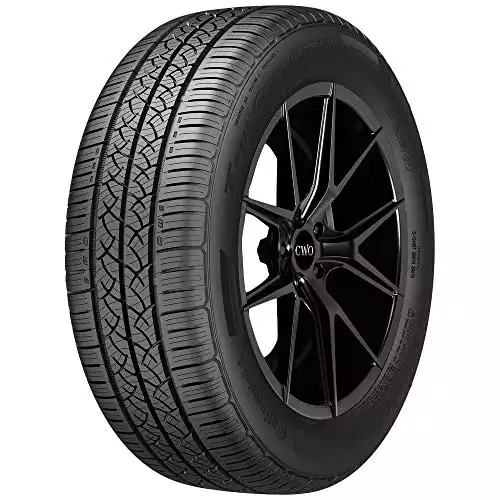 This is by far ranked as one of the most effective continental tires in terms of high performance.
With the grip on both wet and dry roads, these tires are really effective, and even after some time, they would feel like new tires. 
For performance enhancement, true contact technology improves your ride quality providing a perfect drive.
Face to Face: Which one is Better?
It all comes down to making the tough decision to choose the right tire for your car and you can do so by comparing both the tires in a similar fashion. 
Based on multiple perspectives, I'd like to summarize a few points that push you into spending your money on the right decision.
So a brief explanation of Bridgestone vs continental tires is the way to go from here. Let's start then:
Quality:
So speaking of quality, it's quite the tough competition as it is a very close battle. In search of good tires, you would consider quality as one of the prime qualities.
Bridgestone Ecopia and Continental Truecontact are two models that are head to head with each other in this case. 
In terms of performance, both are all-season tires and a test drive would be enough for you to choose the right tire.
On that note, it must be communicated that the primary goal of the Bridgestone Ecopia series was fuel efficiency and not perfection. In this case, Bridgestone would get a point. Even though both are similar tires, quality is to be judged by the performance in different seasons.
Who's more Durable?
Durability is one factor that every other car driver would want for his car tires. Providing better mileage is one goal of tire manufacturers, and based on this they design the rubber material. 
In search of a durable tire, you'd come across the Bridgestone Potenza as a viable competitor to the Truecontact technology of Continental tires.
Gauging the durability of these tires is somewhat based on the braking of the driver as well.
For example, if you're driving an SUV or a regular car then you would need a seasoned tire that is capable of adapting to the extreme temperatures during braking. 
This can eventually give a better idea about the durability of these tires.
Based on the reviews, Bridgestone again gets another point.
Most Affordable:
Coming to the price of each tire company, there is not much of a comparison as Continental tires are known to be all-season economical tires. 
The difference in cost would help in choosing the right tire for your vehicle. In terms of price, Continental despite having one of the best tires in the European region still is quite cost-friendly.
On the other hand, you will find a lot of quality in Bridgestone but if you are not willing to spend a lot on your vehicle then you may as well opt for Continental.
Gauging the Ride Comfort/ Noise:
In terms of traction, you would understand that a seasoned tire cannot perform as well in the snow and on dry terrains. 
But ride comfort on a smooth road for an in-city drive is important. High-performance tires from the firestone range of Bridgestone are quite effective as they provide very low noise.
Usually, vehicles running with all-season tires suffer due to the lack of ride comfort and their ride is noisy. To prevent that, continental provided different tires in terms of low noise and the model that stood out was the ContiCrossContact tire. 
This all-season tire provides the lack of ride noise that improves your journey as you go.
But if you really want to have a comfortable ride with more value then you need the Bridgestone dueler range with run-flat technology.
Tire Warranty Cover:
Adding value to your tire search is important and especially during the winter season, you would need the quality and comfort with confidence that your investment will not be wasted.  
Owing to that both Bridgestone and Continental tires provide tire warranty coverage. 
For example, if your car did not sustain the vehicle tires and the rugged journeys were too much for the tires then the two brands offer tire warranty coverage.
The search for a quality tire is governed properly when the chosen brands are willing to contribute to the safety and protection of passenger cars. Especially in the snow, tires fail and due to this coverage is important.
Both Bridgestone and Continental, offer the right amount of coverage in case there is permanent damage to the tire during the warranty.
The Verdict
Bridgestone tyres are always focused on performance enhancement and the wide grooves around their ecopia provide effective fuel economy. 
Taking the tire as an example, you can easily predict the right tires in comparison with continental. Steering responses for similar tires from Bridgestone and Continental are almost the same so it's pretty much an even battle.
Passenger cars usually would prefer the firestone collection from Bridgestone so it's a close call when you are in search of a tire comparable to continental. 
At a confined price, you can find continental tires that would serve as quite effective in multiple seasons so the dueler range is very comparable.
Final Thoughts
It's pretty much clear and simple that Bridgestone is one step ahead of Continental Tires because of the increased traction and effective performance. 
But in the case of the lowest prices, continental always takes the lead. 
So if you are looking for high performance then go for Bridgestone. Otherwise when talking about normal tires in an economical range then continental is the way to go.