So, you've decided to invest in new tires for your car. With so many options out there, it can sometimes get too confusing to make the right choice.
You'll have to find the perfect balance between price, quality, and comfort because let's admit; not all tire brands are the same.
Today's matchup is Bridgestone vs Firestone. Two popular tires with a long and successful history. Let's see how they compare.
Bridgestone vs Firestone: An Overview
Before we proceed with the comparison of Bridgestone vs Firestone, let's first take a brief look at the companies.
Both Bridgestone and Firestone enjoy a successful reputation in the market because of their specific characteristics that make them ideal for their target audiences.
Bridgestone Tires
Bridgestone is a premier international brand known for its high standards and durability.
It started in Japan in 1931 and is one of the biggest tire and rubber manufacturers in the world today.
Bridgestone tires are very highly rated in their respective categories and enjoy worldwide trust along with a significant share in the global tire market.
In North America alone, Bridgestone leads the market with around 20% of all tire sales. Which makes it one of the largest tire manufacturers out there.
Apart from their exceptional quality and durability, Bridgestone tires are also famous for innovation. The company has been at the forefront of the run-flat technology, that allows tires to last for a considerable distance after being flat.
Another thing that makes Bridgestone one of the biggest tire manufacturers is its ownership of several other brands.
Firestone is one of them. However, all those entities act as a separate division and work under the umbrella of Bridgestone.
Firestone Tires
Firestone is a well-recognized US brand that started small in Ohio but soon became a preferred choice in the economic category. Bridgestone acquired the brand itself in 1998 but Firestone maintains separate operations that allow it to remain unique.
Today, Firestone tires operate from Nashville, Tennessee, and enjoy a good reputation in the market.
Because of its affiliation with Bridgestone, the brand fiercely competes with large-scale companies like Michelin and Goodyear in the budget category.
Firestone offers multiple replacement tires for all vehicle categories, but its passenger tires are the most famous.
The company also provided OEM tires for the Ford Motor Company as well and stands as a good choice for a regular user looking for a decent and budget-friendly option.
Top 3 Bridgestone Models
Bridgestone stands as a benchmark among tire brands. As a premier tire brand, you can expect guaranteed quality from all of their models.
But even in the line of excellent choices, the following are the most exceptional models that Bridgestone has to offer.
Bridgestone Dueler Alenza H/L Plus

Dueler Alenza plus combines the very best of everything that Bridgestone has to offer.
From an incredible response to high durability, the tire offers you excellent traction as well as a long lifespan.
It's one of the best tires to use throughout the year.
Dueler Alenza plus delivers excellent performance on wet roads and during light slow. You can easily get over 80k miles out of the tires. Best of all, it even comes with an 80k mile warranty.   
Bridgestone DriveGuard

If you're looking for all-season tires that can deliver an outstanding ride, look no further than Bridgestone DriveGuard.
The tire provides you with exceptional braking on dry pavements and has good performance on wet roads.
With Driveguard, you'll not only enjoy a comfortable riding experience but also a silent and smooth ride overall.
Best of all, Driveguard is designed specifically to withstand punctures and can be used for 50 miles without any pressure, giving you an ample amount of time to reach a repair shop.
Bridgestone Ecopia EP422

Ecopia Ep422 is one of Bridgestone's most popular models and for good reason.
Known for its outstanding fuel efficiency, the all-season tire provides a comfortable riding experience with incredible steering and handling control.
Compared to other alternatives at a similar price range, Ecopia EP422 offers the best value for your money.
Top 3 Firestone Models
Firestone is known for its all-season high-performance tires.
The various models offered by Firestone not only deliver an excellent riding experience but are also far more affordable compared to many other similarly performing alternatives.
The following tires are some of the best that Firestone has to offer.
Firestone WeatherGrip

Firestone WeatherGrip manages to deliver an outstanding and innovative riding experience.
The tire is well-regarded for its excellent performance in snow and offers incredible handling and control. It even manages to deliver a top-notch ride in wet and dry road conditions.
WeatherGrip has an expected tread life of 60k and comes with a warranty of 65,000 miles.
Firestone Affinity Touring

Another All-season tire from Firestone, the Affinity touring tire is designed to deliver its best performance on minivans and other smaller SUVs.
Its brilliant design allows Affinity Touring to deliver a comfortable and smooth riding experience on wet or dry roads.
Despite its relatively low price, Firestone Affinity Touring provides excellent value for money.
Firestone Destination A/T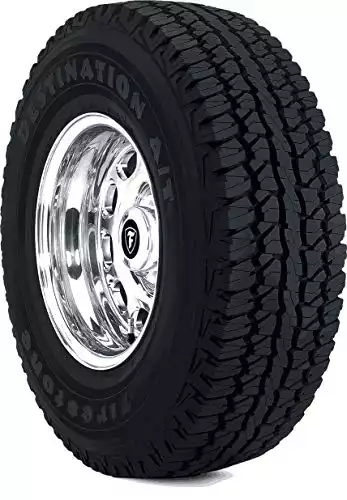 Firestone Destination is an All-terrain tire that provides outstanding traction on different terrains.
Ideal for those who want tires that are not only suitable for an across-the-country ride but are also economical.
Destination A/T is innovatively designed to adapt to any kind of weather, meaning that the tires have excellent performance in wet, dry, or snowy road conditions.
Bridgestone vs Firestone: Characteristic Comparison
Here's how Bridgestone and Firestone compare to each other in some of the most important aspects of  
Quality
Bridgestone maintains uniform quality standards and processes across all its divisions and subsidiaries.
This means that both Firestone and Bridgestone tires go through the same stringent checks that ensure consistency and reliability Bridgestone is known for.
The main difference between both brands is their target markets and intended use.
Bridgestone tires are for intensive users who demand more from their tires while Firestone tires are for a regular user who wants a decent option at a low budget.
Durability
Since both Bridgestone and Firestone undergo similar tests and standards, they offer almost the same durability.
However, their intended use is quite different.
Firestone tires will offer you very similar durability but only when you remain on paved surfaces and drive carefully. For rough use and frequent off-roading, Bridgestone will be a better choice as it's designed to handle it better.
Affordability
Naturally, Firestone tires fare better in this category because they target the budget sector.
Bridgestone, on the other hand, is a premium brand so it requires more investment as its models are more expensive and high-end.
Ride Comfort/Road Noise
Bridgestone is a clear winner over Firestone models in this category because of its premium design and enhanced performance. The tires are designed for high-end cars and performance users who don't compromise on comfort as well.
While Firestone's Road comfort is not below par, it still doesn't compare with what Bridgestone offers. However, road comfort is hardly the only criteria someone considers who's on the budget.
Given the price tag of Firestone tires, you'll be definitely impressed with what it offers.
Handling
When it comes to overall handling on a regular commute or even long trips on the highway, a regular user won't find much difference in the handling capabilities of both Firestone and Bridgestone.
The real issues happen when you are off-roading or are operating at other than normal conditions.
Bridgestone offers slightly better handling in unusual conditions when compared with Firestone. That's not all, expert drivers can notice the slight difference on regular paved roads as well.
However, that's quite hard for a normal user to distinguish.
Tread life
The material quality and processes are only one piece of the puzzle when it comes to treads.
Several factors affect tire treads and the biggest one is how you drive.
If you are a rough driver and frequently visit areas with damaged roads, you should be ready to spend more on tire replacements because you'll need them irrespective of the brand you choose.
However, Bridgestone tires will naturally fare better than Firestone in such conditions because the manufacturers anticipate some rough use.
The characteristics of Bridgestone tires' design allow the treads to sustain more damage before failing.
So, choose Bridgestone if your budget allows it or if you are looking for something that lasts longer even in tough conditions.
Tire Warranty Cover
This is one area where both Bridgestone and Firestone are quite similar. Since both are essentially the same organizations, in the end, there are some uniform policies. The basic warranty you get on the purchase of these tires is the same.
There might be some differences based on an ongoing offer or a particular model, but the basic cover remains the same for both brands.
So, Who Wins?
Since Bridgestone owns the Firestone brand, you'll them to have many similarities. Tire models of both brands come equipped with the same inherent quality and standards.
The reason behind their difference is due to their different target markets.
Bridgestone tends to generally target high-end premium users and is ideal for luxurious cars, sports cars, and others alike.
On the other hand, Firestone tends to target the mid-market section by offering affordable tires with high performance.
It is ideal for daily commuters who want the best possible tires that don't put a dent in their budget.