In the past few years, there has been great competition between tire brands –  "who produces the best tires" or "who utilizes the best technology?" More often than not, Continental vs Michelin Tires has been one of the popular topics up for debate.
The aim of this article, however, is to provide readers with necessary info about the two tire brands, and leave them to conclude on which company offers the best tires for road use.
Continental Tires
Founded in Hanover, Germany in 1871, as Continental-Caoutchouc- und Gutta-Percha Compagnie, Continental Tires has been one of the leading tire manufacturing companies in the world.
With the sole aim of developing technologies and services for seamless mobility of people and goods.
Over the last 150 years, this tire brand under Continental AG, has taken sustainable management and social responsibility as its primary values to deliver excellent products and services to people all around the world.
Currently, Continental has established its base in over 58 countries of the world, and employed about 200,000 people.
The company also has a generated sales of about €40M, making it one of the world's successful tire manufacturers.
This company trails other tire brands like Bridgestone, Firestone, Cooper Tires, thus, making different types of tires – replacement tires and original equipment (OE) tires for cars, suvs, minivans, etc.
The brand is known to supply Mercedes Benz and Volkswagen Group with OE tires.
Michelin Tires
Michelin is one of the world's leading mobility companies, ensuring sustainable movement of people and goods from one location to another with their innovative tires.
Currently, this brand is recognized as the top-selling tire brand in the world, and listed as one of the world's most admired companies on the Top Tire Manufacturer on Fortune 2021.
Michelin is a global premium brand, developing high-technology products (automotive parts) and delivering roadside assistance for passenger vehicles.
According to statistics and data, this tire manufacturer has over 20 million licensed products sold – with 170,440 maps and guides sold as of 2020. The total sales in North America is estimated at about $8.1 Billion.
Michelin is established in 2 countries (U.S.A and Canada) but has 34 plants across the world, and a workforce of over 20,000 employees.
Michelin and Continental tires may be two different brands but they are alike in some aspects.
Both brands share certain qualities that make them incredibly good for road use.
First, they are top quality tires compared to other brands – they are effective, offer high speed, and suitable for various commercial vehicles.
Secondly, they are packed with advanced features and equipped with independent technologies for maximum performance. For instance:
Continental Run-Flat Technology
Run-flat tires are special types of tires that still continue to remain in motion over the next 30 to 50 miles after puncture.
Continental tire brand utilizes this technology to make some of its tires for excellent road use.
Continental ContiSeal Technology
ContiSeal tires are built with a technology that is self-descriptive, i.e., tires are sealed immediately after puncture.
Continental ContiSilent Technology
As a means to reduce road noise or vibrations, Continental also designs its tires to work using ContiSilent technology. These tires guarantee a quiet and smooth ride.
Michelin Acoustic Technology
Noise and vibration reduction is also considered by Michelin, which is why the brand uses a noise-reducing technology called the Michelin Acoustic Technology to reduce noise by 20% for a comfortable ride.
Michelin SelfSeal Technology
Another technology Michelin integrates is the SelfSeal Technology, that offers maximum protection against sharp objects.
Tires with this technology have in-built natural rubber sealant to prevent air from leaking while driving. 
Popular Continental Tire Models
With so much already told about Continental Tires, below is a list of the top 3 tire models from the company.
Continental CrossContact LX20

Continental CrossContact LX20 is one of the best-selling tires from this company, as it utilizes the EcoPlus Technology, which is a common choice for crossovers, light trucks and suvs, sport utility vehicles, and touring vehicles.
It is an all season tire with excellent traction for off-road conditions, as well as wet roads and light snow.
The in-built technology also makes sure that this tire has good wet braking and enhanced fuel efficiency for the ultimate driving experience.
Furthermore, this CrossContact tire has an all-season tread compound and symmetric tread design with four circumferential grooves, making it responsive and stable on different surfaces – with reduced noise.
Continental ExtremeContact Sport

Continental ExtremeContact Sport is another interesting choice of tire from this brand. It is an ultra high performance tire designed with the SportPlus Technology, making it a suitable choice for racecars, and a passenger car. 
It is also a perfect summer tire.
As one of the best passenger tires, it has an extraordinary dry and wet precise handling, ensuring that it is stable and responsive on different surfaces. 
It also has a great dry and wet braking with an incredibly extended tread life to handle all conditions efficiently.
Overall, this Continental Extreme Contact Sport tire is durable and satisfies even the most demanding drivers – including racecar drivers, ensuring they get the best of performance.
Continental ContiProContact Radial Tire

Continental ContiProContact Radial Tire is referred to as the brand's grand touring all season tire because it is built for excellent performance, fuel efficiency, comfort, and luxury.
This tire works for all kinds of vehicles, including passenger cars, crossovers, touring vehicles, etc. It has precise handling and excellent traction, making it quite the choice for different situations, including light snow and dry conditions.
The ContiProContact tire utilizes a PROactive Edge Technology and has wide circumferential grooves, thus enhancing good steering response and minimized road noise. It also comes in different sizes, with each featuring low rolling resistance technology.
Additionally, the grooved tires have symmetric tread design, ensuring all-season versatility, and excellent speed durability. 
According to the tire market, Continental tires have a good speed rating compared to other brands like Cooper Tires.
Above is a list of some of their best tires; however, other fantastic models from this brand include Continental PureContact LS, and Continental Terrain Contact H/T.
Popular Michelin Tire Models
Michelin also has some popular models on the road today. See below for the top 3 choices available.
Michelin CrossClimate2 All-Season Radial Car Tire

Michelin CrossClimate2 All-Season Radial is one of the popular tires from this company, designed for sedans, coupes, suvs, crossovers, and station wagons. It is the perfect day-to-day driving tire.
This tire comes with a unique Thermal Adaptive all-season tread compound, and has a V-formed tread design, making it possible to overcome dry and wet conditions excellently. It also works perfectly during winter.
Furthermore, the Michelin CrossClimate2 has a PIANO Noise Reduction Tuning technology that makes the tread pattern more advanced, ensuring noise reduction and less vibration. It also utilizes a 3D SipeLock technology that ensures rigidity and stability, increasing traction to handle all surfaces.
Even though this tire has a grooveless pattern, it comes with a braking distance traction enhanced by the V Ramps, increasing contact to road surface and enhancing control.
Michelin Defender LTX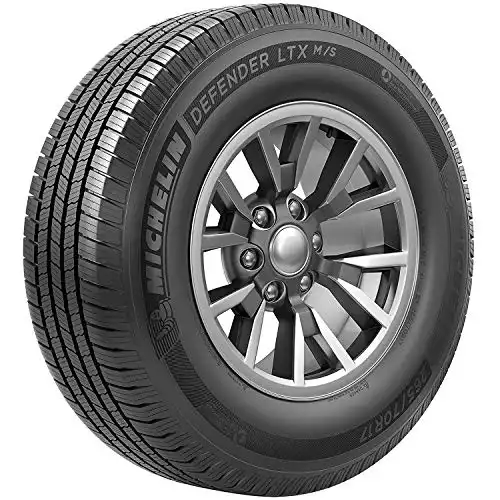 Michelin Defender LTX is one of the most eco-friendly tires in the world because of its MaxTouch construction with absolute fuel efficiency.
This tire has excellent traction, ensuring short braking distances on wet roads and on snow.
It is indeed one of the best winter tires.
Michelin Energy Saver

Michelin Energy Saver is also one of the best choices for passenger cars, as a premium touring summer tire.
This tyre has a strong, silicon tread compound, enhancing durability, safety, and excellent performance.
It lives up to its energy saving name, as it ensures good fuel economy.
Michelin is a known brand for producing high quality tires, and there are other fantastic models on the market asides those reviewed above.
Other popular options from this brand include Michelin Primacy, Michelin Pilot Sport 4s (the hybrid tread rubber tire), and Michelin Alpin A4.
Design Features and Technologies – Features face to face
Many drivers find it challenging choosing one tire brand over the other because they both come with incredible features for road safety and performance.
Nevertheless, there are some factors that can be used to judge the supremacy of one brand over the other.
Say, there are two tires – one from Continental, and the other from Michelin, below are factors to help decide on what to choose.
Quality
Continental Tires and Michelin Tires are two companies remarkably known for premium, high quality tires, and whatever situation a driver may find himself in, both brands will always come true with their best tires.
However, when it comes to quality, one brand shows slight progress over the other – Michelin.
There are all kinds of tires Michelin produces and all of them are constructed with the finest material and packed with incredible features for use.
As a matter of fact, the majority of Michelin tires are all season tires, i.e., they have both summer and winter tires.
Who's More Durable
When comparing the two brands in terms of durability, Michelin shows more durability considering its construction material and tread compound than Continental tires.
With excellent tire durability comes safety of both the driver and passengers.
Most Affordable
Continental produces a wide range of tires offered at lower prices compared to Michelin. The latter is an exquisite brand, which means its products are quite a luxury.
Ride Comfort/Road Noise
For a quiet ride, the two brands show their strengths by integrating various noise-reduction technologies.
However, many times, it has been reported that Michelin tires are quieter than Continental tires.
It is also a known fact in the automotive industry that a zero-noise tire means ride comfort.
Handling
Continental tires have maximum traction compared to Michelin tires.
With that traction comes precise and responsive handling on different surfaces – wet and dry conditions.
Treadlife
Michelin wins when it comes to tread life. This tire brand has both symmetric and asymmetric tread patterns that ensure proper stability and response on different surfaces.
Continental tires, on the other hand, mostly have symmetric tread patterns.
Tire Warranty Cover
Considering the durability of Michelin tyres, they seem to have more warranty cover than Continental. However, it may vary from one model to another.
Are Michelin Tyres better than Continental?
The debate on whether Michelin Tyres are better than Continental Tires has been ongoing for decades now, and no one seems to have a definite answer.
However, we think the answer lies with the users. For SUV tires or performance tires, both brands are good.
Drivers and car enthusiasts need to consider what they actually want from a tire and then go ahead to choose who satisfies them.