Choosing a mid-tier tire brand is tough because it's a competitive market and all brands have some unique qualities.
Today's matchup is Goodyear vs Cooper Tires which is as close as it gets.
Overall, both brands are excellent and that makes it hard to choose one. Generally, Goodyear is better for those who need tread life.
Cooper, on the other hand, is better for users looking for more traction and save a few bucks as well.
Let's take a detailed look at both brands.
Goodyear Tires
Goodyear tires stand as one of the most recognizable brands globally because of its rich history and focus on quality.
It's been associated with NASCAR and has an excellent reputation in the market which it strictly maintains.
The brand started in 1898 as a small rubber manufacturer in Ohio and stands as one of the most famous tire companies around the world.
The cumulative experience allows Goodyear to ensure the best of everything from its material to the process. So, you can be sure that your choice is worth the money.
All around the world, Goodyear tires are famous for providing arguably the best overall road grip and driving experience.
The tires are also extremely durable, which means that they are a perfect choice for someone looking to make a long-term investment and the peace of mind that comes with premium brands.  
Today, Goodyear tires deal with a variety of vehicle categories and applications. Here are a few of them
Passenger vehicles
Trucks / SUVs
Trailers, tractors, and commercial trucks
Golf Carts and recreational vehicles
Construction equipment
Farming equipment
Cooper Tires
The Cooper Tire company is relatively young.
Just like Goodyear, it started humbly in 1914 and focused on providing auxiliary items, repair kits, tire cement, tire patches, and other similar items.
Today, things are very different. Cooper Tire is among the best tire manufacturers in the Americas and enjoys popularity because of its excellent quality and affordable prices.
While Cooper tires offer good quality and excellent value for money, the brand is primarily famous for its versatility and innovation.
Cooper tires use highly specialized technical molds that can handle numerous tricky conditions like wet roads, ice, and snow with relative ease.
Just like Goodyear, Cooper tires also offer models for almost all kinds of vehicles and applications. In fact, you can find Cooper models for all the applications in the list from the previous section.
Goodyear vs Cooper Tires: Top Sellers for Each Brand
Both Goodyear and Cooper enjoy a solid reputation in the market and have a similar target audience. Here's an overview of the most popular models that both brands offer.
Top 3 Goodyear Models
1. Goodyear Eagle RS-A2

This is among the most popular offering by the Goodyear brand as it checks all the boxes when it comes to handling, comfort, safety, durability, and traction.
The Goodyear Eagle RS A2 is an all-season model that has all the bells and whistles any regular commuter might need from a new tire.
The tires offer enhanced traction and control thanks to their asymmetric tread design.
You can expect more responsive steering, precise cornering, and overall better control over your vehicle with the Eagle RS A2.
Furthermore, this tire model also comes with an extended rib that protects the wheel against any accidental damage from the curb or unusual debris.
However, that quality might come at an expense of the tire sidewalls.
2. Goodyear Wrangler SR-A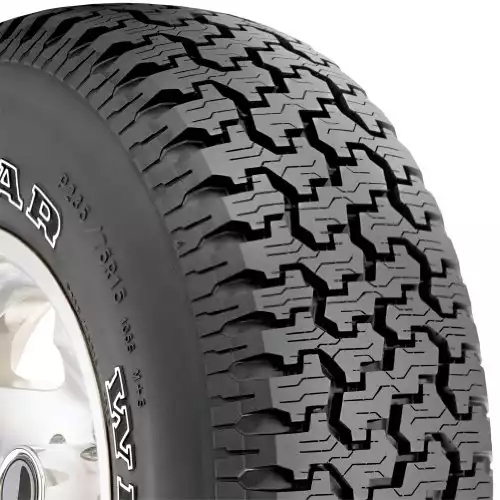 This is an extremely popular choice among SUV owners and people who regularly commute on highways.
The tires offer excellent durability, cornering grip, traction, and wet performance.
This makes it an ideal choice for cross-country commute with different weather and terrain.
The SUV sector loves this tire option because of its treads that reduce vibrations and unnecessary noise. The tires also work perfectly in gravel or snow, which is perfect for occasional off-roading.
Summing up, the Wrangler SR-A is a popular choice for someone spontaneous who wants the car to be ready for a cross country trip or a short visit to the mountains at a moment's notice.
Its versatile performance, durability, and road grip give a perfect combination that is quite hard to replicate by any competitors. 
3. Goodyear Fortera HL

The Fortera HL is Goodyear's answer to the demand for a safe and stable tire that works in all weather conditions.
It offers excellent handling capabilities and delivers a quiet ride free from any vibrations because of the tread design and grooves.
One of the biggest selling points of this tire is its handling capabilities.
The tire offers excellent traction and control on both paved and rough surfaces.
Furthermore, you also don't have to worry about buying out new tires any sooner.
The Goodyear Fortera HL offers ideal durability and performance that protects the tire from any damage in the long run.
Top 3 Cooper Tire Models
1. Cooper Discoverer AT3

The Cooper Discoverer AT3 is an incredible all-terrain option that's designed to stay durable for the longest time.
The tires come with additional load-bearing capacity and a reinforced sidewall that provides a smooth ride on both long and short routes.
The rugged treads of the Discoverer AT3 also give it a grip under all conditions. Whether it's snowing, raining, or it's the normal season.
This tire will continue to perform and give you the best overall results.  
2. Cooper CS5 Grand touring

This tire is the best choice for users who need a balance of comfort and performance on paved roads.
The all-season tire comes with exceptional grip and sound-absorbing capabilities that ensure the smoothest rides and overall luxury experience.
The tires feature stable handling, impeccable steering performance, and decent control in both wet and dry conditions.
The tire also comes with Cooper's proprietary Wear Square.
It's an indicator that quickly tells you the remaining life of your tread. That way, you'll always be in control and will be able to quickly estimate when you should get your tires changed.  
3. Cooper Evolution M/T

This is a specialized tire designed to work perfectly in muddy terrain and give you as much traction as possible.
The Cooper Evolution offers incredible trail performance and gives you decent grip, tread wear, and stability.
However, the tire isn't designed for users who prefer comfort and quiet as its ride comfort and noise levels are quite bad.
How do Goodyear and Cooper Tires Compare in the Ring?
Both Goodyear and Cooper tires are excellent brands that perform well in a plethora of conditions. There are, however, some differences as well.
The ideal customer for both Goodyear and Cooper tires has several similarities. But there are some differences in their preferences.
Let's take a look at how both brands compare in terms of quality, durability, and other key indicators.
Quality
Both Goodyear and Cooper tires enjoy an excellent reputation in terms of quality.
The materials, processes, and quality checks they use are the same.
However, Goodyear has a slight edge over Cooper but there is a premium charge over what Goodyear offers.
Who's More Durable
Just like quality, durability is another area where there is a negligible difference between the two brands. Goodyear, however, offers more durability and tread life over a wide variety of applications.
Most Affordable
Relative to Goodyear, Cooper Tires models are significantly more cost-effective.
However, don't count them out or think that they are not great.
Cooper tires are famous for delivering excellent value for money. This means that you won't be compromising on quality and durability despite paying a lower price.
Dry/Wet Traction
The overall dry and wet traction your fires offer doesn't depend on the brand.
Some Goodyear models give you excellent performance in both dry and wet conditions, but the opposite is also true. Many Cooper models also have excellent traction and road grip in versatile conditions.
Ride Comfort
This is one area where Goodyear takes the cake and delivers a significant performance difference compared to Cooper tires.
Goodyear tires are generally more comfortable, come with additional features to absorb vibrations and produce the lowest noise.
Steering Responsiveness
Similar to traction, there is a negligible difference between the steering response of many Cooper and Goodyear models.
However, you must remember that almost all Goodyear models will give you an excellent steering response as opposed to Cooper where only a few models have this capability.
Tread Wear Comparison
The treadwear depends on how you drive and the overall qualities of the terrain.
Both Goodyear and Cooper tires offer similar tread wear profiles because there is a negligible difference in the durability they offer.
Tire Warranty Cover
Both Goodyear and Cooper tires offer a limited warranty on the tread life of their tires but the latter offers a better deal generally.
Cooper tire warranty depends on the model you are buying but it averages between 70k to 80k miles.
On the other hand, the average warranty that Goodyear offers is around 24,000 miles or 24 months. Making it seem like an inferior offer to what Cooper is offering to its customers.
A Few Questions on Goodyear vs Cooper Tires
Both Goodyear and Cooper tires have similar target markets and even ownership.
Very recently, Goodyear purchased Cooper tires which now operates as its subsidiary.
However, the operations and product development of both Cooper and Goodyear tires work as a separate entity.
Because of the acquisition, many people have some confusion regarding the two brands. The following questions are some common confusions people have regarding Goodyear and Cooper tires.
Are Goodyear and Cooper tires the same?
Are Cooper tires made by Goodyear?
Does Goodyear own Cooper Tires?
Are Cooper Tires as good as Goodyear?
The answer to all these questions is the same.
Goodyear and Cooper Tires are two different brands. The former simply owns the latter but that doesn't have any effect on the processes at Cooper tires.
Final Thoughts
Goodyear vs Cooper Tires is a very close debate because both brands offer similar quality, durability, and performance.
The main difference is the target market.
Goodyear targets customers who want a premium experience with maximum comfort while Cooper is for users who'd prefer a good quality fire at a competitive price.
The right choice depends on your preference and budget. However, it's certain that both brands are an excellent choice for you to take on the road.