The debate of which is the better brand between Cooper tires and Michelin tires is an unending one.
Various websites have had to compare both brands based on different factors – some of which were true.
Well, you are about to see a more accurate comparison in this review article.
Cooper and Michelin Tire Brands Reviewed
Before getting into Cooper tires vs Michelin, let's get familiar with the manufacturers.
Cooper Tires
Cooper Tires is one of the most popular tire brands in the United States.
It was founded in 1914 and at the time was known for selling patches and tire repair kits. However, the brand began manufacturing tires years later and gained massive recognition among car owners.
Cooper makes high-quality tires even as original equipment for automotive companies like Mercedes-Benz and Volkswagen Ford.
It is also one of the affordable tire brands and has the potential to compete with top manufacturers like Goodyear, Bridgestone, and Continental.
Cooper tire models for passenger cars, SUVs, trucks, and minivans are integrated with incredible technologies to deliver top-notch performances in different conditions and various surfaces.
Michelin Tires
Michelin Tires is one of the most reliable tire companies in the North American market. It was founded by Eduoard and Andre Michelin in 1889.
The brand started making pneumatic tires in 1891 many decades later, they became a tire manufacturer for vehicles.
Michelin was able to grow successfully because they acquired other tire brands like BF Goodrich and Uniroyal. Today, the tire company makes tires for cars, airplanes, motorsports, and bicycles.
Michelin competes with the most popular tire brands on different bases – for instance, it accounted for an estimated 20% of total sales of tires in 2019 in North America.
One more impressive thing about this premium brand is that it makes the best winter tires with a good treadwear warranty.
Top 4 Cooper Models
With so much about Cooper tires already, it is only reasonable to check out the different tire models from the brand. Below are the top ones.
Cooper Discoverer AT3 4S

One of the popular models from Cooper tires is the Discoverer AT3 4S.
It is listed on the top on and off-road tires for crossovers, SUVs, and pickup trucks because of its off-road grip and on-road comfort.
Cooper Discoverer AT3 4S utilizes a unique Adaptive-Traction Technology, combined with a silica-based tread compound in a Secure Grip pattern for effective road use.
This tire also comes with an open five-rib design for good performance in wet and dry conditions.
Furthermore, there are Aqua Vac Channels with wide, lateral notches to evacuate water, while creating biting edges for snow performance.
Lastly, The Discoverer AT3 4S has improved durability with responsive handling due to its internal construction, which mostly involves a two-ply polyester casing with high-strength steel belts.
Cooper Cobra Radial G/T All-Season

On Cooper tires, the Cobra Radial G/T All-Season is also another impressive selection. It takes a bold cobra design and is a perfect choice for light trucks, street rods, muscle cars, and kit cars.
Apart from being one of the best performing all-season tires, it comes with ultra-modern facilities/features.
First, it has optimized, modern tread compounds with a good tread pattern to maximize rubber-to-road contact – hence, promoting good handling.
Another is the notched continuous center rib to retain shape and improve traction.
Additionally, Cooper Cobra Radial G/T has wide circumferential grooves to aid in the evacuation of water – hence, resisting hydroplaning.
In the process, the tire's tread blocks create several biting edges to enable all-season traction.
Cooper Evolution M/T

Still, on Cooper tires, the Evolution M/T is an interesting buy.
It is perfect for off-roading in SUVs, pickup trucks, and jeeps. It is one of the tires designed to withstand mud, dirt, and any rough condition.
This tire can perform effectively because of its symmetric pattern which involves using high void ratio to power and large, individual lugs.
It also comes with features like alternating scoops to aid traction with the strong shoulder blocks.
Apart from Cooper Evolution M/T tires being one of the best mud tires, it is also one of the recommended winter tires.
It has sipes that can create biting edges for this condition. Indeed, the mechanical traction on ice is outstanding.
Cooper Discoverer H/T Plus

The Discoverer H/T Plus is also another fantastic choice for the Cooper series.
It is an all-season tire for light trucks, pickups, SUVs, and crossovers, designed with confident handling, good grip, and excellent durability.
This tire has incredible traction on dry and wet roads, and even in light snow.
It has wide circumferential grooves with a lateral contact patch to aid hydroplaning resistance, as well as sipes to create biting edges for light snow.
Cooper Discoverer H/T Plus has a unique tread compound with a symmetric pattern, making it easy to rotate and prevent uneven tire wear.
The tire tread is also improved with an optimized pitch sequence for zero noise – thus, enabling smooth ride quality.
Lastly, it has an internal construction with a two-ply polyester casing to enhance good handling and capability at high speeds.
Top 3 Michelin Models
Michelin also has its best tire models. Let's take a look at them below.
Michelin Primacy MXM4

Michelin Primacy MXM4 is one of the most reliable tires for a comfortable ride.
It is an all-season tyre with low rolling resistance, improved sustainability, responsive handling, good fuel efficiency, and enhanced performance.
This tire for luxury sedans and coupes has a patented sunflower-infused tread compound with Helio technology for improved braking and handling on wet pavement – even in snow.
Additionally, Michelin Primacy MXM4 has its Helio compound molded into an asymmetric tread design to have a European handling profile to improve cornering.
It also has a Michelin Comfort Control Technology to enable a computer-optimized design and precision for vibration and road noise reduction.
Lastly, the tire has circumferential grooves with 3-D Variable Thickness Sipe Technology to create extra biting edges to enable wet and winter traction.
MICHELIN Defender LTX M/S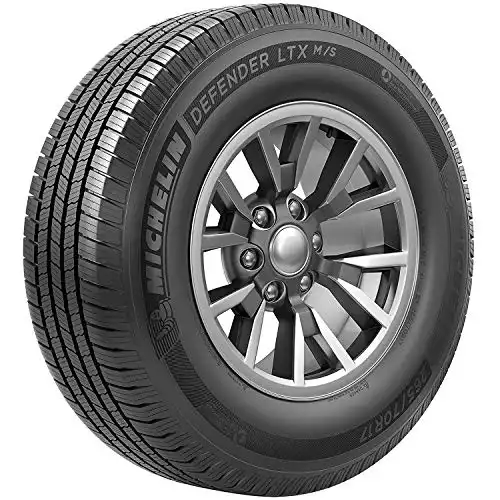 Michelin Defender LTX M/S is another impressive choice. It is designed for pickups, sport utility vehicles, and vans.
It is also one of the best passenger tires and an alternative choice for light trucks, heavy-duty trucks, and chassis cabs.
This highway tire has a dry performance and is perfect on wet tracks due to features such as an advanced Evertread compound with symmetric design, wide, circumferential channels with several lateral grooves, and open shoulder slots.
Michelin Defender LTX M/S is built to last, as it comes with Michelin's tires' MaxTouch Construction that produces a contact patch for durability, easy braking, and cornering.
MICHELIN Latitude Tour HP

Michelin Latitude Tour HP is another extraordinary option from this tire company.
It was solely designed as an all-season tyre for light trucks and sport utility vehicle types. However, it has also been used as an Original Equipment for BMW, Lexus, Acura, and Porsche.
It is one of Michelin's tires with an incredible tread compound molded into a symmetric design for improved wet traction.
The Latitude Tour HP has other features such as stable shoulder blocks and continuous center rib for responsive handling, wide circumferential grooves for hydroplaning resistance, and 2-D Active sipes for improved handling on wet tracks and in snow.
Additionally, this tire comes with a unique FAZ Technology to improve the tread for steering and stability.
Features face to face
Now that you've seen the top car tires from the brands, it is time to see how they differ, i.e., Cooper tires vs Michelin tires based on features.
Quality 
In this Cooper vs Michelin debate, quality is an important feature to consider to determine who is the best.
Talking about quality, it is the general performance of the tires in different vehicles and under various conditions.
Undoubtedly, Cooper and Michelin make high-quality tires; however, one does more than the other. 
Michelin tires have a special place on the list of top tire manufacturers in the world because the performance in dry and wet conditions is outstanding.
Who's More Durable
Most popular tire brands design their products durable and effective. However, there is only so much they can do to beat the competition.
In this Cooper vs Michelin situation, there is a slight difference in durability.
The reason is that most Cooper tires utilize modern tread compounds to enhance durability, while Michelin tires have sturdy/robust sidewalls and strong shoulder blocks to prevent premature tire failure.
If the degree of durability is considered, Michelin wins this round.
Most Affordable
Before choosing a tire brand, affordability is a factor to consider. You need to go for what you can afford – however, in the hopes of that, you shouldn't go for just any product.
In this case, Cooper makes cheap yet reliable tires. On the other hand, Michelin tires are premium and often cost a lot. The interesting thing, however, is that the price difference is not much.
Ride Comfort/Road Noise
Michelin tires know the need for ride comfort, so it improves most of its products with sound-reduction technology.
In short, you will have minimal to zero road noise with Michelin tires than with Cooper tires.
Handling
Cooper and Michelin are also incredible with their handling. However, the handling also varies between the two brands.
Michelin tires have responsive handling, low rolling resistance, and offer better performance because of the integrated features – for instance, the Helio+ technology and sunflower-infused tread compound.
Treadlife
The treadlife is a factor that determines how long a tire can maintain it's on/off-road performance.
In that case, Michelin tires have better treadlife than Cooper tires.
Michelin truck tires have treadlife between 50,000 to 80,000 miles, while Cooper tires have theirs between 30,000 to 60,000 miles.
Tire Warranty Cover
Tire warranty cover is also important to determine which is the better tire brand.
Michelin offers a limited treadwear warranty cover for damages than Cooper tires.
Frequently Asked Questions
Is Michelin better than Cooper?
Cooper and Michelin are two brands that make the best tires in the industry. And even if they have their differences, it is quite difficult to choose one over the other.
Everyone has different things they look for in tires.
What tires are better than Michelin?
Goodyear, Bridgestone, and Continental are tire manufacturers competing with Michelin on the market. They are top brands with performance tires bearing high value.
Is Cooper tire a good brand?
Cooper tire is a good tire brand. However, many see it as a mid-range brand because it isn't mentioned on the list of top tire manufacturers like Goodyear, Uniroyal, Continental, or Bridgestone.
Does Michelin provide flat tire roadside assistance?
Michelin tires provide flat tire roadside assistance so that you can get back on the road without wasting time.
Conclusion
In this Cooper tires vs Michelin tires article, you can find the top tire models from the two brands, as well as the factors that make them different.
Cooper and Michelin are great manufacturers.
However, you should make your decision on what tire brand to go for based on what you can afford and what is suitable for your vehicle.