Falken tires have dominated the tire industry as they come equipped with premium quality and competitive prices. On the other hand, Michelin tires are nothing to scoff at.
They're a premium brand of tires that are renowned across the world for their exceptional quality.
So what tire would win? Read on to find out.
Similarities Between Falken and Michelin Tires
Let's begin this by stating the similarities between Falken and Michelin Tires.
Both brands have stellar wet and try performance. Falken tires have an exceptional grip on wet roads as they come integrated with a silica compound within them.
Similarly, Michelin Tires wouldn't have the reputation that they do if their performance on wet roads was anything but outstanding.
Popular Falken Tire Models
Falken stands as a relatively cheaper alternative to several premium tires. 
The company includes tires for cars, SUVs, and trucks in its vast portfolio.
Despite being a relative newcomer in the tire industry, Falken has managed to establish a global brand presence due to its high performance and reasonably priced tires.
Here are some models that are a testament to Falken's commitment to manufacturing high-quality tires.
Falken Wildpeak A/T3W Tire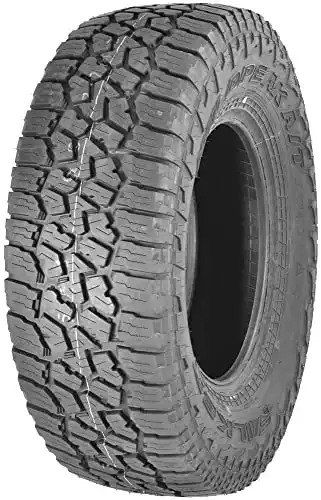 Falken Wildpeak A/T3W is designed for off-the-road adventurers.
It's a significant step that Falken has taken to establish its presence in the market for off-the-road tires and the company has put its best foot forward.
The tire is designed to excel at both dry handling and web breaking. You can comfortably enjoy a quiet and smooth right. 
Similarly, its performance in winter is also outstanding. The fuel efficiency could have been refined a bit more, but the Wildpeak A/T3W makes up for it by focusing on excellent tread life.
Falken Ziex ZE950 A/S Tire

Ziex has everything that you could need from an all-season tire.
Designed to glide through on the road, Falken Ziex has outstanding long wear characteristics.
Best of all, the tire's asymmetric tread design manages to give the tire a sporty look while also delivering better grip. Along with this, Ziex also performs exceptionally well on dry and wet surfaces. 
You're also unlikely to face any issue while handling your car on light snow. Overall, Falken Ziex offers an exceptionally compact performance at a relatively inexpensive price.
Falken Pro G5 CSV

Falken Pro G5 is the go-to choice for light trucks and SUVs.
The tire is a practical and economical choice for your Ford F-150 or Chevrolet Colorado.
The tire comes equipped with an asymmetrical tread design that helps improve the car's stability at high speeds and gives it extra grip.
Falken Pro G5 CSV is an all-season tire and offers high traction and good handling in light snow.
Tire Models that Michelin Is For Known Across The World
Michelin has always stood as the cornerstone of the industry ever since its inception in 1889.
Michelin stands as a benchmark and among the best of the best such as Bridgestone and Goodyear. The name Michelin is almost synonymous with premium quality tires in the tire industry.  
The company does not compromise on quality and puts all its tire models under rigorous testing.
Most of all, Michelin is determined to push towards new and innovative designs that deliver better performance with every new tire model they release.
The following are some of the tire models which stand out from Michelin's outstanding portfolio.
Michelin Defender LTX M/S Tire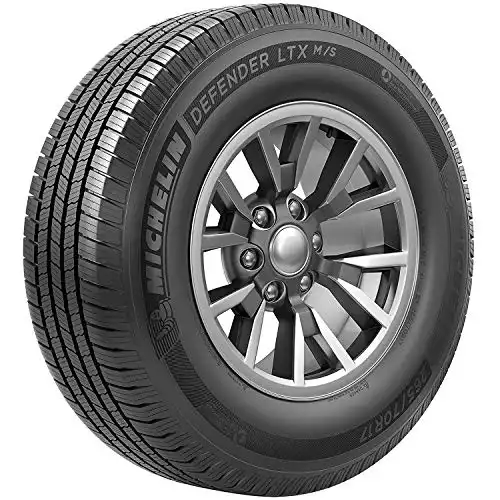 Michelin Defender LTX M/S is an improvement to an already pitch-perfect tire model previously released.
This tire has everything you could possibly need. Designed for full-size pickups and SUVs, Defender LTX is the preferred choice of truck owners across the globe. 
The tire comes incorporated with Michelin's Evertread technology, helping it last longer by giving Defender boosted protection against wear and tear.
It also works to give the tire additional grip to maintain performance under heavy payloads.
Michelin Primacy MXM4

Michelin Primacy MXM4 is known for its excellent responsiveness and steering feel.
The amount of grip and traction that the tire offers on dry surfaces stands unmatched by most alternatives in a similar category. 
You'll glide through the road whether it's dry, wet, or covered with light snow.
Primacy also comes equipped with fast short braking distances even on wet surfaces, making it the preferred choice for any cautious driver.
Michelin Latitude Tour HP

All-season tires are the common choice for most car owners because of their overall performance on different kinds of surfaces.
Latitude Tour HP combines the best traits of all-season tires into a neat package.
Standing out amongst other all-season tires, Latitude Tour HP comes equipped with additional features that allow it to deliver truly exceptional performance. 
The tire comes equipped with exclusive technologies including but not limited to Comfort Contact Technology which works on reducing vibrations and Green X Technology designed to maximize fuel efficiency.
Design Features Comparison
Both Falken and Michelin are big names in the tire industry.
Their target markets are different as Falken targets the budget sector while Michelin is more premium.
Overall speaking, Michelin ranks higher than Falken if you ignore the price. However, Falken tires deliver the same performance as some budget models Michelin offers.
The following sections compare the overall performance of both brands by taking a look at 7 important parameters.
Quality
Michelin is hands down the winner in this department. It's a premium brand with a long history of using the perfect materials and processes for the best results.
Overall speaking, Michelin tires fare well in the quality department, but there are some glaring gaps as well.
Firstly, they are quite expensive if you compare their prices with Falken models.
You can opt for some budget offerings by Michelin but that would mean compromising on the overall quality that Michelin is known for. 
Who's More Durable
When it comes to durability Michelin once again takes the cake. The premium brand offers incredible durability in all its models, but once again that durability comes at a cost.
Falken, on the other hand, is well-known for providing exceptional durability to its customer when you consider its price.
Furthermore, Falken tires are designed for regular roads where potholes, debris, and other elements are very common.
They come with an outer apex and an aggressive sidewall to ensure maximum durability and performance in every condition.
Most Affordable
Obviously, Falken being a budget brand is more affordable and cost-effective.
The tires target everyday consumers who need a reliable and cost-effective option. Michelin, on the other hand, is a more premium brand and costs a lot.
However, the performance will be worth it.  
Ride Comfort/Road Noise
Being a premium brand, Michelin tires are miles apart from Falken in terms of comfort on the road.
That is understandable because Michelin targets an entirely different market and simply has the better infrastructure to fulfill its requirements.
Falken, on the other hand, is an everyday man's car. That's why it focuses on real aspects of the consumer experience by maintaining its durability and competitive prices.
However, that doesn't mean that Falken has no comfort as well. The tires are excellent in terms of comfort, especially when you consider their prices.
Handling
Tires are the only thing that remains in contact with the road.
That's why they have a direct effect on the car's handling. Michelin and Falken are toe to toe in this matter because they are designed to enhance your overall driving experience.
Treadlife
Michelin offers a warranty of around 90,000 miles because of its superior treads. Falken trails behind at a close 75,000.
However, it is certain that Michelin is the winner in this category as well.
Tire Warranty Cover
Just like every other tire manufacturer in the world, Michelin offers a limited tread warranty for a certain distance and time.
Falken takes this a step further.
The brand also offers a workmanship and material warranty starting from the time of production to show that the brand is confident of its product.
Frequently Asked Questions 
What Tire Is Comparable To Michelin?
There are numerous brands that offer a decent set of values and characteristics that are comparable to Michelin. However, the following 3 are the most common alternatives
Goodyear
Continental
Bridgestone
Are Falken Tires High Performance?
No. Falken tires are designed for regular commuters and users, not heavy drivers or professional racers. High-performance tires come at a premium price, which is often significant.
Where Are Falken Tires Made
The headquarters of Falken tires are located in California, but the manufacturer is a global player and makes its tires at numerous strategic facilities.
The Verdict
When it comes to tires, the suitability for a specific application matters more than the overall features.
For instance, Falken tires would be a clear choice for you if you need a budget-friendly option that can fulfill your requirements in the long haul while compromising a little on comfort. 
However, if you expect your tires to perform in every condition while providing the most comfortable experience without any compromise, then you should go for Michelin tires.
There is a catch-through. Michelin offers some budget models as well, but for a comfortable experience, they won't outperform Falken.
For the best experience, you'll need to break the bank.  
All things considered, Michelin tires are an absolute winner in the matchup of Falken vs Michelin.
The brand is known globally for its high-quality standards and quality processes.
Falken on the other hand focuses on providing an overall decent experience at a budget. 
So, Michelin is the winner and the natural choice, but only if you have the budget. Otherwise, Falken tires should be your next purchase.