Generally, car owners can agree that there are many tire brands in the world today, and one needs to be careful on the choice to go for.
There are top brands like Continental, Goodyear, Firestone, and Michelin tires. However, there are debates on what tire manufacturer to go for regarding performance.
In this case, the debate is between Goodyear vs Firestone tires.
Goodyear Vs Firestone: Tire Brands Compared
Goodyear Tires
When it comes to radial tires for sedans and passenger cars, Goodyear tires is the brand. It is one of the highly recommended tire manufacturers in the world today, with over billions made from sales.
Goodyear tires was established over a century ago ( in 1898) by Charles Goodyear, with its first factory in Akron, Ohio.
The company invested itself in manufacturing bicycle, carriage tires, horseshoe pads, and poker chips.
However, a few years later, the company started making tires for racing cars and today is one of the many names for passenger tires in the industry.
Firestone Tires
Around the same time, in 1900, Firestone Tire and Rubber Company was founded in Akron, Ohio.
The company was built by Harvey Firestone based on his relationship with Henry Ford.
In 1988, Bridgestone tires acquired Firestone to become a top supplier of tires in North America.
And so far, this US-based tire manufacturer has quite a number of options for motorcycles, snowmobiles, and race track vehicles.
Independently, Firestone and Gooodyear have become the largest tire manufacturers in the North American region. 
Thus, it is only possible that people are indecisive on whom to pick.
Top 3 Goodyear Tire Models
Let's take a look at the best Goodyear tires of all time below.
Goodyear Wrangler DuraTrac

Goodyear Wrangler DuraTrac is a perfect on and off-road tire designed for pickups, light trucks, and sport utility vehicles.
It is also one of the best mud-terrain tires because of its rugged tread compound and symmetric design that resists tread block chipping and ensures stability, respectively.
This tire is a perfect fit for winter and summer.
It comes with Goodyear's TractiveGroove technology and zigzag sipes (with circumferential grooves) to create biting edges to improve traction on dry and wet roads, as well as in deep mud and heavy snow.
Goodyear Wrangler DuraTrac comes with a three-peak mountain snowflake symbol to show its suitability in severe snow.
Goodyear Endurance

Goodyear Endurance is a special purpose tire designed solely for trailers – it cannot be used on vehicles or light trucks.
This tire is durable and comes with a number of long-lasting features.
For instance, it has a symmetric tread design with ribs to ensure rubber-to-road contact and stability.
It also has twin steel belts with two-ply nylon reinforcements to further improve stability on paved roads.
Lastly, Goodyear Endurance has a scuff guard on the tire sidewall for increasing durability and improving the contact patches.
Goodyear Eagle F1 Asymmetric

Goodyear Eagle F1 Asymmetric is one of the best high-performance tires in the world and is specifically designed for coupes and sedans.
It is an all season tire, which makes it perfect for all-weather, including light snow. The specialized tread compound with asymmetric design aids in improving wet and dry road traction.
The Goodyear Eagle F1 all-terrain tire has powerful outboard tread blocks to enhance good handling on dry surfaces and creates biting edges for rain and snow.
And regarding durability under high speeds, there are twin steel belts with spirally wrapped polyamide cord cap reinforcements.
It is also one of Goodyear's all-season tires with sound-reduction technology, i.e., SoundComfort, to enhance comfort and improve ride quality.
Top 3 Firestone Tire Models
Check out the top Firestone tires below.
Firestone Weathergrip

Firestone Weathergip is an all-season option but one of the top-rated winter tires globally. It was specifically designed for crossovers, sedans, coupes, and station wagons.
This tire has a unique tread compound molded into a traction-focused directional pattern for durability and stability.
It also comes with Hydro-Grip technology with full-depth grooves to resist hydroplaning.
As one of the best high-performance tires, it has chamfered shoulder blocks providing good contact with the road and improved braking, as well as Claw technology for light snow traction.
Firestone Weathergrip has a three-peak mountain snowflake symbol, showing its effectiveness in all snow conditions.
Lastly, there are high-density zigzag sipes and interlocking grooves that protect life, improve the handling, and ensure durability at high speeds.
Firestone Destination LE3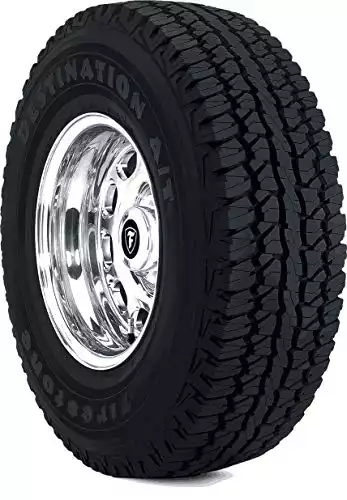 One of the most comfortable yet performance tires ever created by Firestone tires is the Destination LE3. It is a top option from the Firestone destination tires because of its usability for highway driving in crossovers, light trucks, and SUVs.
This tire has a long tread life because it comes with an advanced rubber compound molded into a symmetric design. This construction ensures a smooth ride and precise road handling.
Like other all season tires from Firestone, the Destination LE3 has a Hydro-Grip technology to help in reducing hydroplaning and improve wet traction.
There are also full-depth 3D sipes for wet conditions. Indeed, it is also one of the best winter tires available.
Firestone Firehawk

Firestone Firehawk is another incredible option for dry and wet conditions. It is also one of the many high performance tires designed for sports vehicles and sedans.
This Firestone tire has sporty features coupled with a silica-enhanced, Long Link Carbon tread compound for durability.
It also has full-depth grooves and sipes to create biting edges for hydroplaning resistance and light snow traction.
Lastly, Firestone Firehawk has reinforced construction for precise handling and high-speed capability.
Features face to face
Now, let's compare Goodyear and Firestone's tires based on the factors and features listed below.
Quality 
The two tire brands produce some of the highest quality tires in the industry.
Their tires are available for a wide range of cars, including light trucks, pickups, sedans, coupes, and passenger vehicles.
However, when it comes to top-quality, Firestone tire wins the round. The brand has more high-performance tires than Goodyear.
Who's More Durable
While comparing the all season tires from both Goodyear and Firestone tires, it is impossible not to consider durability.
The quality of the tire outer compound is a function of durability.
In this case, Goodyear is a better option. It has on and off-road capabilities and is suitable to use on all terrains.
Most Affordable
Affordability is an important factor to consider when you buy tires online. It determines what exactly meets your budget.
Firestone tires and Goodyear are premium brands that you would expect their tires sold at high prices compared to other tire brands.
Notwithstanding, Firestone has more affordable tires than Goodyear. For instance, the Firestone Firehawk costs around $121, while Goodyear Wrangler costs over $200.
Ride Comfort/Road Noise
Firestone has better ride comfort than Goodyear. The reason is that during tire production the brand integrates technology for reducing noise for enhanced performance.
Handling
Need responsive handling, winter driving, good cornering, and fuel efficiency, Goodyear wins. The brand has the necessary features to ensure that.
Tread life
When it comes to tread life, it may almost be difficult to pick between the two.
However, if you are to go by their best products, Firestone Destination Tires have a 70,000 treadlife warranty, while Goodyear Assurance Tires have an 85,000 treadlife warranty.
The latter lasts longer than the former.
Tire Warranty Cover
The tire warranty cover is a function of what would be covered in case of damages.
Firestone offers a mileage warranty only covering basic materials and tread depth.
On the other hand, Goodyear has a limited treadwear warranty, making it superior.
Is Goodyear the same as Firestone?
Goodyear and Firestone's tires are competitors because they produce high-performance tires suitable for dry, wet, and winter conditions.
However, if you must choose, you should note that:
Firestone has more sporty features, good for racing, and has summer driving capabilities.
On the other hand, Goodyear has tires for extreme weather conditions (even winter weather), on and off road use (all terrain tires), and the best for winter driving.
Is Firestone cheaper than Goodyear?
Yes, it is.
However, if you must buy tires from any of the tire brands, compare the prices first.
Are Goodyear tires better?
Goodyear tires are fantastic winter tires and perfect for off-road use. The brand has the most diverse product lineup, so you should find something that meets your needs.
Conclusion
Looking for higher-performance summer tires? Choose Firestone.
Need the best winter tires for off-road (all terrain) driving? We recommend Goodyear.
The two companies manufacture the best all-season tires like other tire brands such as Michelin tires, Continental, and Dunlop.
You can choose any of the tire types based on the factors reviewed above and more importantly, ensure they are the perfect fit for your vehicle.