At one point or another, car owners may have had to make difficult decisions when it came to selecting the best brand for car parts, particularly tires.
The reason is that there are many tire brands in the industry, and choosing one over the other may be challenging, especially if you haven't done enough research.
In such a situation, there is the Kumho vs Michelin tires debate.
The aim of this article is to discuss each tire manufacturer, show their top competing models, and compare them using features, factors, and benefits.
Kumho and Michelin: Tire Brands Reviewed and Compared
Before comparing these tyre companies, let's introduce them and display their achievements so far.
Kumho Tires
Kumho Tires is a South Korean manufacturer and one of the biggest in the American market.
This tire brand was established in 1960 in Gwangju, South Korea, and was formerly called Samyang Tires. However, it became Kumho after a series of partnerships with other brands like Doublestar and Uniroyal.
Kumho started by making 20 tires in one day. However, it expanded across the United Kingdom and the United States, and by 1983, it had produced over 30 million units.
In the tire industry, Kumho is known to be a manufacturer of all-season passenger and performance tires. So far, it is doing a good job, with tyre families like Ecsta, Roadventure, and Crugen.
Michelin Tires
According to experts, Michelin is the second-largest manufacturer in the entire tire industry.
The success of this company is all based on its state-of-the-art technology.
Michelin tires was established in 1889 by the Michelin brothers, Andre and Eduoard, who did nothing but invent the first removable pneumatic tire.
Years later, this company started making run-flat tires, and then radial tires. Today, it is a top brand for all on and off-road tires, as well as those for summer and winter.
The popular Michelin tyre families include Primacy, Pilot, Defender, Crossclimate, and LTX.
Top 3 Kumho Tire Models
Take a look at the top tire models from Kumho below.
Kumho Majesty Solus KU50

Kumho Majesty Solus KU50 is a special grand touring all season tire designed as original equipment (OE) for coupes, sports cars, and luxurious sedans.
This tyre combines responsive handling, beautiful appearance, and high-speed durability to provide all-season traction – especially, in light snow.
Kumho Majesty Solus KU50 is an ultra high performance tire with an asymmetric tread pattern and 4 grooves to enhance stable cornering and driving. It also comes with sipes that improve hydroplaning resistance by providing grip on wet roads.
More importantly, this tyre is built using a silica-based tread compound that enhances durability, and a quiet, comfortable ride.
Kumho Ecsta PS31

Kumho Ecsta PS31 is an ultra high performance summer tire but delivers excellent handling for dry and wet conditions. It is the best choice for a sports car, performance sedan, and a sporty coupe.
This tyre is built with a high technology high dispersible micro silica tread compound and is molded into a directional tread pattern to improve contact patch, as well as wet and dry traction.
It also features tread blocks that enhance durability, and optimized lateral grooves to improve wet-weather cornering.
Furthermore, there are diagonal-sipe microgrooves integrated with four wide circumferential grooves for water evacuation to improve hydroplaning resistance.
Lastly, Kumho Ecsta PS31 has a computer-simulated structure with a two-ply polyester casing featuring wide, steel belts and nylon cap plies to enhance high-speed handling, durability, and impact resistance.
Kumho Solus TA11

Kumho Solus TA11 is another touring all season tire and it is perfect for all roads. It was developed solely for minivans and small crossovers.
This tyre has an advanced carbon compound molded into a slight asymmetric tread pattern for all-weather traction – including light snow.
It comes with features such as notched shoulders and four circumferential grooves for hydroplaning resistance and wet traction. It also has integrated zigzag sipes to create biting/gripping edges to increase wet and winter weather traction.
Additionally, Kumho Solus TA11 features a special ESCOT Casing Technology on the sidewalls. This technology improves steering response and treads life.
Lastly, the internal structure has twin steel belts for high-speed stability and jointless bead bundles for a quiet ride.
Top 3 Michelin Tire Models
Michelin has the following as its top models.
MICHELIN Defender LTX M/S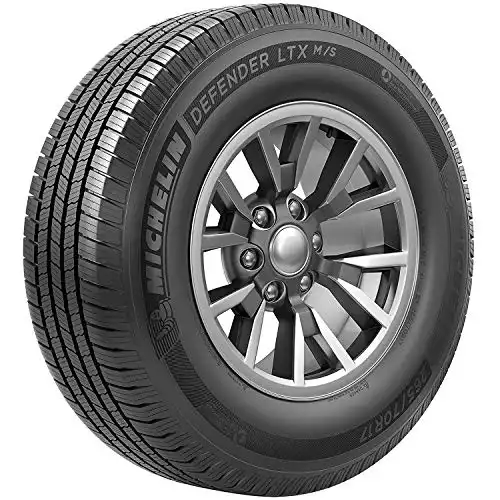 Michelin Defender LTX M/S is a popular option among commercial vans, shuttles, sport utilities, light trucks, pickups, and vans because of its impressive tread life.
This tire is designed with an advanced Evertread compound molded into a symmetrical tread pattern for durability and traction in wintry, dry, and wet conditions.
It also comes with stable independent blocks having high density 3D active sipes for dry traction. Furthermore, there are several lateral grooves to enhance wet traction and improve hydroplaning resistance.
Lastly, Michelin Defender LTX M/S all season tire has a unique MaxTouch tread construction aiding the production of contact patch for even acceleration distribution, and improved braking and cornering.
MICHELIN CrossClimate2

Michelin CrossClimate2 is a grand touring all season tire perfect for SUVs, crossovers, sedans, and coupes. This tire guarantees confident performance in dry, wet, and icy conditions.
First, it features a special Thermal Adaptive tread compound molded into a V-shape directional design engineered for all-terrain performance.
Secondly, this tire uses PIANO Noise Reduction Tuning technology to ensure a quiet ride.
Lastly, Michelin CrossClimate2 has shoulder blocks and 3D SipeLock technology increasing handling and cornering, and hydroplaning resistance, respectively.
Its grooveless pattern, however, creates biting edges for wintertime traction.
Michelin Pilot Sport 4S

Michelin Pilot Sport 4S is another unique performance summer tire and is specially designed to work for Porsche, BMW, Audi, and Mercedes in warm, wet, and dry conditions.
This tire comes with an asymmetric tread pattern with a unique 24 Hours of Le Man-derived compound.
It also has outer shoulder blocks ensuring dry handling and braking, as well as center ribs with silica-infused wet compound for wet braking performance.
Finally, Michelin Pilot Sport 4S has computer-molded Variable Contact Patch 3.0 optimizing pressure distribution to improve tread life.
Features face to face
After reviewing the best tires from either brand, the next step is to compare tires based on features influencing ride quality.
Quality 
When it comes to determining the better tire brand based on quality, you must consider features and overall performance.
Undoubtedly, both tire manufacturers do well in improving their tires with the best features for outstanding performance.
However, Michelin is a more highly rated brand than Kumho. It is a perfect choice for everyday driving and can get across all weathers and terrains.
Nevertheless, drivers can choose Kumho instead if it meets their daily needs.
Who's More Durable
Durability is a function of how incredible the rubber or tire material is, to withstand impact, especially on the road.
Most top tire companies utilized advanced compounds molding them into symmetric, asymmetric, or directional patterns to improve durability.
So far, there have been variations but the intensive one always wins.
In this case, Michelin has the best durable tires. They have been improved with advanced silica-infused compounds – even sometimes built with special Michelin tread compounds.
Most Affordable
The price of a tire is another factor to consider when choosing a brand.
Naturally, all car owners cannot afford the same tyre. That is why if you cannot find what is within your budget, you go for something else cheap and useful.
Kumho has the most affordable tires compared to Michelin. And this doesn't amount to the manufacturer making poor-quality products.
Besides, Michelin is one of the industry leaders, so you can only expect the tires to be expensive.
Ride Comfort/Road Noise
Most tires when they hit the road suddenly start making noise and that gets comfortable even for the driver.
The reason is probably from the tire construction – no feature to reduce vibrations that automatically become noise.
However, some manufacturers have noticed this issue and have equipped their tires with specific noise reduction technologies to ensure a quiet, comfortable ride.
So far, Michelin and Kumho brands have these features. However, it seems Michelin has them more effectively than its rival.
Handling
The quality of being able to move conveniently and navigate through sharp edges is a function of the handling. It is aided by specific features like shoulder blocks.
Interestingly, the shoulder blocks provide additional benefits to a vehicle, such as improving braking capabilities and cornering.
Michelin wins in this aspect.
Treadlife
Treadlife determines the mileage warranty, i.e., how far you can drive with a tire either on or off-road before replacing it.
This feature is important because it determines the longevity and effectiveness of a car tire.
According to experts, Kumho tires have mileage up to 80,000 miles, while Michelin tyres are between 40,000 to 70,000 miles.
Tire Warranty Cover
Whether you will go for Michelin or Kumho tires also depends on the tire warranty cover.
It technically describes what can be covered if a tire gets damaged due to a road hazard or poor manufacturing.
Both Kumho and Michelin provide warranty coverage. However, the latter does it more if you compare tires.
Frequently Asked Questions
Is Kumho Tire a good brand?
If you are looking for the best all season performance tires, you don't need to look further when Kumho tires are available right there on the market.
For so many reasons, the brand is one of the top-rated options – for instance, it provides fuel-efficient and technologically-improved tires for road use, all of which are offered at cheap prices.
More so, the manufacturer seems to be more interested in producing the best tires with good customer satisfaction.
Are Kumho tires noisy?
Kumho tires also consider road comfort as one of its greatest strengths. It offers quiet rides – maybe not as much as other top brands.
The tires are able to achieve this only because of their unique noise-canceling tread design and several pitch patterns.
Are Michelin tires that much better than other tires?
Michelin tires are the world's second-largest tire company, so you can only expect them to deliver high-quality products.
And even though they are better than other tyres in some aspects, they have their drawbacks. For instance, they are expensive.
Who Offers the Best Tires with Wet and Snow Traction?
When it comes to the wet, snow, and winter traction, Michelin is the best tire brand to acknowledge for its efforts.
Conclusion
The choice of what tire brand to go for often depends on drivers. They choose according to what they want and how much they have.
Between Michelin and Kumho tires, there is a long list of similarities and differences. Notwithstanding, it is best to use the features above to choose if you need new tires for dry or wet roads.