Deciding which brand of tire to buy is never easy.
There are a dozen factors to consider from size to tread life, ride quality, noise level, and more. To make your selection easy, we'll review two well-known tire manufacturers, namely, Goodyear and Nexen.  
Goodyear was established in 1898 by Frank Seiberling. Since then, it's developed to become one of the globe's biggest tire brands.
Its array of sophisticated features puts its performance at par with renowned manufacturers like Bridgestone, Michelin, and Pirelli. 
A South Korean-based tire manufacturer, Nexen was founded in 1942.
Interestingly, it wasn't always known by this name. It was first called Heung-A Tire Company before being renamed Woosung Tire. 
It wasn't until 2000 that it was called 'Nexen' – derived from the words "next" and "century."
Here's a closer look at how these tire brands stack up against each other. 
Top 3 Nexen Models
Nexen CP662 Radial Tire

If you've been looking for an all-season tire with great traction, the Nexen CP662 Radial Tire is it! It has several features that make it suitable to use all year round. And, it has a decent price too. 
One such feature is the blend of a symmetric tread pattern and tread compound. The two work together to provide maximum traction on dry and wet surfaces. 
The linear center rib block design is another nifty feature. It enhances directional driving stability, which is particularly useful when you're driving at high speeds. 
Meanwhile, lateral and angle round groove designs combine to reduce road noise. This results in a quieter and more comfortable ride. 
Nexen N'Priz AH5

The N'Priz AH5 is categorized as a standard touring all-season tire. What this means is that it doesn't excel in any one particular area. Rather, it performs well across the board. 
One of the key highlights of this tire entails the four wide circumferential grooves. They do a good job of dispersing standing water and maintaining a firm grip on the road surface. 
The N'Priz AH5 also offers a great steering response. The rigidity of the outside shoulder blocks along with the continuous middle rib design allows the tire to respond well to steering.
This tire comes in multiple sizes, ranging from 14 to 17 inches. You'll also have the freedom to pick a tire in your preferred speed ratings; T, H, or V.
Nexen Roadian AT Pro RA8

The Roadian AT Pro RA8 is another tire that performs well all around. 
Its range of features makes it suitable for riding on all types of terrain, including off-road settings. For instance, it's fitted with dual tread blocks that prevent pebbles from getting stuck in the treads. 
And thanks to the open shoulder design, you'll never have to worry about the tire losing grip. This tire also has broad shoulder blocks that result in more stable handling. 
While the Pro RA8 excels in off-road environments, it's fit for wintry conditions as well.
If you look keenly, you'll notice a 3-Peak Mountain Snowflake symbol on the sidewall. This means that the tire has been tested and proven to have ample traction on snowy, icy surfaces. 
Top 3 Goodyear Models
Goodyear Wrangler DuraTrac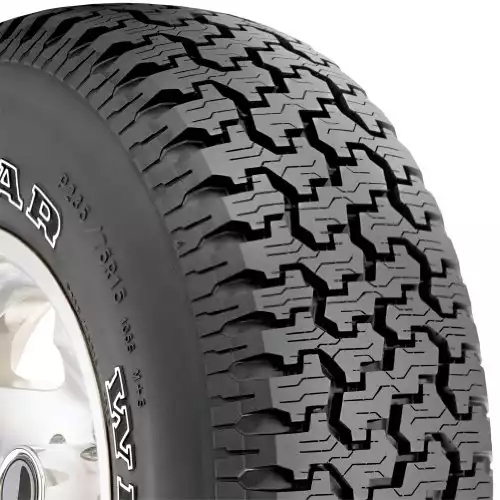 One of the most popular tires from this brand is the Wrangler DuraTrac. It delivers remarkable performance in off-road environments and handles day-to-day requirements equally well. 
The symmetric tread pattern efficiently resists the accumulation of snow, dirt, and pebbles.
This not only improves its stability but also extends its lifespan. 
This tire also boasts TractiveGroove technology located at the base of its circumferential grooves These increase the biting edges to improve traction on mud, snow, and other terrains.  
Goodyear Endurance

If you own a trailer, camper, or toy hauler, then you should check out the Goodyear Endurance tire. Offering exceptional durability, this tire is perfectly suited for use with such vehicles. 
For instance, it boasts a symmetric tread design.
This simply means that the outer and inner halves of the tires are identical. This sort of tread pattern allows the tire to maintain constant contact with the road surface. 
Most tire manufacturers incorporate steel to enhance strength and durability. Goodyear takes things a notch higher by using Kevlar in place of steel. 
Being the same material used to make bullet-proof vests, you can rest easy knowing that the tire has exceptional reinforcement.
The Endurance tire also has a rounded profile – an aspect that helps to cushion your ride. 
Goodyear Eagle F1 Asymmetric

If you have some wiggle room in your budget, the Eagle F1 Asymmetric is a worthy investment. Classified as an ultra-high-performance model, it provides great handling in all conditions. 
For instance, it's designed with TredLock technology that comprises microgrooves.
These tiny grooves provide biting edges, giving the tire better traction on wet surfaces. This also improves its grip during turns.
And thanks to the asymmetric tread pattern, the tire responds extremely well to steering. This makes it suitable for those who like to drive at high speeds. 
Nexen vs. Goodyear In-depth Comparison
Not sure of which tire to go for? Well, here's a head-to-head comparison of the two brands:
Quality
Although Nexen and Goodyear both offer high-quality tires, Goodyear has a slight edge. 
Each brand incorporates cutting-edge features to improve the performance of its tires.
However, Goodyear appears to have more of these features than Nexen.
In the case of Nexen, one notable feature is the V-shaped directional tread. This tread pattern not only gives the tire a sporty look but it serves a core function. 
The positioning and inclined profile of the tread grooves instantly evacuate any water that comes into contact with the tire.
In doing so, the tread pattern offers excellent protection against aquaplaning.
Also known as hydroplaning, aquaplaning is a situation where water accumulates faster than the tire is able to displace it. 
This causes the tire to lose contact with the road surface and become unresponsive to steering. With Nexen's V-shaped directional tires, this risk is reduced significantly.
Goodyear also has a couple of features meant to improve the tires' quality.
The brand's Three-Dimensional Block Interlocking System (3D BIS) is a good case in point. This system employs interlocking blocks to improve tire stiffness, which leads to better traction on wet roads.  
Goodyear tires are also revered for their Fuel Max technology.
This system works by reducing the tire's rolling resistance, resulting in a more fuel-efficient operation. According to Goodyear, this saves you about 2600 mi. for every 4,000 km worth of gas. 
To add to this, the manufacturer produces a series of tires known as Run Flat. As its name implies, this tire continues operating in the event of a puncture or immediate loss of pressure. 
Instead of deflating instantly, the tire remains functional for a limited period. This gives you time to get to the nearest garage or auto repair shop. 
Durability
Nexen and Goodyear's tires are equally durable. Each of these tire manufacturers incorporates features designed to make the tires last longer than standard models. 
For instance, Nexen uses an open-shoulder tire design. This facilitates easier extraction of mud and any foreign objects that might get caught in the grooves.
This goes a long way in keeping the tire clean and extending its lifespan. 
Goodyear, on its part, boasts one of the most innovative technologies for extending a tire's longevity. 
Dubbed 'SmartWear', this design technology gradually unveils a new compound and grooves as the current surface treads become worn. This enables it to maintain traction for an extended period and also last longer. 
Affordability
If you're looking for the most affordable tire, Nexen is your best bet. This brand offers a broad range of tires at different price points with the vast majority being low-priced.  
So whether you have a budget of less than $100 or up to $400, you're sure to find a tire that fits the bill. For instance, the N-Priz AH5 costs between $80 and $90. However, the Roadian MTX RM7 costs upwards of $300. 
Compared to Nexen, Goodyear's selection of tires are on the higher end of the price spectrum. There are only a handful of models that cost less than $100. 
In fact, the brand's Wrangler tire series starts at a steep $114 for the TrailRunner AT. Meanwhile, the Assurance series starts at $92 and costs as much as $389 for the Eagle F1 Asymmetric All Season.  
Handling
This is another area where Goodyear seems to be ahead of the curve. 
Buyers of Nexen tires report good handling, especially when compared to other budget options. Each tire is designed to cut smoothly down the path, even when navigating a fast-paced setting like a highway. 
Goodyear boasts a number of features, which are all meant to improve handling. One of my favorite technologies is Active CornerGrip. It facilitates even compression of the tire tread, which then improves traction when cornering. 
Active Braking is another element that makes Goodyear tires stand out. It works by increasing the road-to-tire contact. In doing so, it allows you to stop within a shorter braking distance without losing control. 
The icing on the cake is how well Goodyear's tires perform in wet conditions.
The manufacturer relies on HydroGrip technology, which increases the tire's grip on wet surfaces. Thanks to this, you'll never have to worry about your car skidding on the road. 
Treadlife
When it comes to treading life, Goodyear wins hands down. 
One factor used to gauge the durability of tires is treadwear. To determine the treadwear, the performance of the tire in question is stacked up against that of a control tire, which has a rating of 100. 
If a tire has a 700 rating, it means that it's capable of lasting up to 7 times longer than the control tire. So the higher the rating, the better its durability. 
Based on statistics from NHTSA.gov, Goodyear's line of tires has a significantly higher treadwear rating than Nexen. 
A couple of Goodyear's tire models – like the Assurance ComforTred Touring and Assurance CS TripleTred – have a rating of 700+. The brand also has several tires whose rating falls between 580 to 680. 
By comparison, the vast majority of Nexen tires are rated between 300 and 440. Only a handful of its tires have a treadwear rating higher than 500. 
Tire Warranty Cover
Whether you choose to buy Nexen or Goodyear tires, you can feel at ease knowing that both brands offer impressive warranties. However, Nexen has a slight advantage as shown below:
The Nexen Total Coverage Warranty includes:
Treadwear mileage warranty – Nexen promises to cover your tire for any premature wear. However, this remains valid for the stipulated warranty period. 
Limited road hazard warranty for 24 months – Nexen also offers free replacement for tires that encounter irreparable damage caused by road hazards. 
Road assistance for 3 years – If you ever get a flat tire, Nexen will send an expert to replace it with your spare tire for free. Just in case you don't have a spare tire, the company will tow your vehicle to the closest Nexen tire dealer without charging you extra.  
Free trial – if you're not certain about a tire's performance, you can return it and get an entirely new set.
However, this clause comes with several conditions. For one, you can only return it within 45 days or before the tire reaches 500 mileage (whichever happens first). Secondly, you need to show proof of purchase. 
Goodyear Tread Life Limited Warranty
Goodyear's tread life warranty is valid for a whopping 6 years or the mileage stipulated for the individual tire model (whichever happens first).
Here's a breakdown of warranties provided for common Goodyear tires:
| | |
| --- | --- |
| Model | Mileage |
| Eagle F1 Asymmetric All-Season | 45,000 mi. |
| Wrangler DuraTrac | 50,000 mi. |
| Assurance MaxLife | 85,000 mi. |
| Assurance ComforTred | 80,000 mi. |
So what if a particular tire wears out before achieving the stated mileage? If it meets all other conditions indicated here, then the warranty costs are calculated on a pro-rata basis. 
Let's say your tire had a limited warranty of 70,000 mi. but only achieved 46,000 mi. Goodyear will replace such a tire for 65% of its selling price (46,000/70,000). 
Like Nexen, Goodyear sweetens the deal by offering a few extra perks, namely:
30-day pledge – lets you return the tire and replace it with a new set within 30 days.
Highway Auto and Light Truck replacement – manufacturer offers to replace a tire for a prorated sum of money or for free. 
Are Nexen tires better than Goodyear?
As seen from the analysis above, Nexen is better than Goodyear in certain aspects.
Specifically, it's more affordable and comes with a better warranty. But, if you're looking for a tire with excellent quality, durability, and handling, then Goodyear is your go-to tire. 
Is Nexen tires a good tire?
Yes, it is. Nexen tires aren't necessarily better than Goodyear tires. 
However, they have several features that give them an edge over other budget models.
The V-shaped tread pattern prevents aquaplaning while the open shoulder design makes for easier extraction of mud and foreign objects. 
Conclusion
As some of the most recognizable tire brands, Nexen and Goodyear make supreme tires. 
So which one is right for you? For a value-priced tire that offers modest performance, choose Nexen. For a higher-quality tire with state-of-the-art features, choose Goodyear.