Out of the many tire manufacturers across the world, there are two giants we're speaking of today that have earned renowned goodwill and are two of the most popular tire brands in the world.
But, which one is better among them- Pirelli, or Goodyear? 
Pirelli  
Founded by a businessman in Milan, Italy in 1872, Pirelli has come a long way in being the seventh-largest tire manufacturer in the world.
Involved solely in the manufacturing and distribution of passenger vehicles and performance vehicles, Pirelli manages operations in over 160 countries with 19 manufacturing sites and 14600 dealers across the world.  
The brand is also known to sponsor some of the world's most popular motorsport events since 1907!
Pirelli has been the official tire partner for the FIA Formula One World Championship and the FIM World Superbike Championship.
Goodyear 
The Goodyear Tire & Rubber Company was founded in 1898 in Ohio and is one of the world's top three tire manufacturers in the world.
The scope of its products isn't just limited to passenger vehicles but also trucks, earthmovers, farm equipment, large commercial vehicles, race cars, and bicycles.
The brand was named after Charles Goodyear who was the inventor of vulcanized rubber.
In the early 1900s, Goodyear also manufactured airships and air balloons and flew the first Goodyear blimp across America as a part of its advertising campaign in 1925.
Goodyear has also held the reputation for being the most successful tire partner for Formula One and has been the only sponsor for Nascar to date.
What to consider – Pirelli vs Goodyear? 
Goodyear tires are offered for almost all types of vehicles mentioned above. From airplanes to passenger cars, the tires can take a huge amount of beating.
Goodyear tires are meant for high mile running and off-roading. If one prefers a tire that is up for almost any duty, Goodyear tires are the ones to consider.
Pirelli Tires on the other hand are for the performance enthusiasts and petrol heads.
Along with producing tires for cars meant for everyday use, Pirelli specializes in making tires for sports cars that are fast, handle well, and have unbelievable stopping power. 
Notable Pirelli Tires 
1) Pirelli Cinturato P7 All Season Plus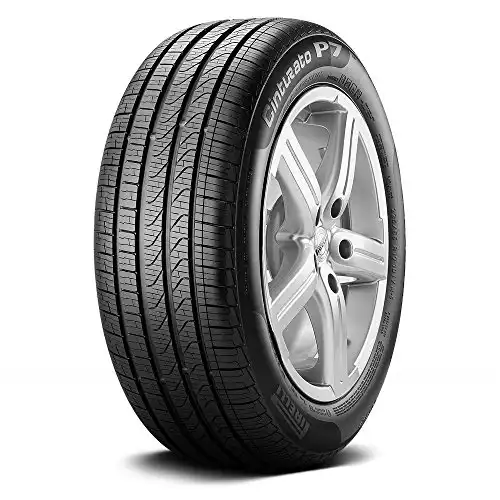 The Cinturato All-Season Tire is a perfect sport touring tire that offers a fun blend of all-season traction, comfort with excellent handling, and driving dynamics that offer the best control of the vehicle to a keen driver.
With a thick network of sipes, lateral grooves in the outer tread blocks, optimized tread profile- this tire packs the perfect punch for high-performance grand touring.
The tires even offer a decent amount of traction on snow and ice too, making the Cinturato one of the best All-Season Pirelli tires. 
What's even better? The users get a 70,000 miles treadwear warranty, a point excellent enough to instill confidence in drivers. 
2) Pirelli P Zero Nero All Season

The Zero Nero All-season tires are OEM for many performance car manufacturers like Jaguar and Maserati.
The Ultra-high performance all-season tires with their asymmetric tread pattern offer excellent grip and are highly compatible with high-performance sports cars for the level of power and performance they offer. 
Despite the extra power produced by these vehicles, the tires are grippy enough to even handle light snow and light rain.
Apart from the sporty tread pattern, the solid center rib supports excellent handling, quick acceleration, and high-speed braking.
A 45,000 miles treadwear warranty from an all-season performance tire adds to its greatness. 
3) Pirelli P4 Four Season

The Four Season tire was developed for minivans, sedans, and coupes and is an excellent blend of comfort, low rolling resistance, long tread life, low road-noise, and all-season traction on wet, dry, and snowy conditions.
The use of innovative materials and asymmetric tread pattern along with a continuous center rib and siping offer the best handling on wet and dry surfaces.
Not only that, this tire is an ideal enthusiast's choice that reduces the risk of hydroplaning by a large margin, thanks to the variable-angle lateral grooves and central circumferential grooves that help water escape between the tire and the road. 
Notable Goodyear Tires 
1) Goodyear Eagle F1 Asymmetric All-Season

 The Eagle F1 is an all-season high-performance tire that uses a special compound with an asymmetric tread pattern to churn out optimum performance on wet and dry surfaces.
The tire is well suited for high-performance sedans and coupes since it provides excellent high-speed cornering and precise steering feedback.
The TredLock Technology makes use of tiny grooves that offer increased traction and also washes away slush and water for optimum grip in wet conditions. The Eagle F1 is offered with a 45,000 miles limited treadwear warranty. 
2) Goodyear Eagle LS 

The Eagle LS is considered one of the best tires for grand touring, thanks to the high level of luxury and comfort that it offers in all seasons.
Smooth ride quality makes the tire the best choice for luxury sedans. The Eagle LS is also an OEM tire for many crossovers, sedans, and pickup trucks.
Since the tire is a luxury sport in nature, the independent yet symmetric tread block design minimizes road noise to make the ride as silent as possible. 
Wide channels on the tread aid in dissipating water to prevent hydroplaning and to improve wet traction while the sipes aid in improving traction in light snow conditions. 
The strength of the tire is also enhanced for high-speed performance and durability.
3) Goodyear Assurance WeatherReady

 The Assurance WeatherReady is a seasoned all-weather tire built to take on almost any challenge and last long at the same time.
The tire is built keeping in mind the longevity and safety of the vehicle under varying conditions. The tire offers low rolling resistance to improve fuel economy.
The tread pattern is designed to make the Assurance tire more comfortable, quieter, and improve performance.
This is an ideal tire for touring due to its ability to face almost any challenge in any condition- be it wet, dry, or snowy. The tire is offered with a 60,000-mile tread warranty from Goodyear. 
Features face to face- Pirelli vs Goodyear 
1) Quality
Pirelli and Goodyear are brands that have been around for a long time.
Both brands use state-of-the-art technology to develop and produce tires. Despite both brands catering to different target markets, they're on the same page when it comes to quality. 
Both the brands are customer-oriented and quality-oriented in their approach to the market while their products too tick all the boxes– sometimes even exceeding customer expectations.
We say that both brands get the same points when it comes to quality. 
2) Who is more durable? 
The points for the durability criteria go to Goodyear tires. They cater to almost every type of vehicle on the road and are masters when it comes to making tires for aircraft or earthmovers.
With such a product lineup, there is no doubt that Goodyear has known the art and science of producing durable, long-lasting tires better than anyone else.
It's not that Pirelli tires are not durable. They are. But, Pirelli focuses more on performance-based tires which doesn't include durability as one of its primary criteria. However, its touring tires do focus on this aspect but as a brand, Goodyear does it better. 
3) Ride Comfort/ Road noise
While Pirelli makes tires that grip excellently under high-speed cornering and also those that specifically cater to high speed, comfortable grand touring, Goodyear caters to a wider niche of the same market and as a result, Goodyear tires do a slightly better job in the comfort criterion compared to Pirelli tires. 
Goodyear has been a step ahead in minimizing road noise not only on its touring tires but as a part of many other regular tires made for different purposes.
Pirelli too makes comfortable tires but as a brand, Goodyear has a tiny edge over Pirelli. 
4) Most Affordable 
Talking of the affordability factor, we must tell you that both brands offer tires at affordable rates. The starting price for the cheapest tire from both brands hovers around $100.
Even if one compares both brands to other tire brands, they may find Pirelli and Goodyear to be quite reasonably priced. 
However, speaking between the two giants, Pirelli has a small edge over Goodyear in terms of pricing as their tires are cheaper when compared to tires from Goodyear.
We can't say the same for all models but if one considers an average, the result would indicate a better pricing policy by Pirelli. 
5) Handling
Pirelli's tires are high performance focussed and are built for top-speed sprints, high-speed cornering, and performance racing.
Their touring tires are such that one could confidently drive a car at high speeds and yet, keep it under control in challenging situations.
Pirelli has the edge over Goodyear on this criterion since its products are focused on high-performance driving, handling, and braking. Goodyear too manufactures tires meant for similar purposes but they aren't as good as tires from Pirelli.  
6) Treadlife 
Goodyear tires are generally found to last longer than tires from Pirelli. One could attribute this to the focus of Goodyear in making tough tires.
The brand has also registered many patents on its name like ArmorGrip that uses Kevlar (bulletproof material) in its tires to make them tougher. Duraseal on the other hand seals the tire in case of a puncture. 
One may find tires from Pirelli to be slightly on the softer side, mainly owing to its high-performance profile that demands the soft compound to stick to the road. Goodyear gets the points in the durability criterion.  
7) Performance
As mentioned earlier, Pirelli's tires are focused on performance and handling.
Their tires grip the road in almost all conditions and provide better steering feedback to the driver. The tires do an excellent job of making one have fun behind the wheel of a fast car, whilst ensuring their safety. 
There are plenty of tire models from Goodyear which are meant for high-speed performance and they, too, deliver excellent results.
However, Pirelli being a master in this niche churns out that extra bit of performance from its tires.
8) Driving Style 
Pirelli and Goodyear- both brands are focused on customer bases that are quite literally, polarities.
If one's driving style is performance-focused with a need to fling their vehicle around corners with excellent traction in dry and wet conditions, then tires from Pirelli would do better justice to them.
On the other hand, tires from Goodyear are all about economies of scale. They offer performance but are more subjected to catering to other needs as well like longer tread life, lower rolling resistance for fuel economy, and quiet, comfortable ride quality. 
Most Stand out features- Pirelli vs Goodyear? 
For Pirelli, we do wish to highlight features like excellent handling, lesser braking distance in all weather conditions, more safety, better steering feedback, affordable price, and excellent traction in all weather conditions.
Pirelli could be a byword for performance and hence, it is recognized for its specialty in producing high-performance sport and touring tires. 
Goodyear tires stand out in terms of durability, fuel economy, ride comfort longevity, safety, tire toughness, and high mileage figures.
Their tires perform excellently overall and are more focused on other aspects that aid in everyday driving. This makes them more practical. 
What do customers think? 
We've analyzed many car forums closely to what users have had to say and their feedback has been in accordance with what we've had to say. Users report that Goodyear tires are more practical and suited to almost all driving conditions. 
On the other hand, users report that Pirelli's tires let them have fun with their fast cars.
They feel as if they have better control of their cars and the tires offer them a higher sense of confidence. They feel safer in high-powered cars with Pirelli tires in wet and dry weather conditions. 
Is Pirelli better than Goodyear? 
If one is speaking of performance tires that offer excellent handling and braking at high speeds then yes, Pirelli is better than Goodyear.
But, if one is speaking of tires that offer a long tread life, better fuel economy, and comfortable ride quality, we'd say Goodyear is better than Pirelli. 
Frankly speaking, comparing the two brands is like saying an Apple is better than an Orange. For some, that could be the case. But, many others would disagree. It is a subjective choice based on needs and preferences.
All we have to say is that if performance, fun, and handling are the priorities then Pirelli is the brand to go for. But, for other aspects like durability, tread life, and all-around practicality- one could choose Goodyear tires.