We've had car owners choose Pirelli tires over Goodyear tires or vice-versa. For some, it's just based on mere preference; for others, it's after comprehensive research on who is the better brand.
Well, this article aims to do a good comparison between the tire brands, i.e., Pirelli vs Goodyear, so drivers can choose based on what they offer.
Pirelli Vs Goodyear: Tire Brands Compared
Pirelli Tires
Pirelli has been one of the top manufacturers of sports and performance tires since 1950.
The company was founded by Giovanni Battista Pirelli in 1974 when it invented its first wide radial tire.
However, there are so many high-performance car tires to its name, with some of them being the world's best – for instance, in the Formula 1 Grand Pix race.
Pirelli invests itself into research and development, as it has a workforce collectively striving towards making everyday – all-terrain and all-season tires. And as of 2020, the company had an estimated net income of €42.7M from sales.
Goodyear Tires
Goodyear tires have been known for decades for their specialty in radial tires for sedans and passenger cars.
It is listed on the top tire manufacturers in the world and competes with other brands like Continental, Firestone, Michelin tires, etc.
The company was established by Charles Goodyear in 1898 in Akron, Ohio. At the time, it started with bicycle tires, carriage tires, poker chips, and horseshoe pads.
Today, it has one of the most diverse tire lineups in the world.
Top 3 Pirelli Tire Models
Let's check out the best tires from the Pirelli brand below.
Pirelli P Zero PZ4

From the Pirelli P Zero tires series, the PZ4 is a top option because it is a maximum-performance summer tire designed for exclusive sport vehicles. It is also used as an outstanding Original Equipment for Lamborghini, Audi A3/S3, and Porsche Boxster.
This tire comes with a special silica carbon black tread compound molded into an asymmetric tread design for wet and dry grip, as well as excellent handling.
It is also built to provide road comfort, fuel economy, and lateral stability.
The Pirelli P Zero family has the non-original equipment option that comes with wide, circumferential grooves for water evacuation and hydroplaning resistance.
Overall, it is a top choice.
PIRELLI Cinturato P7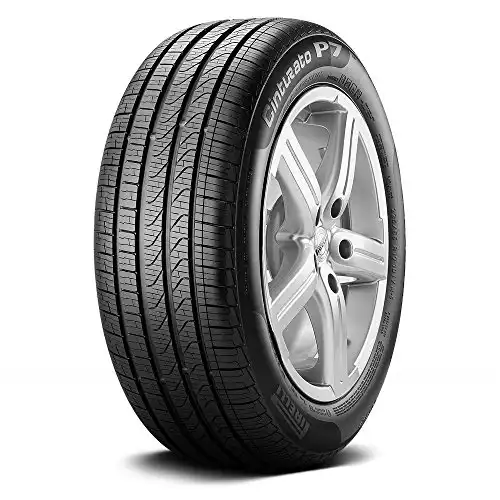 One of the best grand touring all-season tires is the Pirelli Cinturato P7. It is designed to be competent for all weather conditions, including light snow.
This tire has an advanced tread compound with low rolling resistance features that enhance durability, ride comfort, and reduce road noise.
It also has robust shoulder blocks that enhance lateral grip on dry roads and four circumferential grooves to improve contact patches and aid traction on wet surfaces.
Likewise, the Pirelli Cinturato P7 tire has independent tread blocks with several sipes to create additional edges to provide traction in light snow.
Pirelli Scorpion Verde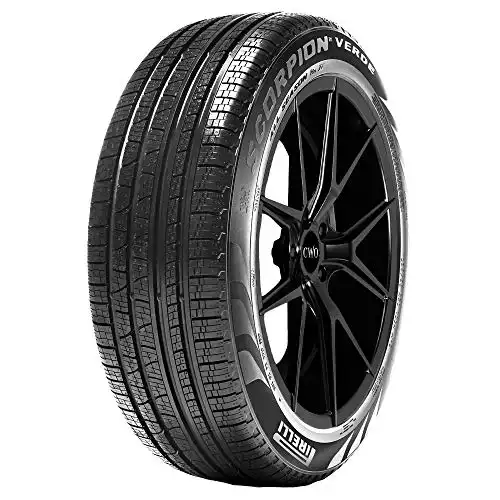 In the Pirelli Scorpion family, the Verde is an eco-friendly yet high-performing option for sport utility cars and pickup trucks.
It is one of the best winter tires on the market, considering its updated tread compound with an asymmetric pattern. It also comes with a large footprint that improves its braking and dry and wet weather handling without letting go of performance.
Pirelli Scorpion Verde joins the list of top tires with four wide circumferential grooves to resist hydroplaning. It also has longitudinal sipes to improve traction during light snow.
Finally, there is a pitch sequence and phasing technology that enhances a noise-free and comfortable ride.
Top 3 Goodyear Tire Models
See below for the top models from the Goodyear tire brand.
Goodyear Wrangler DuraTrac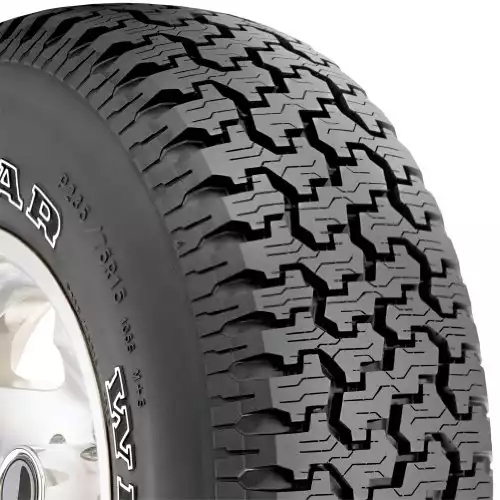 In the Goodyear Wrangler tires series, the DuraTrac is a fascinating option because it was created for light trucks, pickups, and sport utilities, as one of the best mud-terrain or off-road tires.
This tire has a rugged tread compound with a symmetric pattern that prevents the block from chipping and provides lateral stability. It also has a good performance, considering how it comes with Tractive Groove technology and zigzag sipes to enhance dry and wet traction.
Likewise, the Goodyear Wrangler DuraTrac has circumferential grooves to create biting edges for deep mud and snow.
Goodyear Endurance

Goodyear Endurance is not a tire for regular car types; instead, it is designed for monster trucks, travel trailers, and boat trailers.
Notwithstanding, it has one of the best performances because of its symmetric tread design and closely spaced ribs. With these features, it maintains excellent durability and stability.
The Goodyear Endurance tire has a unique scuff guard molded into the sidewall to provide extra durability and enhance ride quality.
Goodyear Eagle F1 Asymmetric

In the Goodyear Eagle lineup, the F1 Asymmetric all-season tire is an outstanding choice for sports vehicles in the worst conditions, including light snow.
The tire has a specialized tread compound with an asymmetric design to provide traction for dry and cold conditions.
It comes with a unique Dry Handling Zone for responsive handling even when off-roading. There is also an inboard All-Season Zone to evacuate water and snow.
Goodyear Eagle F1 has a unique internal structure that consists of twin steel belts with special reinforcement for better grip and high-speed durability.
Features face to face
With the list of the top tire models reviewed, let's compare Goodyear vs Pirelli tires based on specific features and factors.
Quality 
Quality is a function of performance and usability. And without a doubt, the popular tire brands in the world have high-quality products.
However, in this comparison, Pirelli tires have higher quality than Goodyear tires. The manufacturer is the best choice for a luxury or ultra-high performance vehicle.
Who's More Durable
Based on durability, Pirelli tires seem to have a better shot considering the high silica content integrated into the tread of most of its products.
On the other hand, Goodyear tires maintain a level of durability but with basic compounds and simple tread designs to aid traction for various conditions.
Most Affordable
In terms of affordability, Goodyear tires have a better shot. They are relatively affordable than Pirelli tires which are overpriced.
And one thing about Goodyear products is that they meet everyday needs. They don't have sporty features like their rival.
Ride Comfort/Road Noise
The ride quality is often based on how comfortable one can drive either on dry or wet roads.
In this case, everything is considered, including road noise reduction technology.
The Pirelli noise-canceling system is outstanding as it ensures a quiet and comfortable ride.
However, there is a bit of noise that comes from using Goodyear tires.
Handling
Handling means who has the best control in different conditions.
Pirelli tires offer fantastic control more than Goodyear tires. Assuredly, car owners can get a good grip and braking capabilities from this tire brand.
Treadlife
Whether on or off-roading, the tread-life warranty is an important factor to also consider. It determines how long or how many miles you can drive with a tire before replacement.
The two brands produce great tires with excellent mileage warranty; however, Goodyear tires win this round.
Pirelli tires products have a tread life warranty between 30,000 to 50,000 miles, while Goodyear tires have their products up to 70,000 miles.
Tire Warranty Cover
Pirelli offers tire warranty cover over a few things, excluding car insurance . On the other hand, Goodyear offers a limited warranty on its products.
That means the tire brand is ready to cover all expenses, as long as the damages are from the manufacturing process.
Are Pirelli Tyres better than Goodyear?
Both tire brands are good. You should only choose one over the other based on what you are looking for.
For instance, Pirelli tires are great for high-performance and sporty vehicles while Goodyear tires are outstanding options for passenger cars.
Besides, Goodyear tires are the best winter tires, while on the Pirelli site, you will find them perfect for summer and wet weather handling.
Are Goodyear tires better?
The answer is relative.
You should only go for Goodyear tires if you are considering budget and are looking for simple all-season tires for road use.
More so, you can find Goodyear tires in many tire shops easily. You should check out the various tire sizes available before purchasing.
Who Has the Best Performance Tires?
Pirelli tires do.
According to consumer reports, Pirelli tyres have better ultra-high performance tires than Goodyear tires. There are quite a number of products that can boldly attest to this fact.
However, you should know that you would have to be spending a lot to get good tires from Pirelli – just like other brands.
Conclusion
In need of the best winter tire for everyday use? Goodyear tires have you covered.
For high-performance car tires, consumer reports say Pirelli gives you what you want.
If you have to find tires for the road, you need to consider these factors listed above.
With them, you can pick the best new tires that will do exactly what you want them to do and provide outstanding performance.