Driving on a highway or on a road has got to be smooth and fun, but what happens when you hear annoying background noise?
It gets so annoying that you are uncomfortable and would stop every minute to see where it is coming from.
Most of the time, the squeal or hum sound is always from the tire of your vehicle. That is because you haven't invested in the best quiet tires on the market.
If you want to live past all that experience, this article introduces you to the top 10 quiet tires for road comfort.
Top 10 Quiet Tires for Road Comfort
Below is a list of 10 noise reduction tires that will enhance a sweet, smooth ride on any road for your SUV, Sedan, Coupe, etc.

1. Kumho Solus TA11

One of the quietest tires you'll find on the market is the Kumho Solus TA11. It is also one of the top all-season tires built for coupes, sedans, and minivans.
It has a solid dual silicone carbon tread compound infused into an asymmetric tread pattern for improved fuel efficiency and good traction for dry and wet surfaces.
This tire has some other important features, such as four circumferential grooves (deep) with notched shoulders, zigzag sipes providing over a thousand biting edges, and a unique ESCOT casing technology for good grip in snow and ice, as well as rough surfaces.
Indeed, Kumho Solus TA11 delivers the ultimate road comfort, as it maintains minimal road noise and responsive steering.
Pros
Maximum fuel economy
Great traction for different surfaces
Incredible tread life
Cons
The handling fails sometimes in wet conditions
2. Michelin Defender T+H

The Michelin Defender T+H is one of the most original tire models from the Defender series. It is another tire that guarantees a quiet ride with great driving comfort.
This tire uses the latest tire technology, alongside an Evertread rubber compound and asymmetric pattern for increased traction and enhanced durability.
Defender T+H also maximizes its Independent Tread Blocks and Intellislipe technology for wet traction performance.
The tires are designed further using Comfort Control Technology to reduce road noise and ensure top-notch tread life.
Pros
Good traction for dry and wet conditions
Excellent value for money
Incredible tread life due to rubber composition
Cons
Not suitable for ice and snow
3. Bridgestone Ecopia EP422 Plus

Apart from ride comfort, Bridgestone is a brand known for its excellent eco-friendly performance.
One of its best products yet when it comes to noise-reducing potential is the Ecopia EP422 Plus tire. It is designed as an all-season tire for sedans, crossovers, coupes, and minivans.
This advanced tire has a fantastic tread compound engineered with NanoPro-Tech for increased rolling resistance to ensure good fuel economy.
Bridgestone Ecopia EP422 Plus tire has four circumferential grooves with multiple sipes to enhance grip on snow and ice surfaces.
It also has two nylon spirally-wrapped steel belts with polyester casing to enhance further road comfort and good tread life.
Lastly, this tire has a symmetric tread pattern with a notched shoulder design, and independent tread blocks for a quiet ride and responsive steering.
Pros
Stable and durable
Good handling and excellent tread life
Lower rolling resistance
Eco-friendly
Cons
Not the ideal winter tire
4. Bridgestone DriveGuard

Another Bridgestone tire that ensures a quiet ride experience is the DriveGuard Run Flat.
Bridgestone DriveGuard is a tire built with silica tread compound and features an asymmetric tread design to enhance better handling and cornering stability on all surface types – dry and wet roads.
Also, the tire features a Nano Pro-Tech sidewall to improve strength, durability, and sturdiness.
Furthermore, this run-flat tire has spirally wrapped nylon steel belts on the inside to ensure low noise.
Pros
Excellent performance
All – year round traction
Durable and strong
Cons
The cornering isn't exactly great at high speeds
5. Yokohama Avid Ascend

A touring tire built to deliver a quieter ride is the Yokohama Avid Ascend. It is a renowned tire designed to deliver smooth performance on any kind of road.
This season touring tire has a variable tread pitch shape to ensure minimal road noise, as well as 3D adaptive sipes with nipping edges for excellent grip during winter and damp conditions.
Yokohama Avid Ascend also has lower rolling resistance with softer rubber composition for great adhesion on dry, wet, and snow surfaces.
Pros
Solid traction for all surfaces
Ensures a comfortable ride
Reliable with good grip
One of the highly rated all terrain tires
Cons
6. Firestone Firehawk AS

One of the best high-performance tires suitable for all seasons is the Firestone Firehawk AS. It is a tire built for sport coupes and sedans for a good road experience.
This tire has an all-season tread compound with an asymmetric tread design that enhances traction on dry, wet, and snow conditions.
Firestone Firehawk AS also has full-depth sipes with grooves for good handling and response. With two high-tensile steel belts, this tire has its durability and strength improved to the highest maximum.
In addition, it features a unique technology to ensure a quiet ride.
Pros
Excellent traction for all roads
Suitable in all weather conditions
Durable and strong
Responsive handling
Cons
Not exactly great in deep winter and snow
7. Pirelli Cinturato P7 All Season Plus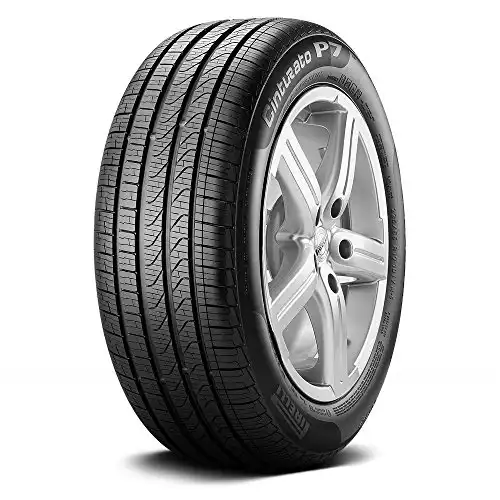 Another on the list of the top quietest tires is the Pirelli Cinturato P7 All Season Plus.
It is one of the top grand touring tires on the market built for good fuel efficiency and top-notch durability.
This touring all-season tire guarantees year-round traction due to the treadwear quality, i.e., silica-based tread compound with polymers. This compound further lowers rolling resistance on contact with the road.
Pirelli Cinturato P7 All Season Plus also has four circumferential grooves (wide) for stability on rain-covered surfaces, and asymmetric 5-rib pattern with shoulder tread blocks for increased traction and cornering grip.
Pros
Great grip and ride comfort
One of the quietest tires with great fuel efficiency
A touring tire built to last
Cons
Needs more traction for ice
8. Nexen Roadian AT Pro RA8

Nexen Roadian AT Pro RA8 is one of the best highway tires you'd come across on the list of quiet ride tires. It is designed for all kinds of terrain, making it possible to last even longer and better.
It is also a heavy-duty tire with an incredible tread pattern and a symmetric tread design and staggered rib for enhanced traction for wet roads and snowy conditions.
Nexen Roadian AT Pro RA8 with wide shoulder tread block for precise handling, and internal twin steel belts for strength and durability.
Pros
One of the best terrain tires for road comfort 
Excellent on wet roads
Improved handling and great durability
Cons
9. Cooper Discoverer AT3 4S

The ideal tire for a quiet ride, and on-/off-road performance is the Cooper Discoverer AT3 4S. It is one of the tires designed for light trucks, SUVs, and crossovers.
Cooper Discoverer AT3 4S uses Adaptive Traction Technology with a silica-based tire tread compound to ensure great grip on all terrains and in various weather conditions.
This tire also uses micro-gauge zigzag sipes to create biting edges for tread block stability for traction on dry surfaces.
Pros
One of the top quiet tires with good confidence for light snow and other weather conditions
Great handling and traction in slippery conditions
Stable, durable, and strong
Cons
Treadwear warranty is a bit low compared to performance
10. GT Radial Adventuro AT3

Finally, of the best tires for resonance noise attenuated performance is the GT Radial Tire (Adventuro AT3).
It is also the ultimate choice for on-road and off-road driving built for light trucks, pickups, and sport utility cars.
This season radial tire features a cut-and-chip resistance compound with an aggressive symmetric tread design for wet and dry roads.
GT Radial Tire has the ability to reduce the noise for ride comfort with the help of a 5-pitch tread sequence. It also has interlocked tread blocks with 3D grooves for enhanced performance.
Indeed, it is one of the best high-performance tires with a good grip on wet roads.
Pros
Cons
What Causes Tire Noise in Vehicles?
If you would like to have a quiet ride, then you should know what causes noise in vehicles.
If you find out these causes or factors, it would be much easier to know what to check out when buying any of the reviewed quiet tires above.
Tire Size and Tire Type
Buying the quietest tire means good consideration for the tire size and tire type.
If you use big tires, there is a good chance that the road noise increases; however, you could go for something comfortable but with reduced noise.
Likewise, tires come in different types depending on the tread pattern. Winter tires are noisier than all-season tires.
Low-profile tires are noisy just like winter tires because of the stiff sidewalls.
Tread Blocks
Another factor that manifests for noisy or quiet rides is the tread block.
The tread blocks are important parts of the tread design that may be responsible for noise depending on how aggressive they are.
If air gets trapped between the circumferential grooves and tread blocks, there is a good chance that it would compress and make noise.
On the other hand, if there is less space between the grooves and tread blocks, you could have a quiet ride.
Likewise, quiet tires have asymmetrical tread design compared to those with a symmetrical design.
Altogether, less aggressive tread blocks with asymmetrical design equal the quietest tire.
Road Type
The type of road you are driving on determines ride quality. You are more likely to experience road noise on rough, grooved concrete than on new asphalt roads.
Nevertheless, the best quiet tires are always great on dry and wet roads.
Driving Habit
Apart from road condition, driving habit is another factor that determines ride quality for noisier or quieter ride performance.
If you are more of cornering, high speed, and heavy braking, you are likely to have a noisy experience.
Frequently Asked Questions on Tires for Quiet Ride
Conclusion – Final Thoughts on the Quietest Tires
This review has successfully shown you a long list of the best quiet tires on the market.
It is now left to you at this point to figure out what is suitable for your vehicle out of any of the quietest tires available.
Whatever you pick at this point, with consideration to the factors described above, would determine the experience you'd get when driving on the road.