Sumitomo tires have been an underrated player in the American tire market because of inadequate marketing and multiple other reasons.
However, the company still has a loyal following among the people who know more about tires than your average joe.
The following text will take a look at Sumitomo tires and discuss the strengths that allow them to stand toe-to-toe with the biggest names in the industry.
A Brief Overview of Sumitomo Tires
Sumitomo rubbers is a Japanese tire conglomerate with several tire brands under its umbrella. You must have heard about Dunlop and Falken, which are some of its most well-known tire brands in the American market.
Sumitomo also owns Ohtsu, a budget tire brand, and sells tires under its own name as well.
Combining all those brands make Sumitomo one of the biggest tire manufacturers in the world with a global dealer network and a variety of options for every category.
While all of the different brands owned by Sumitomo Industries act as separate entities, they have similar quality control standards.
All tires produced under the umbrella meet market requirements and comply with industry standards for their respective categories.
The scope of this review is limited to the tires under the Sumitomo brand because of the different target markets and product focus by each brand.
For passenger cars, Sumitomo caters specifically to the needs of a regular customer who prefers quality and cost over performance and maneuverability.
The Most Notable Tire Models by Sumitomo
Sumitomo offers high-quality tires at a reasonable price for many vehicle categories. From passenger cars to light trucks and heavy transport vehicles, Sumitomo covers everything.
You can't become one of the highest-selling tire companies without catering to most vehicle options on the road.
Here are some of the most noteworthy tire models produced under the Sumitomo brand.
1. Sumitomo Encounter HT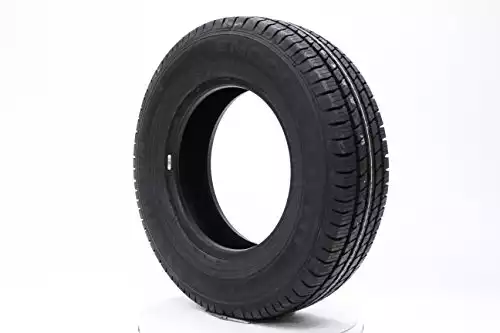 Tires in the Sumitomo Encounter series are designed for trucks and focus on providing high stability in all conditions. The Encounter HT is an all-season option that performs best on paved roads and provides traction in both dry and wet conditions.
Sumitomo is not a budget brand per se. However, it's really difficult to match it when it comes to value for money.
Moreover, Sumitomo also offers an extended tread warranty of 60,000 miles, which is a testament to its superior performance.
2. Sumitomo HTR Enhance LX2

The Sumitomo HTR Enhance is an ideal choice for users who don't compromise on handling. The Enhance series is designed for performance sedans and similar-sized vehicles and performs the best on paved roads.
The treads have a warranty of 55,000 miles for W-rated models.
However, the T-rated models that have a lower speed rating offer you a tread warranty of up to 90,000 miles.
3. Sumitomo Touring LX T

The Sumitomo Touring LX T is designed for crossover, SUVs, and other similar vehicles.
The main focus of this series is to ensure rider comfort on paved roads and provide a decent handling experience in all conditions.
This is an all-season tire that comes integrated with circumferential grooves to resist hydroplaning.  
4. Sumitomo Touring LS

If comfort is the biggest decisive factor for your buying decision, then the Sumitomo Touring LS is the natural choice for you.
Sumitomo's Touring series is an all-season option that works perfectly on paved roads.
The Touring LS tires come with a tread warranty of 65,000 miles which is ideal when you consider its overall price and other qualities.
Once you buy this tire, it is bound to last you for several years.
What Makes Sumitomo Tires Different
The biggest distinguishing point of Sumitomo tires is their value for money.
The tread warranty, quality, and performance they deliver at the price are comparatively higher than other brands in the same price category.
Despite delivering the same performance as many premium models, Sumitomo tires are generally 30% to 40% cheaper.
Here are some of Sumitomo tire's most distinguishing qualities
High Quality
It is already stated that Sumitomo's tires are of excellent quality. From the raw material to the production process, Sumitomo is excellent in all regards. The company complies with all international tire standards and offers extended warranties on most of its tires.
Superior Performance
Sumitomo tires are not performance models. However, they still perform very well in all conditions. Especially when you consider their price range and compare their performance with premium options in the market, you'll be pleasantly surprised.
Excellent Handling
Sumitomo promises to deliver the best in areas that count the most. Handling is one of them.
Sumitomo has its own R&D unit that tests its tires in the most rigorous conditions to ensure superior handling in all conditions.
Whether it's a wet road or an ice layer in an early winter morning. You'll never have any complaints regarding Sumitomo's handling.
Noise Level and Comfort
For people looking for a comfortable ride, outside noise is a big nuisance and many budget models ignore this aspect.
Sumitomo is committed to delivering the premium experience at a lower cost and incorporates several design elements that ensure minimum cabin noise and maximum comfort for the rider.
Unmatched Durability
A tire's durability is determined by multiple factors.
The quality of the material used, the processes, sidewall integrity, structure design, and multiple other factors contribute to guarantee that that tire remains in operational conditions even in the harshest conditions.
Sumitomo is among the most durable tires in the market thanks to the manufacturer's insistence on delivering the best value to the customer.  
High Tread Life Warranty
When compared with the premium tire brands like Micheline or Bridgestone, you wont see any difference between their tread warranty and what Sumitomo offers.
However, Sumitomo's price is not even near the aforementioned brands and that's what distinguishes Sumitomo from all the other brands out there.
Excellent Fuel Economy
While Sumitomo doesn't promise any drastic increase in the fuel efficiency of your car, its performance in that regard is quite decent.
All tires deliver a good grip on the road and allow you to easily handle the car in all conditions. In addition, the special design minimizes the overall resistances any tire commonly faces.
So, you'll experience excellent performance without any compromise on your vehicle's efficiency.
The Market's Perception About Sumitomo Tires
Despite their excellent characteristics, Sumitomo tires are generally unknown in the United States and many other markets.
The brand's weaker marketing strategies and the market general insistence on choosing either the big name or cheaper Chinese alternative are some of the main reasons behind Sumitomo's obscurity.
Most of the users of Sumitomo are generally pleased with the performance of the tires.
Some users say that Sumitomo is not the same as any other premium brand. However, they ignore the significant price difference and the value for money Somitomo delivers.
Final Thoughts
To sum up, Sumitomo is a perfect mid-tier option that delivers excellent value at the most reasonable cost.
This is not a budget tire brand and you'll find multiple tire options that are cheaper than Sumitomo.
However, it is extremely difficult to find any tire brand with the same performance characteristics as Sumitomo in the same price bracket.
Performance-wise, Sumitomo is comparable to brands like Michelin or Bridgestone.
It dies fall short in some aspects, but that offset is justifiable when you compare the prices of Sumitomo with other premium brands. 
---
Sumitomo Popular Tires