There is a long debate on which type of tire your car must-have so that it can perform at the required optimum. 
There are many options for tire brands in the market, but when talking about international standards, the competition comes down to two brands: Michelin and Sumitomo. 
The two brands are rivals in the tire market, and each year they give us healthy competition regarding sales and quality, but so far, Michelin has been taking the lead.
Sumitomo Tires
Sumitomo is a large-scale industrial manufacturing group based in Japan and has quite a reputation in the rubber manufacturing industry. 
In 1954, the group gained a stake to manufacture quality tires within Japan and export them worldwide under Sumitomo Rubber Industries, which is pretty much it. 
The company began to expand exponentially and soon became the world's top-rated tire manufacturer, currently the fifth largest tire manufacturer. 
Whether to buy or not to buy Sumitomo is solely up to the customers, but it is well established that despite all the competition, they still hold a place in the tire manufacturing market.
Michelin Tires
One of the most well-known and used companies is Michelin, the top-notch rubber tire manufacturing company in the world. 
Based in France, the company has stakes in significant car manufacturing firms across Europe and the USA. 
Even in Asia, Michelin tires are considered top-of-the-line due to their quality standards and the marketing strategy they follow. 
This is well-known to be a viable asset for the company as it continues to grow into an even larger group as time progresses.
Top Tier Models by Sumitomo Tires
Judging by the company's success in the last few decades, they have begun manufacturing on a large scale, and a wider variety of tires are now available. 
These tires range from road tires and track tires to all-terrain. 
In terms of road grip, the all-terrain category from Sumitomo is considered to be top-notch. Here are three of their top models:
Sumitomo Tire Touring LSH

The top tire that Sumitomo offers is the touring LSH which is probably the best option if you have a cross-over car and both on and off-road commute. 
The new tread design in their latest variants provides additional road grip and less slippage with active weight distribution, allowing you to enjoy a comfortable ride.
Sumitomo Tire Encounter AT and Encounter HT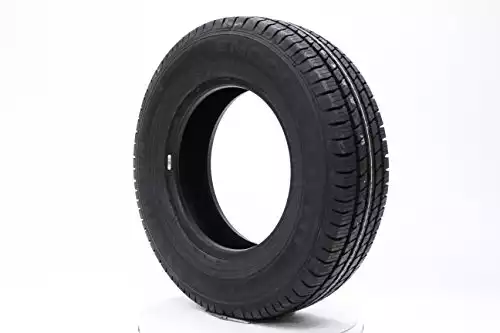 This tire looks much more prominent in size than other tires and is considerably heavy. 
With its vintage look, you'd be fooled by the fact that it may not be as efficient as it looks, but this is where Sumitomo gets an ace up its sleeve. 
This tire will give you equal weight distribution on the road and can tackle both road dirt and street slippage.
Sumitomo Tire HTR Enhance LX2 

Having a minimalistic design, as most products in Japan have, this tire is best for slippery roads and is effective in maintaining road grip across distances. 
Sumitomo offers excellent value in these tires and can provide roadside assistance to the driver. Providing good traction, the Sumitomo HTR gives a treadwear warranty as well.
Top Models by Michelin
Michelin is known to be constantly revising their design strategy and producing more efficient and better tires in terms of road grip and road safety. 
The tire industry advancements have always pushed companies to produce high-quality tires. 
Michelin Tires has responded well to the demands of soft rubber and high-performance tires. Some of the most famous models from Michelin Tires are:
Michelin LTX A/T2 

When talking about tire size, variety, and all-season tires, this model will make sure to give you the quietest and comfiest ride, especially in passenger vehicles. 
The all-terrain tire is probably the best tire on both dry and wet roads offered by Michelin Tires. 
Tread life for these tires is better than most tires because they can be utilized in most cars.
Michelin Pilot Sport 

Michelin tire company has made this all-season tire to be a useful addition to their line of good tires. 
Most of the challenges one may face during the slippery season is that winter tires would improve traction, and the tire line won't be worn out that easily. 
This sports tire would also ensure a comfortable ride for sports cars and light trucks.
Michelin Primacy MXM4

If you need an excellent tire that can serve well in all seasons with roadside assistance as well as superior quality, then the primacy series is the best tire out there. 
Whether it is dry braking or maintaining traction on an ice edge, you won't need to be concerned as the encounter line of the tire ensures good performance. 
This tire is a viable low-cost option Michelin offers.
Comparison Between Michelin and Sumitomo:
Based on the evidence and reviews of the general public, a general idea can be established regarding the best tire brand. 
The comparison between these tires can be made using the following parameters:
Quality: 
In terms of quality, if you are looking at all-season tires, especially for wet conditions within Asia, there would be no better option than Sumitomo tires. 
For daily driving, you would require quality and a practical all-season tire. 
Sumitomo delivers high-quality tires with HTR enhanced line that ensures a firm road grip with an active treadwear warranty which is undoubtedly a good buy. 
On the other hand, when it comes to Michelin, the company provides tires with active absorption of wear. 
The Michelin LTX tire is known to be one of the top of the line tires that allows larger tread life and good traction at the same time.
What about Durability?
Well, in terms of durability, it usually depends on how you run your tires. 
When talking about all-season tires, it is a difficult wage as most of them are generally in coherence with the outside environment. 
Tread life is a criterion that needs to be taken into account when considering tires. Michelin tires manufacture durable passenger tires that have a separate place in the tire industry. 
Other brands such as Yokohama, have tried to match their durability but are still far behind based on reviews. 
According to the Sumitomo tires review, there are a lot of failings that exist in the tire design. So, Michelin tires get another point in this comparison.
Most Affordable:
When talking about affordability, there are some areas that need proper attendance to ensure a good tire is chosen for your car. 
Michelin tires are considered upper-range tires, and the brand value can be seen in the price range. 
On the other hand, Sumitomo tires allow mid-range tires of the same size with a limited warranty, but the quality of those tires is not as good as the HTR enhancement. 
So if you are looking for a good tire with better affordability, then Sumitomo tires are a viable option to choose from.
Comfortability:
Ride comfort is a criterion that must be kept in mind when choosing the right tire, the w speed-rated tire would ensure you higher speeds but it could cost you safety. 
Michelin tires allow better quality than Sumitomo tires and for daily driving, you would always prefer Michelin over other manufacturers. 
The line of summer season tires offered by Michelin is of better comfort and it can work well on all road conditions. 
Sumitomo has a lot of tire variety to choose from but at the same time is not considered a useful buy, especially due to the lack of marketing in the European market as a Japanese company. 
Handling:
This comparison now heads toward the most important factor, which is the handling of the vehicle. 
A high-performance all-season tire from Sumitomo tires can ensure better stability and traction. The steel belt design from the HTR enhances line and allows better handling than most tires. 
Michelin tires, however, give you a treadwear warranty which is surely a really good buy considering the road safety and various parameters concerning the safety of passenger cars and tread life. 
So, the handling is better when offroading with the Primacy MXM4 than with the HTR enhance LX2.
Treadlife:
When talking about the durability and sustainability of the tire, Michelin tires offer a treadwear warranty, as mentioned earlier. 
You'd want to remain free from any permanent tire damage and have to pay again for tire repairs, so Michelin is a better choice. 
According to the Sumitomo tires review, there are multiple tire brands that have tried the active traction control mechanism but haven't been feasible but Sumitomo has excelled with the same tire, the HTR. 
So in terms of tread life, things are pretty even.
Is Sumitomo as good as Michelin?
Michelin tires have established its name as the top-of-the-line tire manufacturer, while Sumitomo rubber industries have also done their part in improving the quality of tires. 
But when ranking them together, Michelin takes the lead in terms of quality, durability, and comfort but isn't as cost-effective as Sumitomo.
To conclude, the differences between Michelin and Sumitomo are numerous, but Michelin being the larger group and offering better quality, outnumbers other tire brands by a wider margin.
The advanced treadwear design of the primacy MXM4 outlasts the Sumitomo HTR, which makes the tire manufacturer quite effective.