At one point in time, you may have had to mention tire manufacturers that you know, as a car owner. Out of those you mention, you are probably patronizing one of them.
However, you don't have to stick with one brand all your life – sometimes, a change might be what your car needs to move effectively on the road.
With that being said, check out this Toyo tires review.
Overview of Toyo Tires
Toyo Tire is one of the brightest tire manufacturers for vehicles in the world.
The company which was established in 1945 in Japan makes all-terrain tires and mud-terrain tires for light trucks, SUVs, crossovers, and sometimes, passenger cars.
In 1966, this company opened its manufacturing plants in various parts of the United States, with its headquarters in Cypress, California and so far has made numerous achievements, including in motorsport racing.
This tire manufacturer is committed to making great tires for outdoor and off-road uses.
It designs its tires in such a way that they can beat all terrains and weather, without losing their strength for road performance.
In the various Toyo Tire reviews that exist, it is often mentioned how this brand put so much work into research and development so that people can get the tire of their needs.
The tire manufacturer makes use of the finest rubber materials and incorporates state-of-the-art technology to improve performance and fuel efficiency.
Who are Toyo tires made by?
Toyo Tire is a Japanese tire manufacturer and arguably one of the best brands for off-road enthusiasts.
It is a brand of the future and one of its achievements is participating in the Sustainable Natural Rubber Initiative (SNR-i).
Toyo Tire Reviews show that many of the light truck, passenger, and SUV tires presented by the company to the public have been tested and proven efficient.
The testing of these tires was done along with different road and weather conditions and was approved for their excellent performance.
Notable Toyo Tires Types – Toyo Tire Reviews
When it comes to Toyo Tire Reviews, there are some models that make the headlines. These notable terrain tires include:
Toyo Extensa A/S II

One of the best Toyo Tires on the market is the Extensa A/S II. It is the ideal passenger car and minivan tire because of its incredible versatility.
This tire is also designed to have an extended tread life, following its symmetric and non-directional tread design and durable construction material.
It can do a cross-rotation to prevent irregular wear.
Another fantastic thing about this tire model is its optimized center block arrangement that is capable of providing good road surface contact for comfort.
It also has precise confident handling for movement.
Other features that come with the Toyo Extensa A/S II are four wide circumferential grooves with variable pitch channels to reduce hydroplaning risk and improve wet traction, a shoulder rib to connect shoulder blocks, and enhance stability, and multi-wave sipes for all-season traction. 
Toyo Proxes STIII All-Season

For your pickup truck, SUV, and crossover, the Toyo Proxes STIII All-Season tire is one of this company's best inventions.
This tire was specifically designed as the perfect street/sport truck all-season option because of its design, traction, and handling.
Proxes STIII All-season tire is perfect for winter, light snow, wet and dry conditions because of its incredible directional tread design molded from a high silicone compound.
With this compound, this tire is also able to enable block stiffness for different purposes, as well as improve braking capabilities.
This silica compound further reduces rolling resistance and improves wet traction while reducing hydroplaning resistance.
Furthermore, this tire has an offset pattern that reduces pipe resonance maximally to ensure a quiet, smooth ride.
Other features that come with this tire include a high hardness bead filler and a jointless bead wire to ensure responsive handling, multi-wave sipes to reduce wear and ensure stability, and two wide reinforced steel belts to enable ride comfort.
The tire also has a unique feature – the drag racing radials to help transfer power to the ground while racing.
Toyo Open Country M/T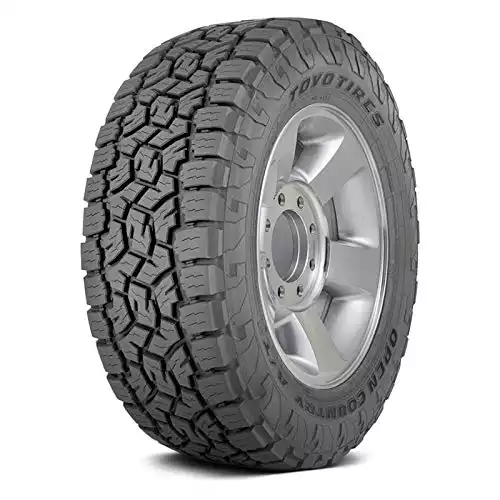 Another notable tire model from this manufacturer is the Toyo Open Country M/T.
It is a legendary option in the Open Country series because of its strength, durability, off-road performance, and longer tread life.
It is one of the high-quality tires designed with an aggressive tread pattern to get through muddy, snowy, and rocky terrains. 
The tread compound is made with a high turn-up tough polyester material that aids its durability, handling, and impact resistance.
Furthermore, the tire comes with deep siping in the tread blocks to improve wet traction and has four circumferential grooves with open channels to eject mud and snow effectively.
Being one of the mud-terrain tires for your light truck, Toyo Open Country M/T delivers improved off-road and on-road performance.
Features & Benefits
Still, on Toyo Tire Reviews, let's see guaranteed features and benefits.
Handling
Toyo tires are remarkably known for one thing – they have precise handling.
These all-terrain tires have been designed in such a way that the tread supports different road surfaces encountered without losing grip.
With this tread design also comes excellent traction for winter, wet, dry and snowy conditions.
The tires are graded from the highest traction to the lowest traction (i.e., AA, A, B, or C). Most passenger cars with A traction.
Durability
What also makes Toyo tires a lot better than the competition is their durability.
They are designed with the finest rubber materials and their tread is constructed with strong compounds, such as silica to improve durability.
With this exceptional durability, they can move across different surfaces, including rugged terrain.
Quietness/Noise
Another impressive feature of many Toyo tires is the quietness that comes with them.
These tires have been engineered with noise-canceling technology to prevent unwanted vibrations, and an offset pattern to reduce pipe resonance for a quiet ride.
With the road noise minimized, you can possibly drive on smooth and rough terrains at highway speeds.
Expected Treadwear Warranty
Ideally, what a treadwear warranty describes is the lifespan of a tire, i.e., how long you can use new tires until you cannot use them anymore.
Every tire manufacturer estimates the lifespan of their tires and grades it to 100-rating.
For instance, a tire with a 300 treadwear warranty can last for 3 years before it becomes totally useless.
For the Toyo tire brand, the average treadwear warranty of high-performance all-season tires is between 500 to 700 rating.
Fuel Efficiency
Due to the advancement in technology, Toyo Tire was able to pioneer a unique system, i.e., a nano balance technology.
This technology was infused with the tire's construction material,  i.e., rubber at a molecular level. This infusion, in turn, has helped improve fuel efficiency.
That means: all-terrain tires were designed for customer satisfaction so that low fuel is consumed with less friction on road surfaces.
Cost of Toyo Tires
When you consider the price of Toyo tires compared to other brands, there is a good chance you'd love what you find.
Most top-rated Toyo tires are sold at an affordable price – often between $100 to $350, depending on the model.
Talking about the affordable price, the cheapest Toyo all-terrain tire is about $50.
Frequently Asked Questions
Are Toyo tires good?
Yes, they are.
Over the last few years, the tire company has put in a lot of work in creating high-quality tires for your light truck, SUV, minivan, passenger car, etc.
Every year, they spend a lot of money on research, development, and engineering of tire compound materials that would improve road performance.
Are Toyo tires better than Firestone?
No, they are almost alike.
Firestone is also one of the remarkable names in the tire industry with a reputation for manufacturing all kinds of tires for road use.
This reputation makes them worthy, and a perfect alternative for Toyo tire users. They equally have incredible warranty policies.
The only difference between both brands is that Firestone's best-seller, WeatherGrip, has more tread depth and tread life warranty (about 10/32″ and 65,000 miles) than Toyo Tires.
Which is better, Yokohama or Toyo tire?
Yokohama is.
Toyo Tire and Yokohama are two note-worthy companies in the tire industry; however, some things/qualities set them apart even as they both manufacture all-season tires.
For instance, Yokohama is known to produce sportier tires with higher speed ratings and low tread life.
On the other hand, Toyo Tire manufactures touring tires with a lower speed ratings but incredible tread life.
Therefore, the choice of the brand to go for depends on – speed rating, tread life, and design.
Are Toyo Tire Warranties Good?
Toyo tires have good warranties and that is definitely one of the best things about them.
An average Toyo tire has a tread warranty of 500 miles, which means it can be used up to 5 times (years) without unnecessary wear.
Check out Toyo Tires warranty information here.
Conclusion
The aim of this Toyo Tires review has been achieved immensely.
First, the Toyo Tire company and its various manufacturing plants were described, alongside a review of its best high-performance all-season tire models.
The next was a list of benefits and features to enjoy from using Toyo Tires.
Overall, Toyo Tires are great options for vehicle owners (light truck, SUV, minivan, passenger car) interested in off-road and on-road driving with comfort.
---
Toyo Popular Tires