Traditional tires are good only mostly for paved roads and offer natural traction. But if you own a pickup truck, an SUV, or a Jeep, you obviously want your robust ride to function at its optimal potential – that too, both on the road and off the road as well.
That's why the best option for you is to buy all-terrain tires that deliver year-round performance with excellent traction on various surfaces and deliver an overall stable, comfortable, and safe driving experience.
And today, we'll be telling you about one such variety of tires that are fully equipped for the job – Wild Country Tires.
Overview of Wild Country Tires
Wild Country Tires are designed specifically for off-road vehicles, allowing them to perform to their full potential on surfaces such as dirt and muddy roads, rocky terrains, bogs, swamps, sand, and other challenging terrains.
Where Are Wild Country Tires Made?
The American company, Cooper Tire & Rubber Company, is the manufacturer of Wild Country tires.
They specialize in designing, manufacturing, and marketing tires meant for automobiles, trucks, motorcycles, and racing cars. Their headquarters are based in Findlay, Ohio.
Cooper Tire has 60 manufacturing, distribution, sales, and technical/design facilities among its global family of subsidiary companies, including the UK-based Avon Tires brand that produces tires for motorcycles, road cars, and racing cars.
Are Wild Country Tires Good?
Despite a few negatives associated with Wild Country Tires, which we will address further, they are the perfect option for muddy and/or sandy terrain.
Moreover, Wild Country Tires are self-cleaning, which means they clear dirt and mud from their tread and prevent the tires from slipping while driving.
They feature an aggressive tread pattern that completely fulfills their purpose of conquering the challenges presented, especially off-road drivers.
Does Les Schwab Sell Wild Country Tires?
Yes! Les Schwab does sell Wild Country's Multi-Mile tires, featuring the Wild Country Trail 4SX, at exclusive prices and deals.
But more on the Multi-Mile tire series in just a while.
Wild Country's Most Popular Tire Models: Multi-Mile
After going through various reviews and carefully assessing the pros and cons, we've managed to shortlist three of the best Wild Country Tires for your heavy vehicle from the Multi-Mile series.
Where Are Multi-Mile Tires Made?
Established in 1956 with headquarters at Palm Beach Gardens, Florida, the TBC Brand represents thirteen exclusive brands, including Multi-Mile, ranking it among the largest marketers of private brand tires in North America.
Multi-Mile lives up to its name, featuring tires built to go the distance and provide comfort and style for every mile.
Their exquisite Wild Country brand manufactures superior quality light truck and SUV tires for use on the highway, off-road, and other aggressive terrains.
In 2005, the TBC Corporation was purchased by the Sumitomo Corporation.
Wild Country XTX Sport A/T Tire

The Multi-Mile Wild Country Tire XTX Sport is an all-terrain and all-season tire designed by the TBC Wholesale Group exclusively for pickup trucks, SUVs, and jeeps.
It can power through various surfaces, both on and off the road, and can fit cars with rim sizes ranging from 15 inches to 20 inches.
Treadwear: The tires are manufactured using a very distinctive tread compound molded to form a highly detailed tread pattern. This helps reduce wear and tear and ensures that the tire's performance is always spot-on.
Grip and Traction: The asymmetric tread pattern on the Multi-Mile Wild Country Tire XTX Sport, along with its deep sipes, allows for superior traction, responsive steering, and short braking distances, especially on slippery roads. This translates into a safe driver that is enjoyable for passengers.
The Multi-Mile Wild Country Tire XTX Sport's ice and snow traction are spectacular and comparable to industry standards.
It is certified with the RMA severe snow symbol (Three Peak-Mountain Snowflake Symbol).
Noise: Even though the ride is vibration-free and stable, it tends to be slightly noisy. It might be unnoticeable at first, but with time the noise can become annoying.
Multi-Mile Wild Country HRT Tire

The all-season Multi-Mile Wild Country HRT tire is specifically designed for highway CUVs, SUVs, vans, and light trucks.
Treadwear: Multi-Mile Wild Country HRT tire's superior 5-rib tread design supports prolonged mileage and even treadwear. This also provides responsive handling and enhanced ride quality. Moreover, the tires come with a 65,000-mile limited tread-life warranty.
Grip and Traction: The tires full-depth siping significantly improves grip, and its angled grooves enhance traction and handling in various weather conditions. Also, the precision-aligned tread grooves reduce asymmetrical wear and support improved all-season traction and handling.
Noise: The Multi-Mile Wild Country HRT tire is designed with a closed shoulder design that helps minimize noise for a quieter and more comfortable ride.
Multi-Mile Wild Country Trail 4SX All-Terrain Tire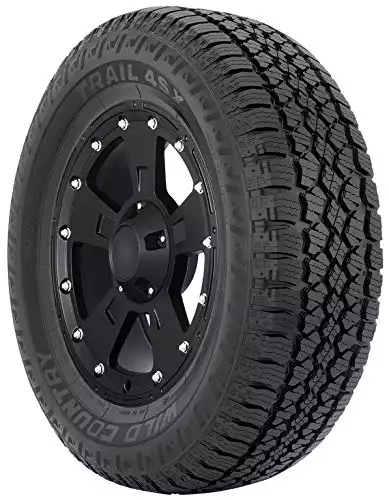 Meant for Jeeps, SUVs, CUVs, and mid-and full-sized pickups and vans, the Multi-Mile Wild Country Trail 4SX is an all-terrain tire that provides drivers greater on- and off-road traction, along with added safety and comfort.
Treadwear: The Wild Country Trail 4SX comes with a 55,000-mile limited tread-life warranty and is suited for all terrains.
Grip and Traction: The tire's robust open shoulder design helps remove water, mud, and slush from the tread, giving drivers consistent traction. Also, the Wild Trail's jagged edge blocks enhance grip on mud and ice, featuring the Three Peak-Mountain Snowflake symbol due to its superior ability to perform effectively in severe snow conditions.
Noise: The Wild Country Trail 4SX provides a quiet and comfortable ride due to its extra-deep tread sipes.
Wild Country Tires: Customer Reviews
Now that we've covered the three tires and their specifications, it's time to see what customers are saying about them.
Positive Experiences with Wild Country Tires
A customer from the United States gave the tires 4/5 stars, stating that they demonstrated superior snow and ice traction and were worth buying a second time.
Another user gave a 5-star rating and said the tires provided a smooth and quiet ride, was an excellent product worth the money, and looked great on their 1998 Dodge Ram with Ion Alloy rims.
A similar review gave the tires 5 stars and described it as a premium all-terrain aggressive tire with superior on- and off-road performance. Overall, grip, traction, and comfort were excellent, while noise was minimal.
Negative Experiences with Wild Country Tires
Other than some customers stating that the grip of these all-terrain tires could be better on paved roads and some complaining that the noise could be a little less, there were no significant negative reviews.
Our Final Thoughts on Wild Country
Overall, wild country tires are regarded as one of the best all-terrain tires for heavy vehicles. Their unique tread design allows for excellent grip and traction both on- and off-road and functions exceptionally well on snow and icy surfaces.
With an average rating of about 4.5/5 stars, the Wild Country Tires are a solid and reliable purchase.