Looking for an affordable and durable option to replace your vehicle's tires? You've come to the right place.
The Chinese Windforce brand manufactures high-quality, affordable tires well-suited for all seasons and different terrains,
So today, I'll be discussing types of Windforce tires and their basic features, pros, and cons. We hope this article will help you make a valued decision for the comfort and protection of your vehicle.
Overview of Windforce Tires
Shandong Haohua Tire Co. has been leading the industry in manufacturing tires for over 20 years. It is well-recognized in both domestic and international markets.
Shandong Haohua Tire Co. prides itself in developing a highly advanced and cost-efficient platform for manufacturing and distributing tires. Their competitive prices and good quality have made them one of the best tire suppliers in the world.
Their high-quality brand Windforce specializes in designing and manufacturing various radial tires for passenger cars, SUVs, trucks, and buses.
Some of the key features of Windforce tires are:
The R&D team strictly develops all tire specifications and tread patterns according to the latest market trends and requirements.
All tires produced using top-notch equipment.
Strict management systems ensure superior quality.
Reasonable price
Strong build
Advanced designs
Follow all the required certifications used anywhere in the world.
Things to Consider before Buying Windforce Tires
Windforce provides a reliable yet affordable and durable alternative to expensive tires. With many options for cars, SUVs, and even trucks, they are well-suited to meet various customers' needs.
Before discussing Windforce tires, some important aspects that you must consider before buying a tire are:
Affordability
Quality
Durability
Versatility
Compatibility
As far as Windforce tires go, you have an affordable, comfortable, and high-quality option that offers good traction for all seasons, wet and dry.
In terms of versatility, Windforce manufactures tires for sedans, SUVs, crossovers, and light trucks.
As for the durability, they tend to wear quicker as compared to other high-end brands.
Also, they might be a little noisy at higher speeds with an average tread.
Windforce tires are manufactured with four wide circumferential grooves to evade hydroplaning to continuously clear water from underneath the tires' footprint, ensuring a safe-driving experience all year round.
Moreover, the rib segment design ensures an even distribution of driving pressure throughout the tread area to function in all seasons, improving efficiency and handling.
Windforce tires also have serrated groove walls that help reduce road noise.
Bottom line: if you're on a tight budget and want a good quality versatile tire, Windforce might just be what you need.
Windforce's Notable Tire Models
Windforce Catchgre GP 100

The Windforce Catchgre GP100, the entry-level tire for passenger cars and small crossovers, is designed to function best in all seasons.
These tires are available in many sizes, starting from 13-inches to 16-inches.
The Windforce Catchgre GP100 has four wide circumferential grooves and continuous tread blocks on the shoulders that provide precise handling, better stability, and receptive steering in different weather conditions.
Its solid center ribs with lateral tread blocks also enhance stability at high speeds. The tire also offers greater grip and traction with minimal treadwear.
However, some users have stated that the Windforce Catchgre GP100 produces more noise at higher speeds and is better suited on dry surfaces as compared to wet.
Features
 4 wide circumferential grooves
Both shoulders have continuous tread blocks using a special tread compound
Improved bead profile design
Continuous solid center ribs with lateral tread blocks connected by rib-in-chain
 Benefits
Outstanding performance in wet climates         
Excellent grip on both dry and wet roads with long mileage
Delivers better ride stability and handling
Improves steering stability
Provides support and enhanced stability while cornering
Reduces block deformation along with decreased energy losses
Pros
Best results in wet weather
Good stability, endurance, maneuvering, and control
Provision of long mileage
Better steering
Windforce Catchfors A/T

Apart from being well-suited for different terrains with high traction and durability, the main attraction of the Windforce Catchfors A/T for me is its price.
This tire is manufactured for light trucks and SUVs involved with an off-road trailing on ice and snow, as well as loose, muddy soil and gravel.
The Windforce Catchfors A/T is manufactured with a jointless nylon band in its carcass, enhancing its strength and sturdiness.
The tread block design featuring various sipes helps improve traction in different terrains. The open shoulder grooves help vacate water from the tread, which improves handling and response, especially in wet weather.
Due to enhanced traction, the Windforce Catchfors A/T tires tend to be very noisy at high speeds.
Features
4 major zigzag groves with coarse lateral blocks
Open shoulder grooves
Block tread design featuring many sipes
Jointless nylon band with special tread compound and wide footprint
Benefits
Excellent traction in all weather conditions
Wet grip and water evacuation to prevent aquaplaning
Superior off-road traction and reduced tread damage
Enhanced tire reliability and durability
Pros
Highly durable
Open shoulder grooves for water evacuation
Cons
Not great on-road tires in wet conditions
Windforce Catchpower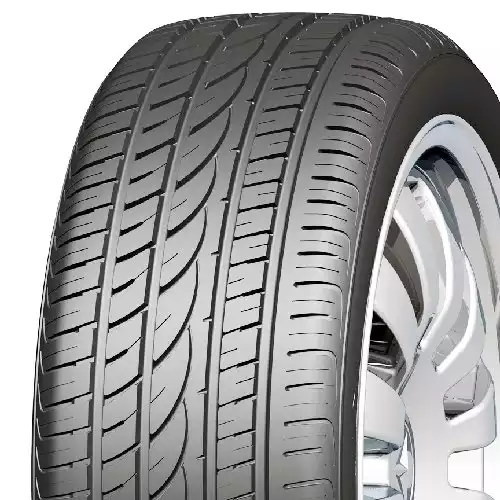 The Windforce Catchpower tire is specially designed for SUVs, sedans, and crossovers. It comes in sizes from 15 inches to 24 inches and is a very cost-effective choice for plus-sized applications.
The Windforce Catchpower tire comes with four wide tread circumferential grooves with lateral grooves to boost performance in wet climates.
The shoulders have a block pattern, which also helps assist high-speed cornering and lateral stability.
The rib segment engineered design enhances and evenly distributes the area contacting the road, hence providing superior and smoother handling and control.
However, similar to the Windforce GP 100 tires, there is a lot of noise at higher speeds. Some users also claimed that the tires became slippery in wet climates and at higher speeds.
Features
four wide circumferential tread grooves and lateral grooves using special tread compound
continuous block pattern on the shoulder
rim protector
continuous outer tread blocks
special central rib segment design
serrated groove walls
Benefits
efficient water evacuation and grip on dry and wet surfaces
enhanced stability at high-speed cornering
optimized contact pressure distribution
improved road contact area
absorbs noise for a quieter ride
Pros
Enhanced lateral stability
Assists in cornering speed
Even distribution of road contact area for optimal handling and control
Cons
Expensive
Easily wear out on the pavement
Windforce Customer Reviews
Since "the customer is always right," it's time to look into some reviews. 
According to one user, his 2005 Honda CR-V was fitted with stock 16-inch Windforce Catchgre GP100 tires. He drove many miles and hence decided to buy the tires due to their affordable price.
According to him, traction and grip were very good on both dry and wet surfaces. The tires were also silent (unless traveling at very high speeds).
Also, tread wear was acceptable given the low price and was nothing too serious.
Another review came from the owner of a 2014 Nissan Sentra fitted with 17-inch Windforce Catchpower tires. He claimed they were smooth and quiet but made a little more road noise at higher speeds.
Traction and grip on dry roads were satisfactory. However, the tires were a little slippery on wet surfaces, especially at higher speeds. Treadwear was also minimal.
The owner of a 2013 Ford Explorer fitted his vehicle with 18-inch aftermarket off-road wheels and Windforce Catchfors A/T tires. He immediately reported the tires being a little noisier at high speeds.
However, dry traction was good, and for light trailing, the tires coped well with loose gravel, soil, and mud. But the user did report quicker wear and tear.
Our Final Thoughts on Windforce Tires
In conclusion, the Windforce brand excels in providing a superior driving experience with its variety of high-quality and high-performance tires.
Windforce tires provide a good grip on the road,   with better control and maneuvering as you drive. Their innovative designs laced onto the tires ensure comfort and ease while driving.
All in all, they might be the best option for users looking for affordable yet high-quality tires. If you're driving mostly in the city and don't expect much from your tires, you must give the Windforce variety a try.